Thu Sep 11, 2014, 09:11 PM
postatomic (1,771 posts)
Has anyone did the ECT thing? Or know someone.....
I am apparently considered 'treatment resistant'. My drug pusher doc has me on a new heavy anti-psychotic to see if they work. It's a real 'zombie drug'. But he's really pushing the ECT.
Just curious if anyone has done ECT or know someone who has. What is your impression? Good? Bad? Nothing? It's a little (okay, a lot) scary but "they" tell me it's a fairly common treatment.
Thank you.
6 replies, 3110 views
Replies to this discussion thread
| | | | |
| --- | --- | --- | --- |
| 6 replies | Author | Time | Post |
| Has anyone did the ECT thing? Or know someone..... (Original post) | postatomic | Sep 2014 | OP |
| | grahamhgreen | Sep 2014 | #1 |
| | postatomic | Sep 2014 | #2 |
| | grahamhgreen | Sep 2014 | #3 |
| | postatomic | Sep 2014 | #5 |
| | grahamhgreen | Sep 2014 | #6 |
| | No Vested Interest | Sep 2014 | #4 |
---
Response to postatomic (Original post)
Thu Sep 11, 2014, 09:14 PM
grahamhgreen (15,741 posts)
1. Wow. I would suggest against it....
What drugs are you on and what is your history?

PS - I am not a doctor!
---
Response to grahamhgreen (Reply #1)
Thu Sep 11, 2014, 09:30 PM
postatomic (1,771 posts)
2. Why would you sugggest against it?
There is a real negative stigma associated with ECT.

I've taken more drugs than I can remember and I'm at the point where nothing seems to work. My history? Long story. My diagnosis is psychotic depression. That 'label' also has a negative stigma associated with it.

I'm looking at it like stage four cancer. I feel I need to get very aggressive in my treatment if I ever want to have my life back. So, I'm considering ECT.
---
Response to postatomic (Reply #2)
Thu Sep 11, 2014, 10:05 PM
grahamhgreen (15,741 posts)
3. after reading naomi Kleins book the "shock doctrine", I have a very negative impression.
---
Response to grahamhgreen (Reply #3)
Tue Sep 16, 2014, 02:40 PM
postatomic (1,771 posts)
5. I looked at the book and I'm confused
Seeing the word "shock". The book doesn't appear to specifically address ECT (that I could find).

I've taken Deplin as a non-side effect booster to the rest of the drugs in my cocktail. It is essentially a food supplement and for me it was totally useless. And it was very expensive. My psych doc said to quit taking it and put me on this nasty anti-psychotic. So, now my cocktail is back to 4 different drugs.

Yea, I do Xanax. I take it more to counter the side effects of the addiction to the drug. I tried to go cold turkey off Xanax and my body went into a full withdrawal that really fucked me up. The idea behind an anti-anxiety drug is the drug you take for depression will reduce the panic/anxiety attacks - hence reducing the need for drugs like Xanax.

Thanks for your input. I really appreciate it.


---
Response to postatomic (Reply #5)
Tue Sep 16, 2014, 03:34 PM
grahamhgreen (15,741 posts)
6. Xanax and the benzodiazepans can make you feel psychotic all on their own. I would suggest talking
your doc about getting weened off of them. Google "benzo withdrawal" and you can read about how much these drugs screw people up.
My doctor in CA has given me a prescription for a high CBD medical marijuana tincture (like the Charlotte's Web strain they use for epilepsy).... It does not get you high, just calms the nerves, is non-addictive and has no side effects.
I highly suggest you try 5-htp, tyrosine, and acetylcholine
. These all boost neurotransmitter levels, and if your levels are low, they will affect your mental state. Here is a list of known issues from neurotransmitter imbalance: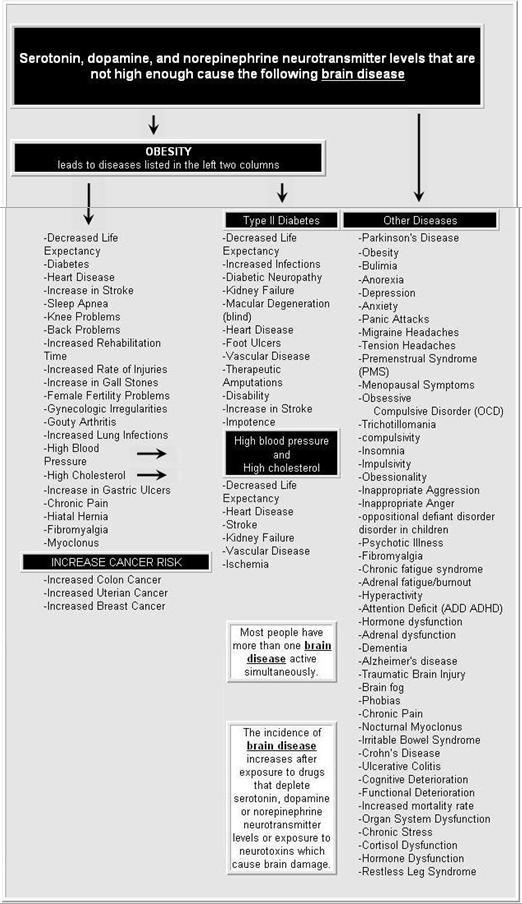 Google around about "neurotransmitter imbalance".... find a doctor who understands nutrition therapy, if you can.
The first few chapters of Kleins book talks about ECT in Canada..... pretty disturbing.... the rest is political.
She begins her book with a discussion of experimental electroshock treatment, performed, against all standards of medical ethics, by a professor at McGill University in the 1950s. Funded in part by the CIA, which was interested in the dynamics of brainwashing, these experiments allegedly aimed at remaking chronically depressed personalities, but managed only to scramble the minds of the human guinea pigs. They were, however, successful in another sense. They helped the CIA refine the use of sensory deprivation and other mind-garbling techniques, applied with unknown results in interrogations conducted during the Cold War and now the War on Terror.
Here's a link to the PDF, no need to read it, but you could peruse the first few chapters if you like:
http://www.infoshop.org/amp/NaomiKlein-TheShockDoctrine.pdf

Remember, I'm not a doctor, nor do I know enough about you case to make any kind of diagnosis or decision
. I would google around about "ECT dangers" or similar, as well as get opinions from other doctors before I would do it. But I am not a doctor!!!!
Best of luck!!!
---
Response to postatomic (Original post)
Fri Sep 12, 2014, 01:19 AM
No Vested Interest (4,667 posts)
4. My impression is generally negative -(I'm also not a doctor )
My spouse had a diagnosis of severe, intractable depression, noticeable in his early 60's, though possible starting earlier.
He would take to his bed, not want to eat, bathe, or take any kind of self-care.
This would go on for a several months, then eventually the depression apparently left, and he and we resumed a normal life - traveling, going to performances,- until the depression struck again.
He saw the head of a hospital psychiatry dept., who was unsuccessful in treating him with meds.
Eventually he was in three different hospitals' psychiatric sections, and with several psychiatrists. None were successful in alleviating the depression.
During one hospitalization, ECT was recommended and he had one session, the effect of which lasted no more than an hour.
We decided there would be no more ECT.

Eventually a neurologist diagnosed him with amyloidal angiopathy - bits of amyloid, a naturally occurring element in the human body, were clogging the ends of the arteries of his brain. No cure available, but the depression was evidently a secondary result of the ailment.

Again, I'm not a doctor, but I hope you've had a complete neurological workup to rule out a physical cause.

A long-time friend is now suffering from long-term depression. She had some relief from Risperdal, which took away her anxiety, but the depressive state recurred.

I could recount more, but will stop here. You are the only one who knows what you are going through, and it has to be your decision in the end. ECT will likely not harm you permanently, but I'd be surprised if it solves your problem long-term.

In my opinion, ECT is recommended when the psychiatrist has no other answers. We are still in the dark ages in the matter of psychiatric illness - so much to learn about the human brain.

Good luck in your quest for health.