Wed Mar 11, 2015, 05:59 PM
Maraya1969 (18,333 posts)
I cannot believe what this pest eliminator just did!
I had the air conditioner ducts cleaned last week and the guy told me that he thought there were rats in my attic. First I called the people who spray for fleas around my house and he said that they were there also and gave me a quote of $650 to get them out.

So I went on Angie's List and got a coupon for $175 for an inspection and filling up 5 holes, (around plumbing etc. where they are supposed to get in). I was thinking about trapping them humanely by myself.

So that guy shows up today and tells me that there are no rats and I am very happy about that. And then he pulls out an estimate for PREVENTION that totals over $800 and he takes the $175 off so it is down to $625.

I could not believe my eyes. So I started asking him about these "holes" he was going to close up to prevent things from getting into my house.

One was the little smoke stack thingy that is supposed to create the vacuum to make your toilet flush. He said he saw chew marks and they could get in that way. I thought about it and this house was built in 1985 and wouldn't they have gotten in by now if they were going too? So I x'd that out.

Then, because the $175 I paid was supposed to cover filling in 5 holes at ground level I figured out that the cost for those holes would be $35 each because he said the inspection was free. But in his quote to me he was charging $45 for those holes.

Anyway I am ending up paying just the $175 I have already paid when I thought I would need help with actual rats.

I can't believe how people try and rip you off! I've heard about this with AC people but never had the chance with these types. And it upsets me thinking about all the people, who this is a real hardship for, that do not know better and just accept what people tell them.


6 replies, 1717 views
Replies to this discussion thread
| | | | |
| --- | --- | --- | --- |
| 6 replies | Author | Time | Post |
| I cannot believe what this pest eliminator just did! (Original post) | Maraya1969 | Mar 2015 | OP |
| | snappyturtle | Mar 2015 | #1 |
| | Phentex | Mar 2015 | #5 |
| | Warpy | Mar 2015 | #2 |
| | packman | Mar 2015 | #3 |
| | Hassin Bin Sober | Mar 2015 | #4 |
| | dolphinsandtuna | Mar 2015 | #6 |
---
Response to Maraya1969 (Original post)
Wed Mar 11, 2015, 06:09 PM
snappyturtle (14,656 posts)
1. There's a lot of that today...everybody out to get every last buck they can.
Seems like dealing with anything today is a battle. Then these sorted types act like they're doing us a favor! The hubris! Sorry this happened to you.
---
Response to snappyturtle (Reply #1)
Thu Mar 12, 2015, 09:00 AM
Phentex (15,777 posts)
5. Sad but true...
I try to get a few estimates and talk to neighbors to see if I can get a feel for what something should actually cost. It can vary widely. And I am all for someone getting paid well to do a good job as I am not looking to cut corners. But sometimes the range in estimates is just mind blowing.
---
Response to Maraya1969 (Original post)
Wed Mar 11, 2015, 06:13 PM
Warpy (101,105 posts)
2. Get an electronic rat trap for your attic space
(it's relatively humane, zaps them instantly, they don't have time to get out a squeak) and bait it with peanut butter. Go back in a week to find out if it's been tripped. Empty the rat and call a pest control service back to close up the holes.

You'd be surprised at how little a rat needs to get entry into your house. Mice need even less than that, they can squash themselves practically flat.
---
Response to Maraya1969 (Original post)
Wed Mar 11, 2015, 07:34 PM
packman (13,586 posts)
3. Sad to say -
if you got a rat problem, you need to find the cause, the source of that problem. Trash next door, vegetation overgrowth, garbage, etc. Are they after a food source or water source in your house? DO NOT fall for that closing up holes BS. As stated in previous post, that is an almost impossible task. Even if you do find (and you should look for them and close them up yourself) them, the rat will chew another opening to get to where and what it wants. Take away the cause first. Trapping is the way to go. Poisons is another alternative, but has its problems so use caution.


---
Response to packman (Reply #3)
Thu Mar 12, 2015, 01:50 AM
Hassin Bin Sober (24,324 posts)
4. Poison them, I say. The sooner the better - before they breed.
We had them in our building in the basement. The poor owners on the first floor could hear them in their bedroom ceiling.
My neighbor called Orkin. They put the building on a 12 month contract for, iirc, $150 bucks a month.
One week went buy. Two weeks went by. Three weeks went buy. Still have rats. The poor woman in the basement is ready to move in to a hotel.
I call Orkin to have them send out the manager to see wtf is going on. We open all the bait boxes to see if anything has been eaten. Nope. Not a nibble on the big chunks of blue poison. I ask why he doesn't use the blue pellets. He says they don't like them.
He says give it a couple weeks and we'll check back. Then he leaves.
Fuck that. I go to the local hardware store and grab a couple boxes of poison. We have dogs in the building so I place them under the downstairs units' hot tub decks so there is no chance a dog can get them.
Rest in piece, Rat!
A couple, years later I remodeled the basement bath in that unit. I recognize the box that poor rat is clutching. I know it's gross. But better one or two rats shrivel up than have a colony take up residence: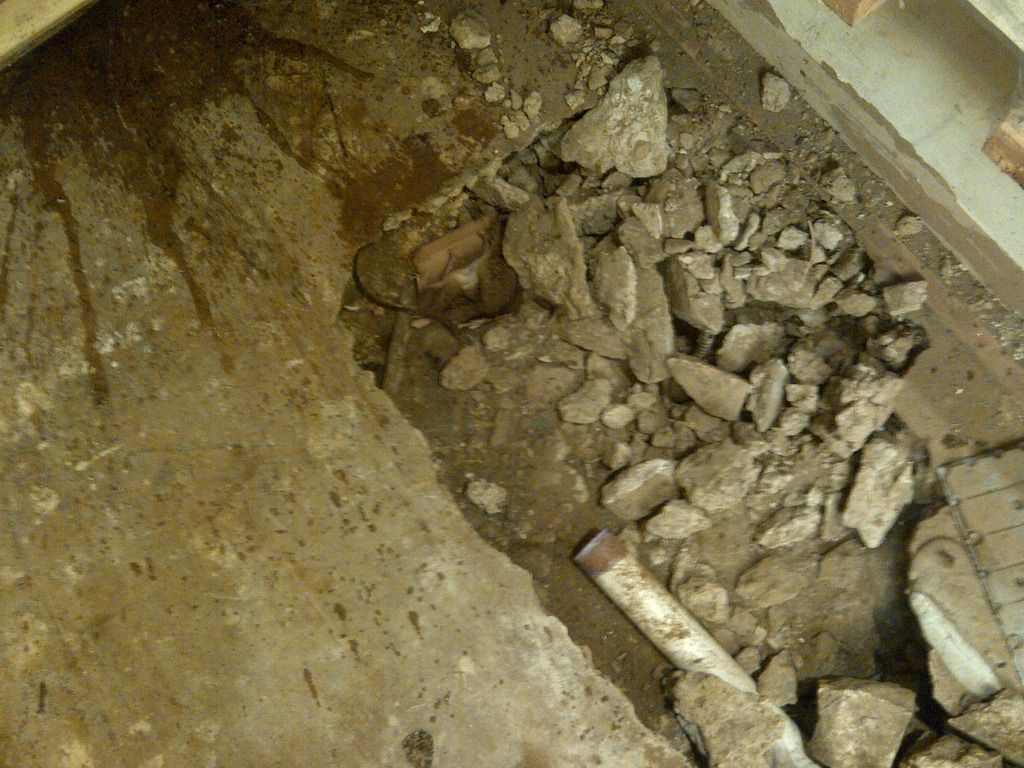 ---
Response to Maraya1969 (Original post)
Tue Mar 24, 2015, 08:30 AM
dolphinsandtuna (231 posts)
6. ripoffs
Some contractor type are unbelievable. When you find an honest one, they are a treasure.

I think they prey particularly on the elderly and unknowledgeable women. A plumbing company sent out two plumbers and made an estimate of hundreds of dollars to replace a part in the toilet tank that later cost me about $2 at Lowe's. The owner of the company later ran for office in the state and lost hugely, I wonder why - enough customers spreading the word, I guess.