Fri Jul 19, 2013, 05:15 PM
RainDog (28,784 posts)
See how the conversation has changed in the U.S.
The Partnership for a Drug-Free America has released a new survey poll related to parents and their views on marijuana. For some background, this group began in the 1980s in response to Reagan's War on Drugs. They're an advertising group that decided to turn its efforts toward the issue of drug use. Their first, and perhaps most famous, commercial was the egg in the frying pan image with the slogan, "This is your brain on drugs" from 1987. This is probably one of the most famous PSAs ever.
By 2005, this organization had moved from "Drugs fry your brain" to "Drug Addiction is a Disease" - iow, they moved from punitive campaigning to health campaigning.
In 2007, in response to studies that indicated that parents who have ongoing conversations with their children about drug use and possible risks showed those children were 50% less likely to use drugs, the organization asked adults to talk to their children.
Now, in 2013, the Partnership for a Drug-Free America is acknowledging that legalization is here and their task is to note that parents support regulation of marijuana.
...just like the majority of those who have worked to change the law for decades, in spite of the zero-tolerance stance for adults among prohibitionists.
http://www.drugfree.org/newsroom/press-release-marijuana-survey
(Full report here:
http://www.drugfree.org/newsroom/research-publication/marijuana-survey-full-report
)
The PDFA survey found that half of all parents among the 1600 in the survey had used marijuana in the past.
72% of the moms support legalized medical marijuana, while 44% support decriminalization while 67% of dads support legal mmj and 47% support decriminalization.
Interestingly, support for each of these scenarios increased by anywhere from three to 11 percentage points when survey respondents were given more information about what medicalization, decriminalization and legalization of marijuana means:

- Medicinal marijuana refers to marijuana being made available through licensed medical centers only to individuals who have a doctor's recommendation to possess and use marijuana to treat a medical condition.

- Decriminalization of marijuana refers to changing laws so that those caught with marijuana would receive a warning or fine (much like a speeding ticket), but would not face jail time.

- Legalization of marijuana refers to changing laws so that anyone over a certain age would be permitted to possess, buy, sell, and use marijuana for recreational purposes within the limits of the law (much like alcohol).
And this is the point - and the reason the conversation about marijuana has changed in this nation in a relatively short amount of time. Information access and discussion among citizens, rather than pronouncements from bureaucrats, or commercials on tv, is what has changed this conversation. Prior to internet information sharing, someone had to seek out sources that might challenge the conventional "wisdom" repeated by politicians and the news media, or by educators led by LEO drug programs, or by studies skewed to achieve pre-ordained results, whose methods were hidden for this same reason.
The PDFA recognizes that support for changes in marijuana policy among parents is widespread. To steer the conversation to the realms in which it has operated for so long, the group is shifting its focus on issues regarding access to teens. Since adults, in general, favor regulating access to substances like alcohol, etc. this is nothing new - what is new is acknowledging marijuana belongs in that same category of regulated substances.
To remain relevant, the organization is shifting concerns to proper information sharing about marijuana, rather than pretending marijuana has no place within society among consenting adults.
"Increasing availability, mass marketing and wider use of marijuana is a public health issue because of the genuine risks that marijuana poses to children's health and development," said Pasierb. "Clearly these changes mean that parents and caregivers have an even more critical role to play to ensure that the readily available marijuana in these states does not result in higher levels of use by and problems among their children and young teens."
As far as harm to society, however, the organization might find a better focus for their concern from alcohol use, according to this Lancet survey: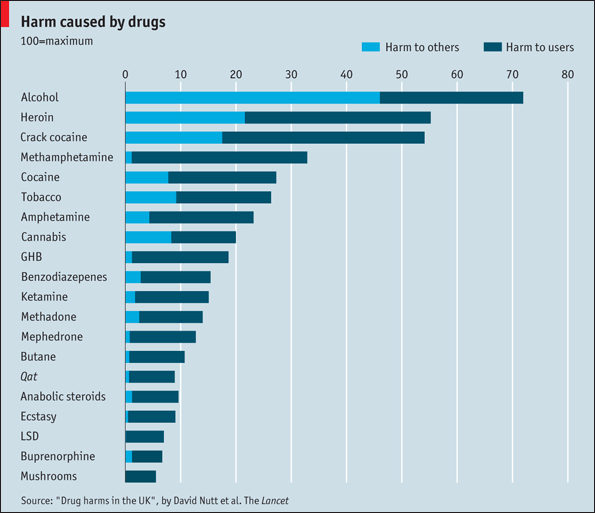 And, overall, in terms of the entire issue of drug use in the U.S., the greatest public service someone could offer would be a look at the impact of economic policies, educational and employment opportunities, and the impact of class and race assumptions upon outcomes for various drug treatment policies.
But this would require structural analysis, rather than isolation of the issue of addiction and its consequences upon individuals who try to negotiate this structure.
2 replies, 1886 views
Replies to this discussion thread
| | | | |
| --- | --- | --- | --- |
| 2 replies | Author | Time | Post |
| See how the conversation has changed in the U.S. (Original post) | RainDog | Jul 2013 | OP |
| | JoeyT | Jul 2013 | #1 |
| | RainDog | Jul 2013 | #2 |
---
Response to RainDog (Original post)
Fri Jul 19, 2013, 05:24 PM
JoeyT (6,785 posts)
1. It's weird how, other than meth,
the biggest PR wars waged against drug use were against drugs that were at the bottom of that chart.
---
Response to JoeyT (Reply #1)
Fri Jul 19, 2013, 05:57 PM
RainDog (28,784 posts)
2. The chart indicates the discrepancy in harm to others
Alcohol use is also more widespread, so that's another point. But alcohol use, not psychotropics, is associated with violent behavior and impulse-taking actions like reckless driving.
...from the findings of the 2011 "Monitoring the Future," an annual study of self-reported use of various licit and illicit substances by 47,000 junior high and high school students in the US. All use of substances tracked in this report are down, except for marijuana. But alcohol and tobacco use are at historic lows.
But if you think that this overall decline in teen drug use would provide prohibitionists or the mainstream media with a reason to celebrate, think again. Here's a sampling of the headlines that greeted the study's release: "Marijuana Use Growing Among Teenagers" (The New York Times); "Marijuana Use Among Teens at Highest Level in 30 Years" (The Los Angeles Weekly); "Why Teens Need to Know Risks of Marijuana" (from the editorial board of The Christian Science Monitor). Also weighing in was the National Institute on Drug Abuse (NIDA), which publicly called the report's findings "depressing."

By contrast, the year-to-year data presented in the actual study was far less sensational. "Marijuana use continued to rise among 10th and 12th graders this year for all prevalence periods (lifetime, past year, past 30 days, and daily use in the past 30 days)," the authors noted in a press release, before adding an important caveat: "No one of these changes was large enough to be statistically significant, but they all continue the pattern of a gradual rise...for the fourth straight year – a sharp contrast to the considerable decline that had occurred in the preceding decade."

Predictably, Drug Czar Gil Kerlikowske blamed this four-year "gradual rise" – highlighted by the finding that a greater percentage of high school seniors (6.6 percent) now report consuming cannabis daily than at any time since the 1980s – on anything but the problematic prohibitionist policies that he favors. "The federal drug czar said he believed the increasing prevalence of medicinal marijuana was a factor in the uptick," reported the Times. Kerlikowske himself added: "These last couple years, the amount of attention that's been given to medical marijuana has been huge. And when I've done focus groups with high school students in states where medical marijuana is legal, they say, 'Well, if it's called medicine and it's given to patients by caregivers, then that's really the wrong message for us as high school students.'"

Of course, if Kerlikowske's allegations were to hold any weight whatsoever, the self-reported spike in teen use would have started nearly a decade earlier, when the nationwide public debate over medical pot began in earnest. Of the 16 states that have passed medical cannabis laws, 10 did so between 1996 and 2006, a period of time when adolescents' year-by-year pot use fell dramatically. In fact, since 2008, only two states – Michigan in 2008 and Arizona in 2010 – have even enacted medical cannabis laws. (Similar laws passed in Delaware, New Jersey and the District of Columbia have yet to be implemented.)

The authors are correct that teens' views regarding the "perceived risk" of cannabis use has diminished in recent years. Since 2008, the percentage of high school seniors who believe that a "great risk" is associated with cannabis use dropped from an estimated 50 percent to just below 45 percent. However, this downward trend actually began in the early 1990s, when some 80 percent of seniors perceived such a risk – and, curiously, even as the "perceived risk" among teens declined in the 1990s and throughout most of 2000, adolescent rates of marijuana use also fell, raising doubts as to the credibility of the investigators' theory.

http://www.hightimes.com/read/teenagers-wise
Current usage seems to indicate that education does help teens to make better decisions. As they have learned of the relative safety of one thing versus another - usage has shifted.
But, as the author at High Times, and just about everyone I've read who has written about this issue notes - there is a good reason for public service campaigns to educate teenagers that there is risk associated with usage for some within their age cohort - for those with family histories of schizo-affective disorders and for those who begin use very early. For this last issue, however, I would think it would be important to look at the family dynamics in which such a child must survive to gain a wider view of drug use at such an early age.
On the other hand, there are valid health and medical reasons to allow doctors to prescribe marijuana-based medicines for the treatment of things like epilepsy and side issues of autism, etc. In such cases, again a "zero-tolerance" policy for children doesn't make sense when controlled, medical usage can positively impact a child's ability to function, learn and survive.