Wed Aug 6, 2014, 06:16 AM
unhappycamper (60,364 posts)
US Navy looks to Norway for answer to under-armed Littoral Combat Ship
http://arstechnica.com/information-technology/2014/07/us-navy-looks-to-norway-for-answer-to-under-armed-littoral-combat-ship/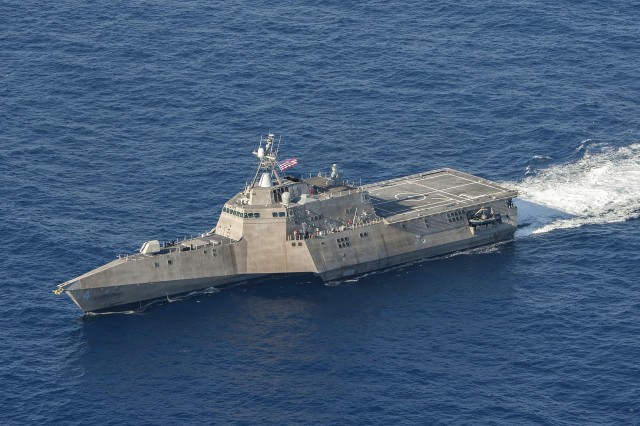 If you look very carefully you can see the 57mm popgun near the pointy end.
US Navy looks to Norway for answer to under-armed Littoral Combat Ship
by Sean Gallagher - Jul 25, 2014 2:51 pm UTC
This fall, the US Navy will test a new weapon system—at least, one that's new to the US—aboard the Littoral Combat Ship (LCS) USS Coronado somewhere off the California coast. In search of some way to beef up the firepower of the oft-maligned LCS class, the Navy will test-launch a missile that can fly up to 100 miles and strike targets at sea or on land.
And that missile comes not from one of the big names in the US defense industry but from Norway.
The LCS was supposed to be a modular, flexible ship that could get in close to shore and support troops with missile fire. But when the US Army cancelled the Non-Line of Site (NLOS) missile program, it took the teeth out of that idea—the modular missile system was also supposed to be the LCS's go-to weapon for longer-range land and sea attack.
Since then, the only missile that has even been fired from an LCS-class ship is the RIM-116 Rolling Airframe Missile, an anti-air point defense missile system tested aboard the USS Freedom in 2009 and 2010.
And concerns about the ship's underpowered armament and inherent lack of flexibility without a missile capability made it an expensive sitting duck in "contested" waters—in other words, against any adversary that could put even a patrol boat armed with anti-ship missiles to sea.
As a result, the Navy cut the number of LCS ships to be built in half and froze the purchase of ships not already under construction while it looks at alternatives.

The Kongsberg Naval Strike Missile—that missile from Norway—might be part of the answer to the LCS's woes. The turbojet-powered cruise missile is already in service aboard Royal Norwegian Navy patrol boats and in a truck-mounted version with the Polish Navy's coastal defense forces and has been chosen as the basis for the air-launched Joint Strike Missile—a standoff attack missile for the F-35 Joint Strike Fighter.
0 replies, 1568 views