Mon Sep 4, 2017, 04:19 PM
sandensea (14,839 posts)
President Bachelet of Chile is the last woman standing in the Americas
For a few years, President Michelle Bachelet of Chile and two other female leaders presided over much of South America, representing more than half of the continent's population.
Their presidencies — in Argentina, Brazil and Chile — made the region an exemplar of the global push for a more equitable footing for women in politics. But now, with one of her counterparts impeached and the other fighting politically-motivated corruption charges, Ms. Bachelet finds herself in an unsettling position: the last female head of government standing in the Americas.
And in a few months, she will be gone, too. After Ms. Bachelet's term ends next year,
none of the countries in North or South America are expected to have female presidents
- a notable turnaround in a region where, until recently, women have been elected to lead influential democracies.
The end of the Bachelet era is raising troubling questions for advocates of women's rights who had hoped that the region's recent track record of electing women was a lasting step toward gender equality.
The three powerful female presidents in South America — Ms. Bachelet, Dilma Rousseff in Brazil, and Cristina Fernández de Kirchner in Argentina — came to office with the endorsement of popular male incumbents at a time when leftist parties promising to create more equitable societies appealed to voters.
But the standing of the three presidents — and the perception of their parties — suffered as the end of a commodities boom in 2014 hurt regional economies and a series of corruption scandals called into question their integrity and leadership.
Presidents often see their support plunge while in office.
But the three female presidents agree that their gender exposed them to particularly virulent backlashes
.
"They accused me of being overly tough and harsh, while a man would have been considered firm, strong," former Brazilian President Dilma Rousseff said. "Or they would say I was too emotional and fragile, when a man would have been considered sensitive. I was seen as someone too obsessed with work, while a man would have been considered hard-working."
Chilean President Michelle Bachelet, 65, is a pediatrician and single mother who began her government career as an adviser in the Health Ministry, rising quickly to become the nation's first female health minister in 2000 and then its first female defense minister in 2002.
Bachelet's first presidential election victory in 2006 -
widely regarded as the first to be elected on her own merits, without riding the coattails of a politically powerful husband
- was a watershed moment inspired women across Latin America.
During her first four-year term, Ms. Bachelet signed legislation curbing workplace discrimination, to protect victims of domestic violence, and to expand health care for women.
During her second term, she created a ministry of women and gender equality, and passed an electoral change requiring that at least 40% of candidates for elected office be women. She recently obtained a partial decriminalizion of abortion - a pressing women's health issue in a country where up to 100,000 illegal abortions are performed annually.
"I always make a soccer analogy," Ms. Bachelet said. "
If, of the 11 players, we only had half in the field, we would never win a game
. The country, in order to develop, needs the skills of men and women."
At:
https://www.nytimes.com/2017/07/24/world/americas/michelle-bachelet-president-of-chile.html?mcubz=3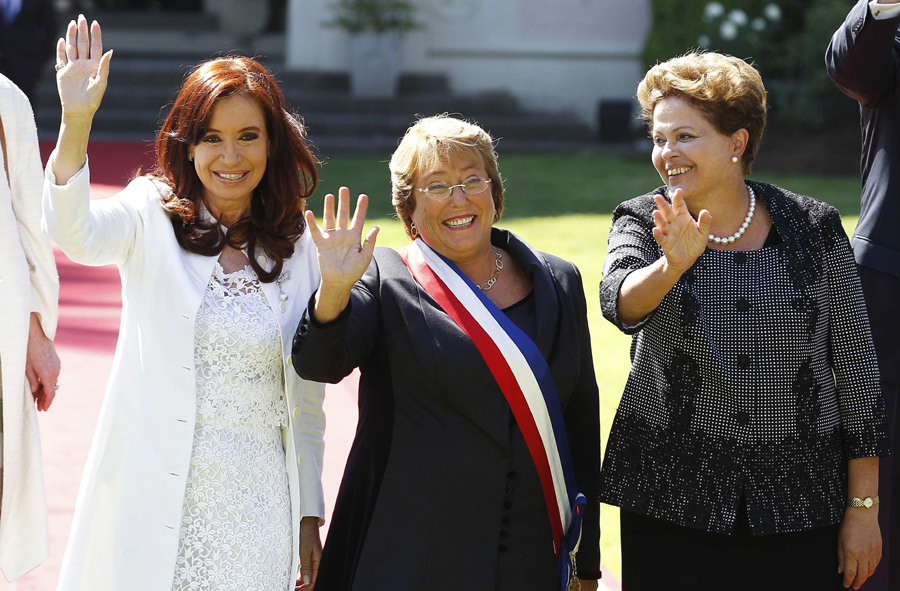 Argentina's Cristina Fernández de Kirchner, Chile's Michelle Bachelet, and Brazil's Dilma Rousseff during Bachelet's 2014 inaugural.
0 replies, 2001 views