Mon Jan 19, 2015, 12:19 AM
rocktivity (44,463 posts)
Pro Golfer Robert Allenby: I was abducted, robbed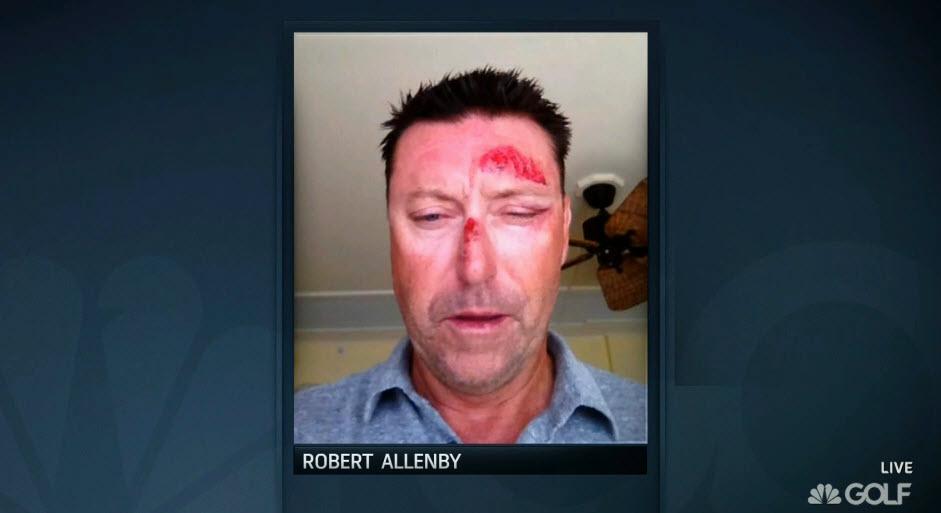 ESPN:
PGA Tour player Robert Allenby said he was kidnapped and robbed Friday night after missing the cut at the Sony Open in Hawaii...(H)e was at a wine bar in Waikiki when he was abducted at around 11 p.m. local time, placed in a car, driven 6½ miles away and robbed...Honolulu television station KHON2 said police were investigating it as second-degree robbery...
Allenby told the Australian Associated Press..."I was separated from my friend [Anthony Puntoriero] in the bar after we had paid the tab at 10:48 p.m., and he went to the bathroom and next thing you know I'm being dumped in a park miles away. I only know this part because a homeless woman found me and told me she saw a few guys pull up and throw me out of the car. That is where I got the scrapes above my eye from the sidewalk."
Michael "Mick" Middlemo, Allenby's caddie, told Australia's 9 News in a phone interview Saturday that he was also at the establishment with the golfer on Friday night, but left around 10:30..."(Allenby said he) didn't remember leaving," Middlemo told (a) TV station from a Honolulu police station..."He has no recollection of leaving that bar, which was ridiculous because I saw him 10 minutes earlier and he was fine...
None of us were (drunk)...I have no doubt that something was put in one of his drinks."
Middlemo, who was staying at a different hotel, said he didn't find out what had happened until...Saturday morning...
He misses the cut, goes to a wine bar with a friend, pays the tab, waits for his friend to make a potty stop, then lights out? If something weird had happened before he left the bar, surely it would have been noticed. How about, he was drowning his sorrows in more ways than one BECAUSE he missed the cut?
rocktivity
10 replies, 2888 views
Replies to this discussion thread
| | | | |
| --- | --- | --- | --- |
| 10 replies | Author | Time | Post |
| Pro Golfer Robert Allenby: I was abducted, robbed (Original post) | rocktivity | Jan 2015 | OP |
| | hughee99 | Jan 2015 | #1 |
| | rocktivity | Jan 2015 | #2 |
| | RockaFowler | Jan 2015 | #3 |
| | rocktivity | Jan 2015 | #4 |
| | rocktivity | Jan 2015 | #5 |
| | rocktivity | Jan 2015 | #9 |
| | rocktivity | Jan 2015 | #6 |
| | rocktivity | Jan 2015 | #7 |
| | rocktivity | Jan 2015 | #8 |
| | rocktivity | Feb 2015 | #10 |
---
Response to rocktivity (Original post)
Mon Jan 19, 2015, 01:54 AM
hughee99 (16,113 posts)
1. I'm not sure why he'd need a cover story for the press if he was drowning his sorrows in other ways.
---
Response to rocktivity (Original post)
Tue Jan 20, 2015, 03:54 AM
rocktivity (44,463 posts)
2. UPDATE: Woman who found Allenby tells different story
Last edited Tue Jan 20, 2015, 07:52 PM - Edit history (7)
LA Times.com
:
Allenby has said that he was abducted outside a wine bar, robbed and beaten, then driven some six miles away. A homeless woman saw him being tossed out of a car, dazed and injured, he said.

But 9News in Australia tracked down the woman, who said she encountered Allenby only a block from the wine bar, where he was offering two men $500 to get his belongings back. She said a passerby put him in a taxi back to his hotel.

Honolulu police have closed-circuit videotape of a suspect purchasing alcohol with a credit card stolen from Allenby, 9News said.
9News.com:
The 43-year-old pro golfer said he left his friend to go to the bathroom as the Amuse wine bar in Waikiki was closing on Friday night. When he emerged, a group of people he didn't know told him his friend was waiting for him downstairs in the car park. He caught the (elevator) down and when he emerged, he claims he was brutally bashed before being robbed and stuffed in a car boot, and then dumped in a park 10km away. He then claims two homeless men started kicking him to see if he was alive and stole whatever he had left.
But Charade Keane, a local homeless woman, told 9NEWS she was just one block from a wine bar when she found Allenby trying to pay off two men to get his belongings back. Ms Keane said she saw Allenby trying to offer the men $500 but they became aggressive. She said she was helped by another man, believed to be a former soldier, to get Allenby in a taxi.
"There was two people there also that were sort of arguing with him," Ms Keane said. "So I asked him to come with me, I said 'this guy needs help'. I didn't want them fighting and he trusted me and we walked across the street."
Her account also raises the question of what happened during the three hours between when Allenby left the wine bar at 11pm and when Ms Keane discovered him at 2AM.
HE went to the bathroom? I thought he said his friend did. Did they travel to the bar in their own vehicle? If not, why go to to the car park? Did the car park have surveillance cameras? Did the woman see the bruises that appear in the photo? DID HE APPEAR TO BE DRUNK AT THE TIME? It's all a far cry from being seen dumped from a car six miles away -- if you'll pardon the expression. Here's hoping they can track down who used his credit card...
rocktivity
---
Response to rocktivity (Reply #2)
Tue Jan 20, 2015, 07:35 AM
RockaFowler (7,429 posts)
3. It looks like this story is starting to unravel
Especially after he said that he loved the movies Taken & Taken 2
---
Response to RockaFowler (Reply #3)
Tue Jan 20, 2015, 03:32 PM
rocktivity (44,463 posts)
4. Post updated to include homeless woman's story
Last edited Tue Jun 16, 2020, 09:25 PM - Edit history (13)
I remember an episode of Cops where a Hummer in Las Vegas was pulled over for a broken license plate light. A woman occupant was immediately cuffed for an outstanding prostitution warrant. A search of the car turned up nine -- count 'em, NINE -- cell phones; a notebook full of women's names, physical descriptions, and phone numbers; and a stack of the womens' credit cards (apparently SOP for pimps to hold as "collateral" while their "sex workers" were "on duty"). But despite all that, the other two male occupants swore up and down that they
weren't
pimps!
And now Allenby says he had been at the bar the previous night? And the witness said he was trying to buy his possessions back? It's beginning to look a lot like trick roll!
rocktivity
---
Response to rocktivity (Original post)
Tue Jan 20, 2015, 07:03 PM
rocktivity (44,463 posts)
5. Holy crap, It's an epidemic!
OregonLive.com: A masked Tiger Woods surprised girlfriend Lindsey Vonn with a visit in France, but the big surprise was the golf star was missing a tooth...

Woods' agent, Mark Steinberg...said in a statement to the media..."During a crush of photographers at the awards' podium, a media member with a shoulder-mounted video camera pushed and surged towards the stage, turned and hit Tiger Woods in the mouth. Woods' tooth was knocked out by the incident."

...Race officials said the incident was not reported to them..."I was among those who escorted him from the tent to the snowmobile and there was no such incident," Nicola Colli, the secretary general of the race organizing committee, told The Associated Press. "When he arrived he asked for more security and we rounded up police to look after both him and Lindsey..."
Hmm, you'd think an incident like that -- with a roomful of witnesses -- would result in bloodshed and/or a bruised lip...
rocktivity
---
Response to rocktivity (Reply #5)
Wed Jan 28, 2015, 06:02 PM
rocktivity (44,463 posts)
9. Tiger Woods explains tooth incident
ESPN:
Woods said he...tried to surprise Vonn and didn't want to be recognized. He wore a skeleton ski mask...from the Xbox video game called Ghost Recon that he plays..."I was trying to blend in because there are not a lot of brown dudes at ski races, OK...(T)hat was the whole idea of why I wore the mask...
I was looking down, and all the camera guys are below me on their knees or moving all around, trying to get a picture because she's hugging people, saying congratulations to the other racers...Dude with a video camera on his shoulder, right in front of me, kneeling, stood up and turned and caught me square on the mouth. He chipped that (tooth), cracked the other one...I'm trying to keep this thing so the blood is not all over the place, and luckily he hit the one I had the root canal on...But the other one had to be fixed as well, because it had cracks all through it."
Woods said he had the teeth fixed when he returned to Florida. "...(T)he flight home was a joke," he said. "I couldn't eat, couldn't drink until he fixed them, put the temporaries on. I couldn't have anything touch it. Even breathing hurt, because any kind of air over the nerve, the tooth that was still alive, was cracked." As for the considerable conjecture about his story not being true, Woods said: "It is just what it is."
I wondered why the photos showed no signs of bleeding or bruising around the mouth. A mask made out of some kind of rubber rather could have concealed both. But he admits there WAS blood -- did he swallow it all? And if he were in so much pain that breathing inflamed the nerve, why didn't he seek at least temporary dental help before flying home?
rocktivity
---
Response to rocktivity (Original post)
Tue Jan 20, 2015, 09:19 PM
rocktivity (44,463 posts)
6. Allenby Suggests Homeless Good Samaritan Is A Liar, Gives Her $1,000
Last edited Fri Apr 15, 2016, 11:18 PM - Edit history (8)
SBNation.com: ...A homeless woman, Charade Keane, witnessed him being tossed from the car about a block from the bar, not the six miles Allenby claimed, and pulled him away from homeless men who were confronting him.

"I'm guessing she's getting paid," (texted) Allenby...(to) Golf Channel's Tim Rosaforte..."It's such a shame that people are focusing on whether the story is true. I say you only have to look at me to see the truth."

The odyssey took yet another bizarre twist on Monday, when Allenby met his rescuer — the same woman he reportedly charged with taking money to contradict his story — in a reunion filmed by Channel 7 News, whose anchor questioned the veracity of the Aussie's claims, calling them "sketchy."

Allenby, who has earned more than $28 million in his career, gave $1,000 to the woman...
Thereby completely ruining her credibility as a witness -- especially since Keane
is NOT quoted as saying
that she saw Allenby getting tossed from a car. But why doesn't HE believe HER? He's the one who claimed he was drugged! Is this his way of torpedoing any court case because he knows he can't win?
rocktivity
---
Response to rocktivity (Original post)
Wed Jan 21, 2015, 02:12 PM
rocktivity (44,463 posts)
7. A more detailed witness report from CBS News
Last edited Thu Jan 22, 2015, 12:39 PM - Edit history (1)
According to CBS affiliate KGMB, Allenby told reporters that Charade Keane, a homeless woman, told him she saw some men throw him out of a car trunk, but Keane denies seeing that.
"I can't say somebody did something I didn't see them do," Keane told KGMB. "I can't even tell you how he got hurt. I just know that he was bleeding everywhere."
Keane told the station
she found Allenby sitting on a planter at a street corner - just steps away from the wine bar - with a bloodied face
early Saturday. She said Allenby was arguing with two homeless men she knows. "He was saying that they knew something about what happened to him and
they were saying that (they) just saw him fall and hit a rock
and it was kind of weird because I didn't know what happened," Keane told the station.
As she and Allenby walked away, he said all his belongings were gone and
he asked her to negotiate with the two homeless men, who he thought were robbers.
"He asked me to tell them that he would give them $500 to get his wallet and his phone back, because it turned out he had one credit card left and he wasn't sure why and that's when we thought maybe they wanted more money," Keane said. "And when I asked them, they said they didn't have the things, but still wanted him to give them money, so I told Mr. Allenby that and that's when I was kind of worried, but that's when the other boy came up."
That other boy - a young man in the military - helped Allenby and paid for a taxi to get him back to his hotel, Keane recalled. Allenby didn't call police until he was back at his hotel. He told the media he didn't want to call police at the scene because he didn't feel safe there...(
link
)
But he could have had the taxi take him straight to the police or a hospital. Had he been sitting on that planter for nearly three hours?
rocktivity
---
Response to rocktivity (Original post)
Wed Jan 28, 2015, 12:11 AM
rocktivity (44,463 posts)
8. 1/27 UPDATE: Robert Allenby racked up $3,400 bill at Hawaii strip club
New York Daily News:
While Honolulu police are still classifying the Jan. 16 incident involving Australian professional golfer Robert Allenby as a second-degree robbery and credit card fraud investigation, Allenby's version of what happened that night in Honolulu continues to slice farther into the rough.
According to a GolfChannel.com report posted Sunday, Allenby left the Amuse Wine Bar after 11 p.m. that Friday with three unknown people, and later visited a strip club called Club Femme Nu around midnight with a "group of friends," where he racked up a $3,400 tab...
Golf.com:
The report says Allenby was approached by two men and a woman at Amuse Wine Bar and, according to video footage from the restaurant, walked out with the group at 11:06 p.m. Twenty minutes later two homeless men, Chris Khamis and Toa Kaili, said they found Allenby passed out on the sidewalk 100 yards away from the wine bar with no injuries, but clearly disoriented and asking about a "third guy." Allenby is next seen at Club Femme Nu, a strip club located a mile away from the restaurant, where himself and "a group of friends" had a bill of $3,400...
Around 1 a.m., Khamis and Kaili claim to have found Allenby for a second time, this time 50 feet from the original location where they first saw him, and watched him injure himself by falling and hitting his head on a rock. "He was beyond drunk," Kaili told Golf Channel. "Totally blitz. It had to be a little bit more than just drunk."
Google Maps puts Amuse and Femme Nu about half a mile apart -- is it advisable to walk at that time of night? Caddie Mick Middlemo's theory about Allenby having been drugged IS plausible, then -- the only difference being that he could have been slipped a mickey at the strip club, not the wine bar!
rocktivity
---
Response to rocktivity (Original post)
Thu Feb 12, 2015, 08:19 PM
rocktivity (44,463 posts)
10. 2/12 UPDATE: User of Allenby Credit Card Arrested
Last edited Sun Feb 15, 2015, 02:40 PM - Edit history (2)
CBS Sports:
Someone was finally arrested in the Robert Allenby case...Patrick Harbison..."was charged with three felony counts of identity theft and attempted theft, and a felony charge of unauthorized possession of confidential personal information,"...said Lt. John McCarthy to KHON2.com...

(T)he total spent was less than $20,000...(McCarthy) also noted that the alleged beating and kidnapping of Allenby is being investigated independent of the credit card theft. It's hard for me to believe the two wouldn't somehow be linked, however.
Well, this arrest only proves robbery, not kidnapping or assault. And I wouldn't be surprised if the cops had instructed Allenby to cancel and replace all his credit cards except the one the perp was using, which would eventually give said perp enough rope to hang himself. So I'm going to continue to link the robbery to an alcoholic blackout and/or trick rolling!
rocktivity