Sat Jan 30, 2016, 03:15 PM
bluedigger (16,627 posts)
Police called to investigate Johnny Manziel incident in Texas
Police were called to investigate an incident involving Cleveland Browns quarterback Johnny Manziel in Fort Worth, Texas on Saturday.
Fort Worth police said in a statement Saturday that officers were called to an apartment building around 2 a.m. about a possible assault. Police talked to a 23-year-old woman, who was not the caller, who said she had been involved in an incident earlier in the evening with her ex-boyfriend in Dallas. A preliminary investigation determined that a possible assault had occurred, though the woman refused to cooperate with officers and there was no evidence of a crime scene.
The woman also told officers she was concerned about her ex-boyfriend's welfare. Police officers attempted to locate him and later determined that he was safe and not in danger.
http://espn.go.com/nfl/story/_/id/14678168/police-called-investigate-incident-involving-cleveland-browns-quarterback-johnny-manziel
Johnny appears to have a woman problem.
6 replies, 1359 views
Replies to this discussion thread
| | | | |
| --- | --- | --- | --- |
| 6 replies | Author | Time | Post |
| Police called to investigate Johnny Manziel incident in Texas (Original post) | bluedigger | Jan 2016 | OP |
| | Iggo | Jan 2016 | #1 |
| | El Supremo | Jan 2016 | #2 |
| | Brother Buzz | Jan 2016 | #3 |
| | WhaTHellsgoingonhere | Jan 2016 | #4 |
| | Auggie | Jan 2016 | #5 |
| | WhaTHellsgoingonhere | Jan 2016 | #6 |
---
Response to bluedigger (Original post)
Sat Jan 30, 2016, 09:10 PM
Iggo (45,533 posts)
1. Johnny has a Johnny problem.
He needs to get over himself.
---
Response to bluedigger (Original post)
Sat Jan 30, 2016, 09:54 PM
El Supremo (20,165 posts)
2. It seems to be big news in DFW.
He was dating a TCU coed and she said he was missing and maybe in trouble. They sent a helicopter to search for him. He was OK. No charges filed.
He's still big news, only because of the talk of him becoming a Cowpie.
http://www.bringjohnny2dallas.com/
Seat's taken.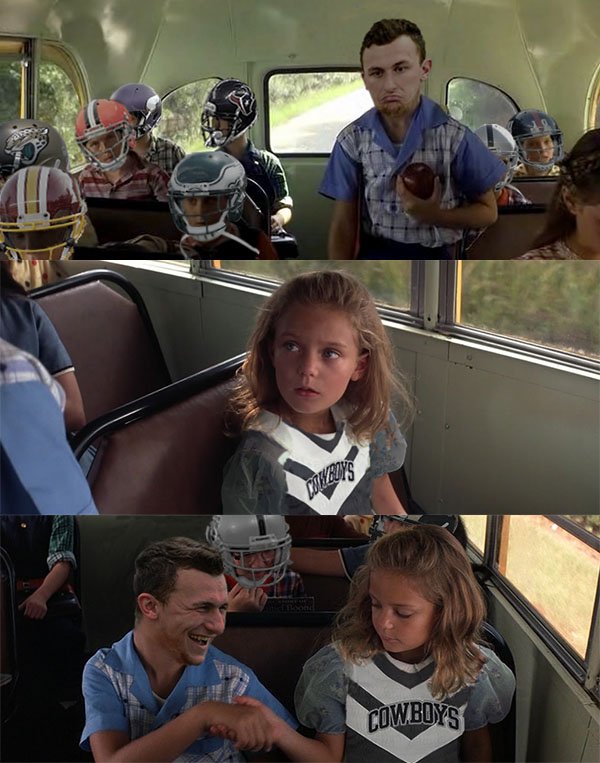 ---
Response to bluedigger (Original post)
Sat Jan 30, 2016, 10:22 PM
Brother Buzz (31,304 posts)
3. Here's to alcohol: the cause of, and solution to, all of life's problems.
---
Response to bluedigger (Original post)
Sun Jan 31, 2016, 08:53 AM
WhaTHellsgoingonhere (5,252 posts)
4. Kid is bipolar. No doubt in my mind
I hope someone else figured that out, like during his rehab he saw a psychiatrist and was being stabilized on meds. Problem is with bp, it takes a long time for a young person to accept. There's a yearning to be normal. There's a lot of shame. The fact that people know didly poo about mental illness, unless they see someone shouting at imaginary images, leads to more shaming. It's like Trump making fun of an obviously disabled reporter. Mental illness is invisible. People can't see it, so it not there. People with bipolar disorder are wildly successful artists, musicians, salesmen, authors. Unmediated, their behavior is wildly irratic. They self-medicate with drugs and alcohol. Johnny has a problem. But people only see and comment on the symptoms. The team might even know this, which is why they're hanging on despite the ridicule they're getting. They're likely trying to support him. But if he refuses to be med compliant (which takes time, bipolar people are famous for going on and off meds and in and out of hospitals) they have to let him go. People with bipolar lack perspective. Losing important things, repeatedly, help give them some perspective...eventually.
---
Response to WhaTHellsgoingonhere (Reply #4)
Sun Jan 31, 2016, 01:03 PM
Auggie (28,472 posts)
5. I never considered that -- explains a lot if true.
---
Response to Auggie (Reply #5)
Sun Jan 31, 2016, 03:31 PM
WhaTHellsgoingonhere (5,252 posts)
6. Good find. I didn't know it's public
bipolar I (one) is easy to recognize if you know what to look for: laughing all the way through self-destruction is a big tell

Thanks for the link.