Tue May 28, 2019, 03:47 PM
yuiyoshida (34,285 posts)
Your FAVORITE Monster Hunter (Me, I hope) is so excited about ICEBORNE
Coming out as the second Edition of Monster Hunter World.
Recently, (today in fact) I just reached Hunter Rank 200 which isn't bad for someone who can barely call herself a gamer. ( Played Tomb Raider as a kid along with a few other games...) I have seen people as high as 500 Rank, but not very often.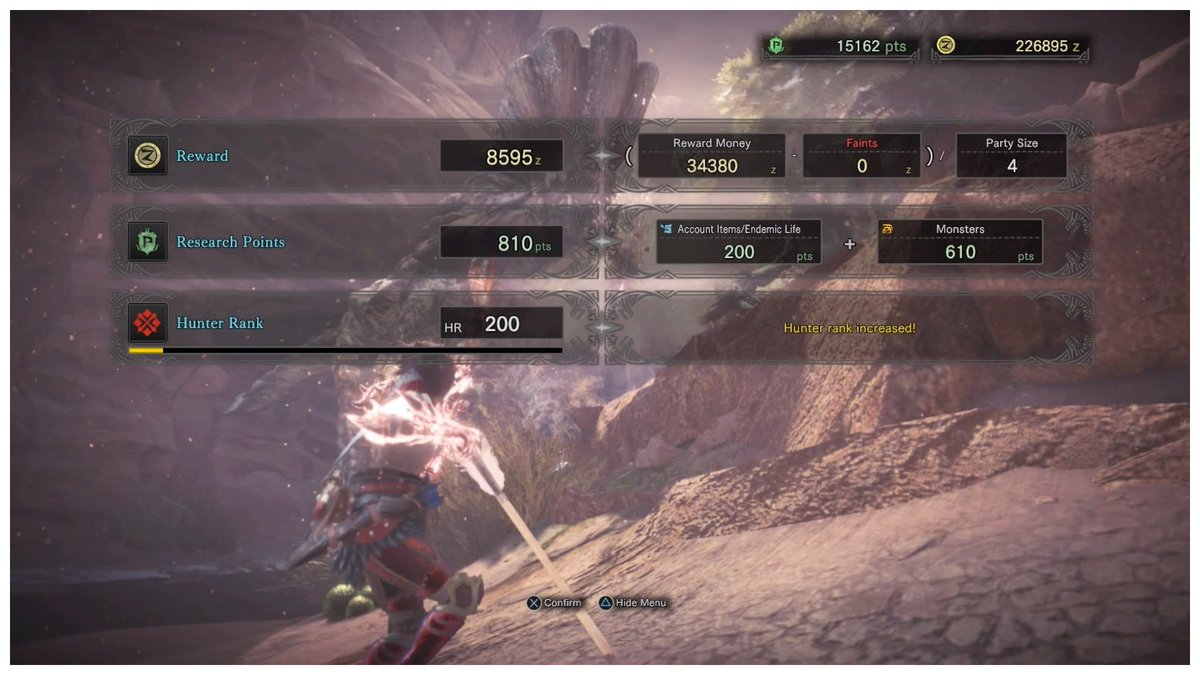 Maybe that's why we are all chomping at the bit to play against more interesting Monsters...a new challenge.
I can't wait to snag a wind drake (our mode of transportation) and fly to this brand new world to explore it and meet up with both old and new monsters.
I was thinking about this one question today...about how, in real life, I would never go hunting. Yet, hunting against Imaginary creatures..is an interesting feeling. I have found that its always better to capture them than to kill them. Case in point... The Barroth:
Link to tweet
All of these Monsters seem to have a personality trait that as a hunter you could pick up on. You will start to know if the monster will turn left to charge or right to run.. when you have it on the Run, you know you have a top position over the animal.. its about that time you decide what trap to use or if you could use any trap at all.(Elder Monsters can not be captured, its simply impossible..so they are killed.)
I really struggled with this delima, that being that if I would never hunt and kill animals in real life, how can it be okay to do this in a fantasy world? True the animals are not wasted, every part of the animals are either eaten, or used to make outfits, armor, even weapons. You need those more improved armor against more powerful Monsters. Its almost like the program trains you to hunt small monsters before you go after the big nasty ones. And some of them are really nasty, hit them with an arrow and they come looking for you!!
But it comes back to them being pixelated. They are not real.. they are from someone's imagination and the idea is to go out into the field and basically face your demons. Maybe society would be better if we killed imaginary things over real people and things? I don't know, but I just know I enjoy it.. the drama of every second, even to the point of rushing to eat, before a hunt is important. Each hunt will be totally different. People hated grinding which is the act of doing some task over and over just to get the materials they need to have something made, and maybe at the time, gamers just cared about getting it done. But, .. now in MHW there is no real grinding. Each outcome will be different... the Monster my run left when you thought it will run right, and so now you have a totally different drama unfolding. New brush and plants to run though to chase down something rather large and cunning.
I used to be afraid of the bigger beasts. But no one in the game has ever died. They might get knocked unconscious, but never ever killed. Jump off a high cliff and you won't die or even get knocked out.. you will land on your feet and run like hell after the beasts.
I really love this game. This is the kind of game I could never get bored with. You can't.. there is ALWAYS something new happening, not to mention all the wonderful festivals ..
Link to tweet
The festivals are joyous times in Monster Hunter World. Many new challenges are presented with a chance to get really cool gear.. with many PS4 crossovers. Recently
The Witcher
was introduced though so many gamers know that game. Suddenly here he is in MHW! I loved playing
Horizon Zero Dawn
, but to have Aloy's outfit and her Bow..to hunt with is simply Awesome!
I will never use another bow..this is the bow I love...I may have different outfits, but this bow is it for me...its sleek and impressive and fires three charged arrows at time and can deliver one huge blow with the dragon killer technique.
I am not sure if I am a true gamer, but I love Monster Hunter World.. one could certainly sit around the camp fire telling stories of honor and glory, simply with the hunts themselves. Best Game I have ever played, and still quite popular among the true gaming crowd!
.
2 replies, 860 views
Replies to this discussion thread
| | | | |
| --- | --- | --- | --- |
| 2 replies | Author | Time | Post |
| Your FAVORITE Monster Hunter (Me, I hope) is so excited about ICEBORNE (Original post) | yuiyoshida | May 2019 | OP |
| | yuiyoshida | May 2019 | #1 |
| | yuiyoshida | Jul 2019 | #2 |
---
Response to yuiyoshida (Original post)
Wed May 29, 2019, 06:20 PM
yuiyoshida (34,285 posts)
1. I bought the advanced version of ICEBORNE today ahead of time
---
Response to yuiyoshida (Reply #1)
Mon Jul 22, 2019, 03:03 PM
yuiyoshida (34,285 posts)
2. Monster Hunter World: Iceborne - A tour with the Handler


Can't wait to play on September 6th! (Release date)