Thu Jan 31, 2013, 07:56 PM
cleanhippie (19,705 posts)
God Freaks Self Out By Lying Awake Contemplating Own Immortality
THE HEAVENS—Sources close to God reported Thursday that the Creator of the Universe and Author of Our Eternal Salvation suffered a crippling bout of existential dread this week, lying awake all night as He pondered His own immortality.
Anxiously drumming His fingers, the all-powerful being was reportedly unable to sleep as His mind raced with thoughts of the unfathomable nature of eternity, the relentless expansion of space and time, and His own never-ending existence.
"Is this all there is? I'm here now, 70 or 80 years go by, and then I'm still here—forever?" said God, staring up at the ceiling after a half hour of tossing and turning. "That's horrible! And what's worse, at some point everyone I know will have died, which means no one anywhere in the universe will even remember I ever existed."
"Fuck, that's a terrifying thought," God added.
According to reports, God then got up, put on His robes, and paced through the heavens, feeling a sense of dread in the pit of His stomach as He contemplated His overwhelming significance in the grand scheme of things.
http://www.theonion.com/articles/god-freaks-self-out-by-lying-awake-contemplating-o,31097/?utm_source=Facebook&utm_medium=SocialMarketing&utm_campaign=standard-post%3Aheadline%3Adefault
8 replies, 1541 views
Replies to this discussion thread
| | | | |
| --- | --- | --- | --- |
| 8 replies | Author | Time | Post |
| God Freaks Self Out By Lying Awake Contemplating Own Immortality (Original post) | cleanhippie | Jan 2013 | OP |
| | Squinch | Jan 2013 | #1 |
| | Tyrs WolfDaemon | Jan 2013 | #2 |
| | cleanhippie | Feb 2013 | #8 |
| | longship | Jan 2013 | #3 |
| | madrchsod | Jan 2013 | #4 |
| | rug | Jan 2013 | #5 |
| | BlueStreak | Feb 2013 | #7 |
| | BlueStreak | Feb 2013 | #6 |
---
Response to cleanhippie (Original post)
Thu Jan 31, 2013, 08:07 PM
Squinch (44,995 posts)
1. LOL!!!
---
Response to cleanhippie (Original post)
Thu Jan 31, 2013, 08:19 PM
Tyrs WolfDaemon (2,289 posts)
2. For an instant I thought it said he was contemplating his own immorality
I really wanted to read about that.
---
Response to Tyrs WolfDaemon (Reply #2)
Fri Feb 1, 2013, 11:01 AM
cleanhippie (19,705 posts)
8. Not even god would acknowledge that much hypocrisy.
---
Response to cleanhippie (Original post)
Thu Jan 31, 2013, 08:19 PM
longship (40,416 posts)
3. It could be worse. He could be cursed with telepathy.
Like the population of
Kakrafoon Kappa
.
It didn't work out for them. They eventually hosted a
Disaster Area
rock concert. Never a good thing when the sound system is plutonium driven.
---
Response to cleanhippie (Original post)
Thu Jan 31, 2013, 09:04 PM
madrchsod (58,162 posts)
4. or maybe he realized mother nature isn`t going to call...
fat chance she`d call after what god`s minions has been doing to her...

it`s not nice to fool (with) mother nature!
---
Response to cleanhippie (Original post)
Thu Jan 31, 2013, 09:16 PM
rug (82,333 posts)
5. Black Gospel Choir Makes Man Wish He Believed In All That God Bullshit
COLUMBUS, OH—The gloriously jubilant gospel singing that pours forth each Sunday from Bethel African Methodist Episcopal Church is enough to make local resident Doug Kamin wish he believed in all that God bullshit.
The Bethel AME Church choir, which has given Doug Kamin (left) reason to regret his atheism.
Kamin, who lives two blocks from Bethel AME Church, passes the church most Sundays en route to his local Starbucks. Though he has rejected the existence of God ever since discovering Marx and Nietzsche in the 10th grade, Kamin admitted that the exuberant singing of the church choir often produces in him a feeling of longing.
"It must be so life-affirming to be in there, connecting with fellow human beings and celebrating your faith while making that joyful noise," said Kamin, a doctoral candidate in political science at Ohio State University. "I still say it's a big, delusional fairy tale, this whole religion thing, but what's the harm in believing in a 2,000-year-old carpenter and some 'holy ghost' if it makes you happy?"
Kamin first discovered Bethel AME Church in May 2000, shortly after moving to the neighborhood. Long accustomed to dismissing all forms of Christian ceremony and worship as "hysterical" and "cult-like," Kamin overheard a rendition of "The Old Ship Of Zion" that led him to amend his opinion.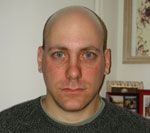 White atheist
http://www.theonion.com/articles/black-gospel-choir-makes-man-wish-he-believed-in-a,231/
---
Response to rug (Reply #5)
Fri Feb 1, 2013, 01:39 AM
BlueStreak (8,377 posts)
7. Actually, that is me right there
I play in an orchestra that presents an annual concert of gospel music with 80-piece orchestra and 90-voice choir. The energy is something to behold, and the fact that I'm an atheist doesn't diminish the event at all for me.
I think it is a waste of a lifetime to really believe in any religious stuff. But if you are going there, this is definitely the way to do it. That black gospel choir music is like nothing else. We have 10-15 white people in the choir too. They sing OK, but they just don't have the moves.
---