Mon Oct 26, 2020, 07:29 AM
Eugene (50,165 posts)
France urges Arab nations to prevent boycotts over Macron's cartoons defence
Source:
BBC
France urges Arab nations to prevent boycotts over Macron's cartoons defence
26 October 2020
France has urged Middle Eastern countries to end calls for a boycott of its goods in protest at President Emmanuel Macron's defence of the right to show cartoons of the Prophet Muhammad.
The French foreign ministry said the "baseless" calls for a boycott were being "pushed by a radical minority".
French products have been removed from some shops in Kuwait, Jordan and Qatar.
Meanwhile, protests have been seen in Libya, Syria and the Gaza Strip.
The backlash stems from comments made by Mr Macron after the gruesome murder of a French teacher who showed cartoons of the Prophet Muhammad in class.
The president said the teacher, Samuel Paty, "was killed because Islamists want our future", but France would "not give up our cartoons".
-snip-
Read more:
https://www.bbc.com/news/world-europe-54683738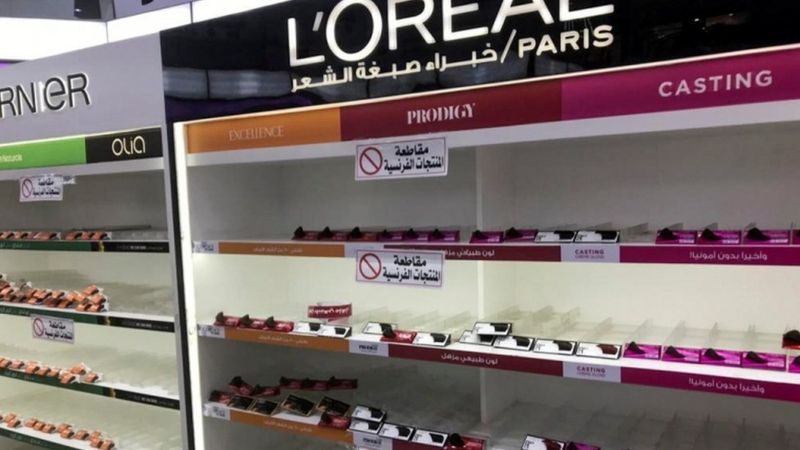 Some shops in Kuwait had stripped their shelves of French-made products by Sunday (Reuters)
______________________________________________________________________
Source:
The Guardian
France urges Islamic world to end boycott of French goods
Appeal comes amid rising anger over Macron's defence of Muhammad cartoons
Kim Willsher in Paris
Mon 26 Oct 2020 11.18 GMT
France has appealed for foreign governments to stamp out calls by what it calls a "radical minority" for a boycott of French products after Emmanuel Macron's public backing of the Muhammad caricatures.
The appeal came as anger escalated across the Islamic world over the president's remarks at a national tribute to the murdered high-school teacher Samuel Paty last week.
Paty, 47, was killed after he showed his class drawings of the prophet during a debate on free speech.
After Macron promised France would not "renounce the caricatures", a furious riposte that emerged on Friday on social media under Arabic hashtags gained momentum over the weekend.
In a strongly worded statement, France's foreign ministry demanded that calls for a boycott of its products and the "occasionally hateful" protests against the country must end.
-snip-
Read more:
https://www.theguardian.com/world/2020/oct/26/france-islamic-end-boycott-french-goods-macron-muhammad-cartoons
0 replies, 450 views