Wed Dec 26, 2012, 12:59 PM
n2doc (47,953 posts)
If only fish had breasts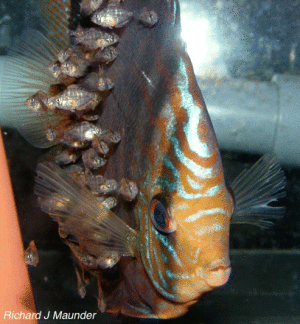 BY DR. M, ON DECEMBER 26TH, 2012
I'm no expert on vertebrates but I do remember somewhere in my undergraduate learning that a distinguishing feature of mammals was the mammary glands. Those o' so important glands that provide nourishment to offspring.
But what does an animal do if it doesn't have access to milk producing glands. In snails, which I know better, young larvae often just thrown out into the ocean and told "Find your own damn food!". In the really lucky species, the larvae are hatched with a yolk sac. In the really unlucky species, like those in the genus Neptunea, an entire stalk of eggs are laid by the female. The first few juveniles to hatch go through and consume their unborn siblings.
Discus fish, obviously lacking mammary glands, produce a breast milk surrogate. No, not that kind of surrogate. "Hey Ms. Manatee*, would you mind coming over here and let my young suckle on your teat?" Discus fish parents secrete a highly nutritious mucus all over their bodies that the young feed on until old enough to feed themselves. If mom is dried up, there is always dad! "Then they left [hatching area] en masse and began feeding on their parents' mucus, feeding for up to 10 min by biting at the parent's side until the parent expertly 'flicked' the shoal over to its partner to continue feeding." The mucus, although always secreted, becomes more protein rich and full of antibodies during the juvenile feeding phase.
Buckley, J., Maunder, R. J., Foey, A., Pearce, J., Val, A. L. and Sloman, K. A. (2010). Biparental mucus feeding: a unique example of parental care in an Amazonian cichlid. J. Exp. Biol. 213, 3787-3795.
http://deepseanews.com/2012/12/if-only-fish-had-breasts/
3 replies, 1180 views
Replies to this discussion thread
| | | | |
| --- | --- | --- | --- |
| 3 replies | Author | Time | Post |
| If only fish had breasts (Original post) | n2doc | Dec 2012 | OP |
| | TreasonousBastard | Dec 2012 | #1 |
| | libodem | Dec 2012 | #2 |
| | littlemissmartypants | Dec 2012 | #3 |
---
Response to n2doc (Original post)
Wed Dec 26, 2012, 01:48 PM
TreasonousBastard (38,376 posts)
1. With all the randomness of evolution over the last billion years or so...
one wonders about the truly weird things that didn't make it.
---
Response to TreasonousBastard (Reply #1)
Wed Dec 26, 2012, 03:17 PM
libodem (19,288 posts)
2. yep
---
Response to n2doc (Original post)
Thu Dec 27, 2012, 09:23 PM
littlemissmartypants (15,464 posts)
3. How sweet. eom