Fri Feb 28, 2020, 10:12 PM
NNadir (25,746 posts)
Freeman Dyson has died.
Physicist/Mathematician/Iconoclastic thinker, Freeman Dyson, of the Institute of Advanced Study in Princeton has died.
His greatest accomplishment as a physicist was probably showing that three mathematical formulations of Quantum Electrodynamics, QED, were equivalent mathematically, those of Richard Feynman, Julian Schwinger, and Sin-Itiro Tomonaga. All three of the latter shared the Nobel Prize in Physics in 1965. Dyson did not win the Nobel Prize despite his contribution, something that Nobel Laureate Steven Weinberg described as Dyson having been "fleeced."
His obituary is here:
Freeman Dyson, Math Genius Turned Visionary Technologist, Dies at 96
.
Dyson knew all the greats of his generation: He was recruited to The Institute of Advanced Study by none other than the director there, Robert Oppenheimer, and worked and knew men like Hans Bethe.
He was a deep thinker, one of the first people along with Alvin Weinberg, to revive the idea first advanced by Arrhenius in 1896 that climate change would result from carbon dioxide accumulations. Ironically, in later years, he became something of an iconoclastic a climate skeptic, arguing not so much about the basic physical nature of the problem, but about the predictive ability of computational approaches to predicting its effects.
His obituary for Hans Bethe is here:
Hans Bethe
.
Here is an excerpt from that Obituary that Dyson wrote in
Science
, Dyson, Science 08 Apr 2005: Vol. 308, Issue 5719, pp. 219
...On Bethe's desk at Cornell University, where he lived and taught for almost 70 years, there was always a pad of paper that he used for calculations. His door was usually open; students and colleagues came in constantly to discuss a wide variety of problems. Bethe would instantly switch his attention from his own problem to theirs. As soon as they left the room, he would instantly switch his attention back and continue his calculation where he had left off.

SIGN UP FOR THE SCIENCE eTOC
Get the latest issue of Science delivered right to you!

Email
Email address*

He continued to pour out a stream of research papers while carrying a full load of teaching and administrative duties and supervising an army of graduate students. When I was one of his graduate students, he came every day to eat lunch with us at the student cafeteria, sharing our problems and telling stories of his adventures in Germany and in Los Alamos. We learned even more at the lunches than we did at his lectures. Everyone called him Hans. He told us that one of the best things about moving from Germany to America was that nobody in America called him "Herr Professor."

Bethe remained active as a physicist, doing calculations and publishing papers, well into his nineties. From the age of 70 to the age of 95, he enjoyed a fruitful collaboration with Gerald Brown, working out theories of supernova explosions and gamma-ray bursts. Brown has published a delightful account of the collaboration, with the title "Fly with Eagles" (2). Brown says, "I had to wait until he was more than 70 years old in order to have any chance of keeping up with him. He worked like a bull-dozer, heading directly for the light at the end of the tunnel." The last time I talked with Bethe, he said, "It is a shame. Now I am 98 and I cannot be as active as I was when I was 90."

Bethe carried in his head all the numbers that play an important role in physics or in engineering. Given any question, he could estimate a numerical answer with lightning speed. His estimates were amazingly accurate. He put this skill to good use when he helped Robert Wilson to design a succession of particle accelerators at Cornell. The same skill made him an ideal leader for the theoretical division at Los Alamos, designing the first atomic bomb during World War II and helping to design the first hydrogen bomb in 1952.

For the 60 years that he lived after 1945, he worked hard to educate the public about the facts of nuclear weaponry and the impossibility of winning a nuclear war. He was actively engaged in fighting for arms-control treaties and against escalations of the arms race. At the age of 90, he wrote in a letter to President Clinton: "The time has come for our nation to declare that it is not working, in any way, to develop further weapons of mass destruction of any kind. …You might consider making a suitable pronouncement along these lines, to discipline the bureaucracy, and to reassure the world that America is vigilant in its desire to ensure that new kinds of nuclear weapons are not created." Now that he is dead, it is up to us to continue the good fight that he fought for nuclear sanity, moderation, and common sense.
(Although Dyson was Bethe's graduate student, he never actually completed his formal Ph.D. degree, but was recruited by Oppenheimer none the less.)
Dyson was a brilliant writer. I know this because I spent about two weeks reading through many of his delightful books, in preparation for an appointment I had to meet him in his office at the Institute for Advanced Study. A friend was able to get an appointment after I expressed disappointment at having missed one of his lectures because of a conflict with some unimportant business meeting that I was trapped into attending. My friend described some of my scientific work - my friend was not a scientist and kind of butchered what I actually did - and to my surprise Dyson emailed me to come to his office for a chat, "tea and cookies..." he wrote. I asked if I could bring my kids and he wrote back with some bemusement, saying "the more the merrier." I brought my sons and my youngest son's best friend - who would later be valedictorian of my son's high school class - and we spent a long and memorable afternoon.
As a person interested in nuclear engineering, I asked a number of questions about Alvin Weinberg and about his work on the TRIGA research reactor, which he designed in 1956 at the request of Edwin Teller to be a "melt down proof" reactor. When I asked him about it he was deferential, claiming that the reactor was really the work of Iranian metallurgist and UC San Diego Professor, M. Simnad, who was the designer of the uranium-zirconium-hydride fuel. TRIGA reactors still operate all over the world, serving the research community and preparing radioisotopes for use in medical procedures.
Later the conversation turned, strictly out of my curiosity to topics in nuclear weapons design, whereupon he politely stopped me saying, "I'm sorry but that's classified." The conversation was quite freewheeling, with me stopping to tell the kids why the topic was important - my son complains that he wishes he had been older so he could have appreciated the richness of the conversation - and I found that whatever topic I brought up, he could speak on it with authority and expertise. The conversation went so far as to discuss Stuart Kaufman's work on self ordering systems and his work exploring them as a feature in the origin of life, and I was startled when Dyson launched into an elegant discussion of the topic, punctuating it with sympathetic comments on a tragedy in Kaufman's personal life.
He was very pleased when I brought up the topic of his work on showing the constancy of fine structure constant over a long periods of time, something he was able to prove by examining the properties of certain samarium isotopes. He told us "that was the last piece of real science I ever did."
I could have stayed there for a year without ever losing fascination, but eventually the sun was going down, and as he was in his late eighties or early nineties at the time, it occurred to me that I was overstaying my welcome, although he did nothing to push me out.
I said that perhaps I should go, and he didn't argue, and turned on the light. We took some pictures, my son's friend of Dyson, my sons and me, me of him, my sons, and my son's friend. I just pulled them up to look at them. I certainly have a shit-eating grin in those that I'm in. I'm a short fat guy, and what's amazing is that I seem to tower of him; he was a giant in a small body.
There was a huge pile of books on the floor of the office, and as we were leaving, he invited each of us to take one. When we started to demure he insisted, since he said that the books on the floor were all sent to him my authors who asked that he read them; and he indicated he would never find the time to do so, and so he gave him away to visitors to his office. One of them was a book written by a friend of mine on the subject of thorium reactors. (I actually forget what book I took; it's around here somewhere.)
One of the interesting things was that he was not above "crazy" ideas. One idea was to dismantle the planet Jupiter in order to construct a device to capture
all
of the sun's energy.
That was, for me, one of the most memorable afternoons of my life; I will always treasure the pictures and the memory.
The world has just lost some fascination. He was, I've read, an iconoclastically religious man: "May flights of angels, carry you to your rest."
7 replies, 1081 views
Replies to this discussion thread
| | | | |
| --- | --- | --- | --- |
| 7 replies | Author | Time | Post |
| Freeman Dyson has died. (Original post) | NNadir | Feb 2020 | OP |
| | NNadir | Feb 2020 | #1 |
| | xocet | Feb 2020 | #2 |
| | sl8 | Mar 2020 | #3 |
| | caraher | Mar 2020 | #4 |
| | NNadir | Mar 2020 | #5 |
| | hunter | Mar 2020 | #6 |
| | NNadir | Mar 2020 | #7 |
---
Response to NNadir (Original post)
Fri Feb 28, 2020, 11:07 PM
NNadir (25,746 posts)
1. I found this picture of him on the internet in front of the pile of books in his office...
...that I described in the OP.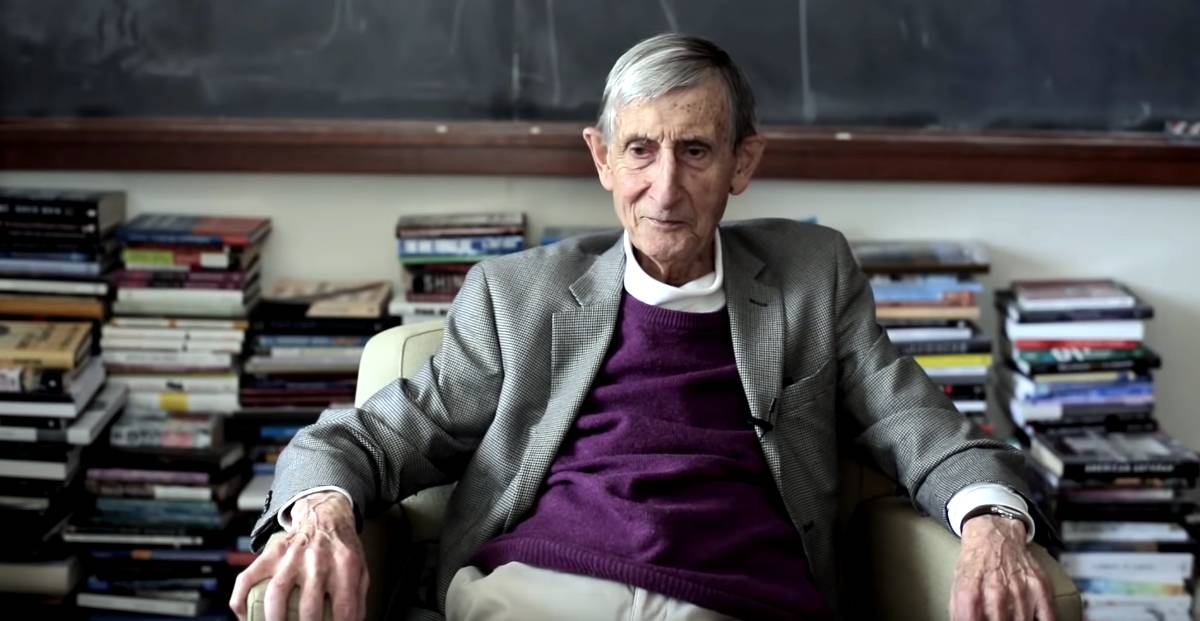 ---
Response to NNadir (Original post)
Sat Feb 29, 2020, 01:26 AM
xocet (3,192 posts)
2. Fascinating story. Thanks for adding that dimension to my view of Dyson. n/t
---
Response to NNadir (Original post)
Sun Mar 1, 2020, 04:01 PM
sl8 (7,163 posts)
3. K & R n/t
---
Response to NNadir (Original post)
Mon Mar 2, 2020, 02:46 AM
caraher (5,879 posts)
4. He delivered the commencement address when I received my PhD
Interestingly enough, in 2005,
he was saying worry about climate change was exaggerated
, which seemed to please the auto execs among the parents of graduates.
You students are proud possessors of the PhD, or some similar token of academic respectability. You have endured many years of poverty and hard labor. Now you are ready to go to your just rewards, to a place on the tenure track of the university, or on the board of directors of a company.

And here am I, a person who never had a PhD myself and fought all my life against the PhD system and everything it stands for. Of course I fought in vain. The grip of the PhD system on academic life is tighter today than it has ever been. But I will continue to fight against it for as long as I live. In short I am proud to be heretic.

Unfortunately, I am an old heretic. Old heretics don't cut much ice. What the world needs is young heretics. I am hoping that one or two of you may fill that role. So I will tell you briefly about three heresies that I'm promoting.

The first of my heresies says that all the fluff about global warming is grossly exaggerated. Here I am opposing the holy brotherhood of climate model experts and the crowd of deluded citizens that believe the numbers predicted by their models. Of course they say I have no degree in meteorology and I am therefore not qualified to speak.
His other two "heresies" were the "domestication" of biotechnology (including biotech games for children where they "played with real eggs and seeds" and the end of reign of the US as the world's dominant power.
Regardless, he had a long and distinguished career as a creative thinker and the world is poorer for his passing
---
Response to caraher (Reply #4)
Mon Mar 2, 2020, 07:55 AM
NNadir (25,746 posts)
5. I was certainly aware of the climate change "heresy" and was careful not to bring it up.
He was of a generation of people who thought it wise to OK to engage in planetary scale engineering, hence the science fiction idea of the "Dyson sphere."

I went to his office though to admire a mind great enough to swim against the stream.

Because he was one of the world's most brilliant thinkers does not imply that he was right about everything. I met him in a large lounge at the Advanced Institute, which was kind of run down, and unsurprisingly there was a bust of Einstein in it. Most of the time that Einstein was there, at the Institute, he was still arguing ideas that were wrong. There is a nice biography of Einstein - the one written by Pais, who knew him personally - in which Einstein was arguing against complementarity,, which was well established by then, asking if Pais thought the moon still existing after it went behind a cloud.

The lecture I missed was one in which he was addressing graduate students at Princeton. Maybe your experience indicates what he might have said.

Thanks for your story.
---
Response to NNadir (Original post)
Mon Mar 2, 2020, 01:31 PM
hunter (32,057 posts)
6. I never had opportunity to meet Dyson, but I enjoyed his words about Bethe.
Bethe was extraordinarily kind and generous to me when I was a young man and having a very rough time.

I was not a physicist, not anywhere near as brilliant as Dyson, but it is certainly true Bethe "would instantly switch his attention from his own problem to theirs." I'll never forget the moments his attention was focused on me. One moment I was feeling as if little I did mattered, the next moment I had an invitation to share dinner with him and some very important people.

Dyson was, in a certain sense, correct about climate change. Putting aside our opinions on how the world ought to be, we will have to adapt to climate changes that are already queued up in the system, otherwise this first world civilization in the history of mankind will collapse.

Dyson was a darling of the hard science fiction crowd because he promoted engineering solutions to all manner of social and environmental problems. But even if you've got the engineering solutions the social problems are much more difficult. For example, how do you relocate entire communities when their land becomes uninhabitable? How do you deal with climate change refugees? How do you convince people their way of life is unsustainable before catastrophe causes the collapse of their society?

Stupid, incurious people like president Trump and his supporters are not going to solve these problems. They will only make them worse.



---
Response to hunter (Reply #6)
Tue Mar 3, 2020, 05:11 PM
NNadir (25,746 posts)
7. Well it may be that your tale is more interesting...
...than mine, but perhaps more private in nature.

One heard such wonderful stories about Bethe, but I fully confess I didn't ask Dyson about him. I'm sure I asked about Oppenheimer, but for the life of me I can't remember his comments.

One hears dire stories about Cornell, "gorging out" and those sorts of things - my wife's cousin crashed and burned there - but the two Nobel Laureates there of whom I have knowledge seem(ed) like such warm men.

Besides Bethe there's Raold Hoffman. I went to one of his lectures some years back - somewhat unexpectedly it turned out to be about the properties of matter at extreme pressures - and he exuded warmth and grace.

I also waited on a customs line with Bruce Merrifield, and listened in on his conversation. He seemed to be a very nice guy.

I sat next to Glenn Seaborg at a talk on Einsteinium and was starstruck and felt too stupid to open my mouth.

I also attended lectures by D. H. Barton and most recently Richard Robert's, the latter in which he rightfully deplored the ignorance of Greenpeace.

One of my good friends got his Ph.D with Corey, a former colleague did a post doc with him, but actually thought more highly of his Ph.D advisor, Jack Baldwin, who passed away a few weeks ago.

But dinner with Bethe...that's really something, probably as interesting or more interesting than my afternoon with Dyson.

It is nice to have few degrees of separation with these great minds. These moments make life worth living.