Tue May 12, 2020, 03:59 PM
Judi Lynn (145,803 posts)
Sinkhole opens near the Pantheon, revealing 2,000-year-old Roman paving stones
By Laura Geggel - Associate Editor a day ago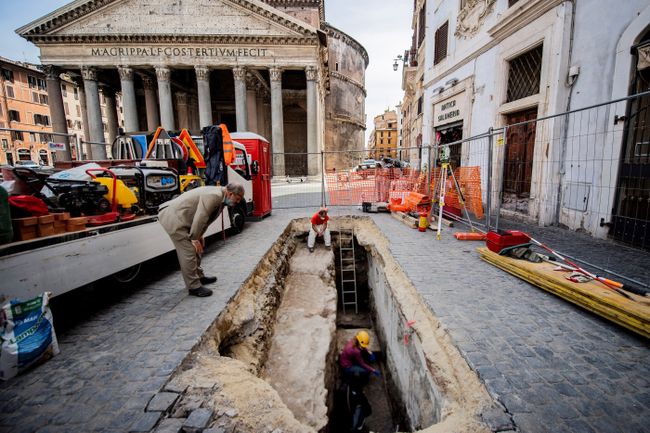 Archaeological investigations following the opening of a sinkhole in Piazza della Rotonda in front of
the Pantheon in Rome have unearthed the ancient pavement of the imperial era.
(Image: © Alessandro Serrano'/AGF/Universal Images Group via Getty Images)
A sinkhole unexpectedly opened up in front of the Pantheon in Rome last month, revealing imperial paving stones that were laid over a millennia ago, news sources report.
The sinkhole, located in the Piazza della Rotonda, is almost 10 square feet (1 square meter) wide and just over 8 feet (2.5 m) deep. Inside the hole, archaeologists found seven ancient slabs made of travertine, a type of sedimentary rock.
Luckily, no one was hurt when the sinkhole collapsed on the afternoon of April 27, because the normally crowded piazza was empty due to the COVID-19 pandemic. Sinkholes like this one, however, are becoming an increasingly common problem in Rome.
The stones uncovered by the sinkhole were created around the same time that the Pantheon was built, from 27 B.C. to 25 B.C., according to Daniela Porro, Rome special superintendent. They were designed by Marcus Agrippa, a friend of Emperor Augustus, Porro told Italian news agency ANSA. However, the Pantheon and the piazza were completely rebuilt sometime between A.D. 118 and 128 by the emperor Hadrian, and the area was further modified at the beginning of the third century by the emperors Septimius Severus and Caracalla, according to Encyclopedia Britannica.
More:
https://www.livescience.com/sinkhole-pantheon-rome-ancient-paving-stones.html
3 replies, 1025 views
Replies to this discussion thread
| | | | |
| --- | --- | --- | --- |
| 3 replies | Author | Time | Post |
| Sinkhole opens near the Pantheon, revealing 2,000-year-old Roman paving stones (Original post) | Judi Lynn | May 2020 | OP |
| | fierywoman | May 2020 | #1 |
| | mopinko | May 2020 | #3 |
| | mopinko | May 2020 | #2 |
---
Response to Judi Lynn (Original post)
Tue May 12, 2020, 04:23 PM
fierywoman (5,532 posts)
1. "...over a millenia ago ..." -- actually over two millenia ago.
These are the things that thrill you when you walk around Rome. You may not be able to see all the things from the pretty ancient past, but you know they're there.
---
Response to fierywoman (Reply #1)
Tue May 12, 2020, 04:57 PM
mopinko (58,990 posts)
3. i was gonna say that till i saw the pic at the end.
---
Response to Judi Lynn (Original post)
Tue May 12, 2020, 04:57 PM
mopinko (58,990 posts)
2. that pic at the end makes this art.