Thu Jul 16, 2020, 01:48 PM
Judi Lynn (141,792 posts)
Rare ghostly particles produced inside the sun just detected under a mountain in Italy
By Diane Lincoln - Live Science Contributor 5 hours ago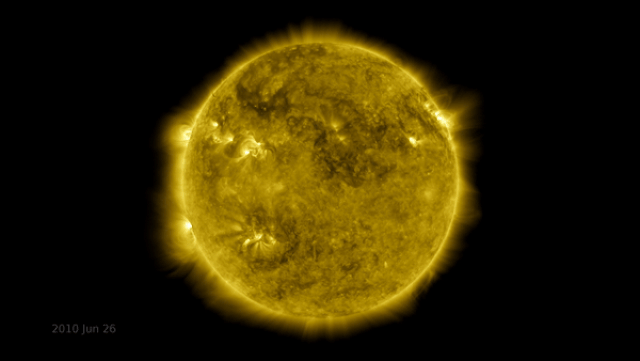 Image: © NASA Goddard)
For the first time ever, physicists have spotted rare, ghostly particles produced by a weird kind of fusion inside the sun.
The particles, called CNO-produced neutrinos, traveled from the sun to a detector buried deep beneath a mountain in Italy. This discovery brings humans one step closer to understanding the fiery nuclear reactions fueling our home star.
"With this outcome," physicist Gioacchino Ranucci, a physicist at Italy's National Institute for Nuclear Physics in Milan, told Live Science. "Borexino has completely unraveled the two processes powering the sun."
Two types of nuclear fusion reactions occur in the sun's core. The first, and most common, is proton-proton fusion, where protons fuse to transform hydrogen into helium. Scientists predict such reactions generate 99% of the sun's energy. Rarely, nuclear fusion occurs via a six-step process, called the CNO cycle, where hydrogen is fused to helium using carbon (C), nitrogen (N), and oxygen (O). Proton-proton fusion and the CNO-cycle create different types of neutrinos, subatomic particles that are nearly massless and can pass through ordinary matter without a hint of their presence, at least most of the time. Physicists routinely detect neutrinos created during the proton-proton process. However, on June 23, at the Neutrino 2020 Virtual Meeting, researchers from Italy's Borexino detector announced that they had detected CNO-produced solar neutrinos for the very first time.
More:
https://www.livescience.com/rare-solar-cno-neutrinos-detected.html?utm_source=notification
9 replies, 9694 views
Replies to this discussion thread
| | | | |
| --- | --- | --- | --- |
| 9 replies | Author | Time | Post |
| Rare ghostly particles produced inside the sun just detected under a mountain in Italy (Original post) | Judi Lynn | Jul 16 | OP |
| | Karadeniz | Jul 17 | #1 |
| | hunter | Jul 18 | #2 |
| | LudwigPastorius | Jul 18 | #4 |
| | OxQQme | Jul 21 | #7 |
| | keithbvadu2 | Jul 18 | #3 |
| | MFGsunny | Jul 19 | #5 |
| | lastlib | Jul 19 | #6 |
| | brush | Jul 29 | #8 |
| | zehnkatzen | Jul 31 | #9 |
---
Response to Judi Lynn (Original post)
Fri Jul 17, 2020, 05:01 PM
Karadeniz (8,184 posts)
1. See what you guys can do about Covid...!
---
Response to Karadeniz (Reply #1)
Sat Jul 18, 2020, 09:39 AM
hunter (31,670 posts)
2. What are physicists going to do about covid?
Detecting solar neutrinos is an entirely different scientific specialty than human immunology or epidemology.

The U.S.A. has plenty of people qualified to fight this virus. We just have to fund them, and we just have to listen to them.

Alas, our nation is such a shithole nation we don't listen to scientists and can't even produce enough personal protective equipment for health care workers.

A substantial number of U.S. Americans still believe this virus is a hoax or that some sky god will save us from our own stupidity.


---
Response to Karadeniz (Reply #1)
Sat Jul 18, 2020, 02:29 PM
LudwigPastorius (2,140 posts)
4. "Suppose that we hit the body with a tremendous, whether it's a neutrino or just very powerful...
light. Supposing you brought the neutrino inside the body, which you can do either through the skin or in some other way."
---
Response to LudwigPastorius (Reply #4)
Tue Jul 21, 2020, 10:37 PM
OxQQme (2,354 posts)
7. OMG Ludwig--roflmao
Picturing Sara Cooper's skit where she's trying to figure how to administer the "cure" entry point.
I've heard, from many, many reliable sources that a usb powered neutrino pen is soon on the market.
---
Response to Judi Lynn (Original post)
Sat Jul 18, 2020, 10:22 AM
keithbvadu2 (16,093 posts)
3. Even the description sounds like science fiction. Made inside the sun. Detected under a mountain.
Even the description sounds like science fiction. Made inside the sun. Detected under a mountain.
---
Response to Judi Lynn (Original post)
Sun Jul 19, 2020, 11:13 AM
MFGsunny (2,052 posts)
5. Excellent read and in-depth analysis of such an apparently rare phenomenon.
---
Response to MFGsunny (Reply #5)
Sun Jul 19, 2020, 12:35 PM
lastlib (15,516 posts)
6. All the heavier elements have to come from somewhwere....
Sounds like these particles may be a by-product of that process. Astrophysics fasciates me!
---
Response to Judi Lynn (Original post)
Wed Jul 29, 2020, 10:23 PM
brush (29,733 posts)
8. Is this from "The Onion"? Under a mountain in Italy? Why Italy? Why not Nepal where...
the really high mountains are?

Strange.
---
Response to brush (Reply #8)
Fri Jul 31, 2020, 02:37 PM
zehnkatzen (775 posts)
9. Neutrinos don't care ...
Neutrinos don't care how high the mountain is. They pass through planets as though they were thin gas. A deep cave in Italy is as good as a high mountain in Nepal, and maybe bettter ... the more rock around you and above you, the more likely you'll screen out most of everything else you're trying to avoid detecting in order to find the neutrino in the first place.