Wed Apr 7, 2021, 11:02 PM
TexasTowelie (82,728 posts)
'Tantalizing' results of 2 experiments defy physics rulebook
Last edited Thu Apr 8, 2021, 12:06 AM - Edit history (1)
Preliminary results from two experiments suggest something could be wrong with the basic way physicists think the universe works, a prospect that has the field of particle physics both baffled and thrilled.
Tiny particles called muons aren't quite doing what is expected of them in two different long-running experiments in the United States and Europe. The confounding results — if proven right — reveal major problems with the rulebook physicists use to describe and understand how the universe works at the subatomic level.
"We think we might be swimming in a sea of background particles all the time that just haven't been directly discovered," Fermilab experiment co-chief scientist Chris Polly said in a press conference. "There might be monsters we haven't yet imagined that are emerging from the vacuum interacting with our muons and this gives us a window into seeing them."
The rulebook, called the Standard Model, was developed about 50 years ago. Experiments performed over decades affirmed over and again that its descriptions of the particles and the forces that make up and govern the universe were pretty much on the mark. Until now.
Read more:
https://www.texarkanagazette.com/news/national/story/2021/apr/08/tantalizing-results-2-experiments-defy-physics-rulebook/866456/
3 replies, 1029 views
Replies to this discussion thread
| | | | |
| --- | --- | --- | --- |
| 3 replies | Author | Time | Post |
| 'Tantalizing' results of 2 experiments defy physics rulebook (Original post) | TexasTowelie | Apr 7 | OP |
| | packman | Apr 8 | #1 |
| | SeattleVet | Apr 8 | #2 |
| | Judi Lynn | Apr 8 | #3 |
---
Response to TexasTowelie (Original post)
Thu Apr 8, 2021, 12:01 AM
packman (13,275 posts)
1. There are more things---
---
Response to TexasTowelie (Original post)
Thu Apr 8, 2021, 01:39 AM
SeattleVet (4,567 posts)
2. As J.B.S. Haldane said...
"Now, my own suspicion is that the universe is not only queerer than we suppose, but queerer than we can suppose."


---
Response to TexasTowelie (Original post)
Thu Apr 8, 2021, 04:36 AM
Judi Lynn (146,597 posts)
3. Muons: 'Strong' evidence found for a new force of nature
By Pallab Ghosh
Science correspondent
Published17 hours ago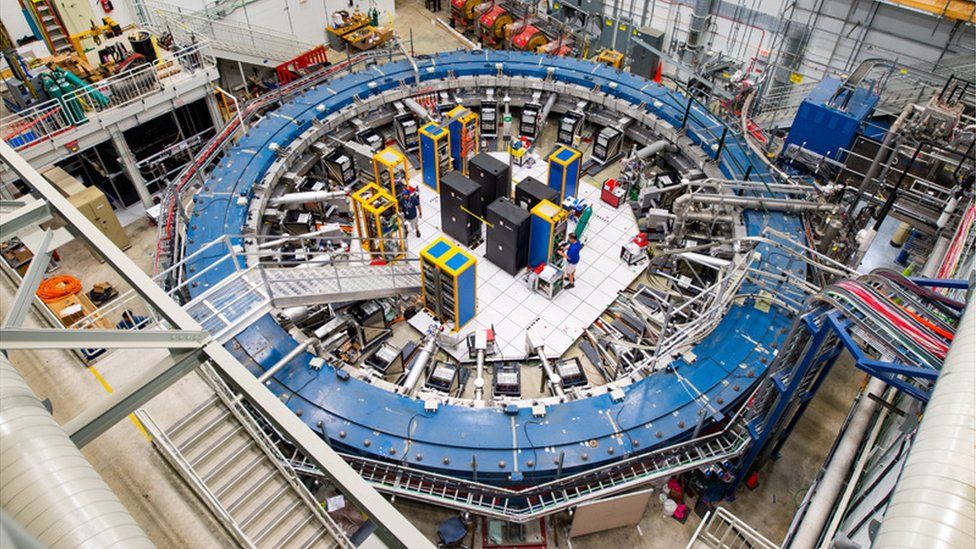 REIDAR HAHN / FERMILAB
The findings come from the US Muon g-2 experiment
From sticking a magnet on a fridge door to throwing a ball into a basketball hoop, the forces of physics are at play in every moment of our lives.
All of the forces we experience every day can be reduced to just four categories: gravity, electromagnetism, the strong force and the weak force.
Now, physicists say they have found possible signs of a fifth fundamental force of nature.
The findings come from research carried out at a laboratory near Chicago.
The four fundamental forces govern how all the objects and particles in the Universe interact with each other.
More:
https://www.bbc.com/news/56643677