Sun May 2, 2021, 10:06 AM
NNadir (27,628 posts)
A Spectroscopic View on Cosmic Polycyclic Aromatic Hydrocarbon (PAH) Emissions
The paper I'll discuss in this post is this one:
A Spectroscopic View on Cosmic PAH Emission
(Els Peeters, Cameron Mackie, Alessandra Candian, and Alexander G. G. M. Tielens,
Accounts of Chemical Research
2021 54 (8), 1921-1933)
Accounts of Chemical Research
is a journal to which I used to subscribe, in the old days of paper journals, when I was a kid. Over the years I sort of drifted away from it, although it's a magnificent journal, as I see whenever I do get around to looking at it, ably edited by one of the best professors from whom I ever took a class, where I learned all about cycloadditions. She must be nearing retirement now.
PAHs on Earth are responsible, mechanistically, for a large portion of the deaths from combustion wastes, both from the combustion of dangerous fossil fuels and the combustion of biomass, including, but hardly limited to, tobacco. This is because they are planar molecules, often with oxidizable oxygen functional groups. Because they are planar, they can fit in the grooves of DNA, sometimes bonding to the nitrogen bases causing adducts that can and do lead to cancer, and other diseases.
This account is not about air pollution or even terrestrial life, but is about the formation of these molecules in deep space and their chemistry there. The abstract contains this wonderful statement:
Throughout this Account, we emphasize that huge progress is on the horizon on the astronomical front. Indeed, the world is eagerly awaiting the launch of the James Webb Space Telescope (JWST). With its incredible improvement in spatial resolution, combined with its complete spectral coverage of the PAH infrared emission bands at medium spectral resolution and superb sensitivity, the JWST will revolutionize PAH research. Previous observations could only present spectra averaged over regions with vastly different properties, thus greatly confusing their interpretation. The amazing spatial resolution of JWST will disentangle these different regions. This will allow us to quantify precisely how PAHs are modified by the physical conditions of their host environment and thus trace how PAHs evolve across space. However, this will only be achieved when the necessary (and still missing) fundamental properties of PAHs, outlined in this Account, are known. We strongly encourage you to join this effort.
From the introduction to the paper:
The infrared (IR) spectra of objects associated with dust and gas—including the interstellar medium (ISM), star-forming regions, surface layers of proto-planetary disks (the sites of planet formation), and galaxies out to redshifts of z ∼ 4—are dominated by strong, broad emission bands (Figure 1). Known collectively as the aromatic infrared bands (AIBs), the main bands are found at 3.3, 6.2, 7.7, 8.6, and 11.2 μm (3030, 1612, 1299, 1163, and 893 cm–1) along with a plethora of weaker bands which are perched on top of broad emission plateaus. Multiple carriers have been proposed for the AIBs: hydrogenated amorphous carbon (HAC),(6) quenched carbon composites (QCCs),(7) polycyclic aromatic hydrocarbons (PAHs),(8,9) nanodiamonds,(10) locally aromatic polycyclic hydrocarbons,(11) and mixed aromatic–aliphatic organic nanoparticles.(12) However, this emission is generally attributed to a family of PAH molecules with a typical size of 50–100 C atoms (NC).(8,9) Upon absorption of a UV photon, PAHs relax by IR fluorescence via their vibrational modes which are detected as the AIBs (Figure 1). The C–H stretching mode gives rise to the 3.3 μm  (3030 cm–1) emission, the C–C stretching modes to the 6.2 and 7.7 μm  (1612 and 1299 cm–1) emission, the C–H in-plane bending mode to the 8.6 μm  (1163 cm–1) emission, and the C–H out-of-plane bending mode to the 10–15 μm  (1000–666 cm–1) emission. Within the astrophysical context, the PAH family includes PAH-related species such as, for example, PAHs with side groups, heterosubstituted PAHs, fully or partially (de)hydrogenated PAHs, and PAH clusters (for a definition see ref?
13)). While aromatic species such as benzene, benzonitrile, and fullerenes (C60 and C70) have been detected in space,(14−17) identification of specific members of this PAH family (or classes within) remains a mystery.
They are very involved in the chemistry of space:
To date, PAHs are among the largest and most complex molecules known in space. They emit up to 15% of the total energy output of galaxies and contain ∼10% of the cosmic carbon. PAHs pervade the Universe. PAHs play a crucial role in several astrophysical and astrochemical processes and thus influence star and planet formation. They control the temperature of the gas in the neutral ISM through the photoelectric effect and provide large surface areas for interstellar chemistry. They influence the charge balance and thus molecular abundances in interstellar clouds. In turn, the composition of the PAH population (e.g., size distribution, charge balance, molecular structure) is influenced by the local physical conditions via photoprocessing, shocks, and formation and destruction processes...
Pictures from the text, beginning with the advertising graphic that has a nice picture of PAH planar structures, as well as the obviously non-planar fullerene which has also been observed in space: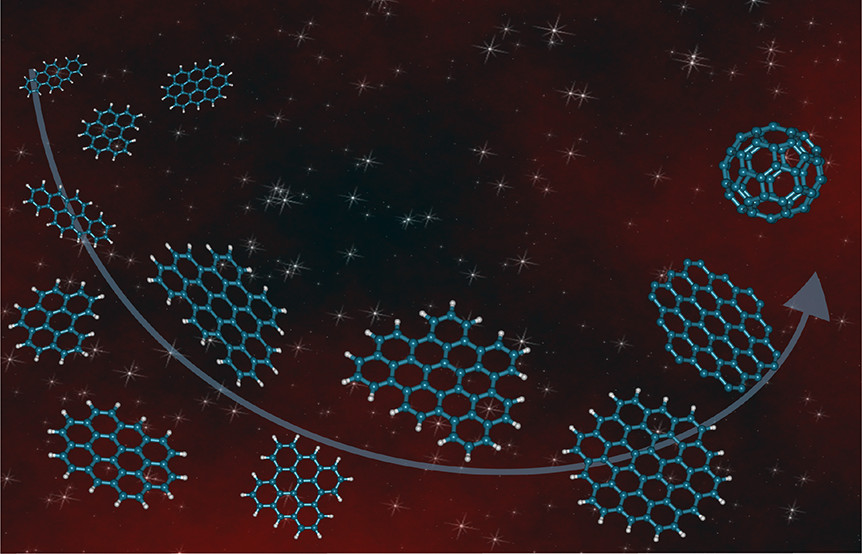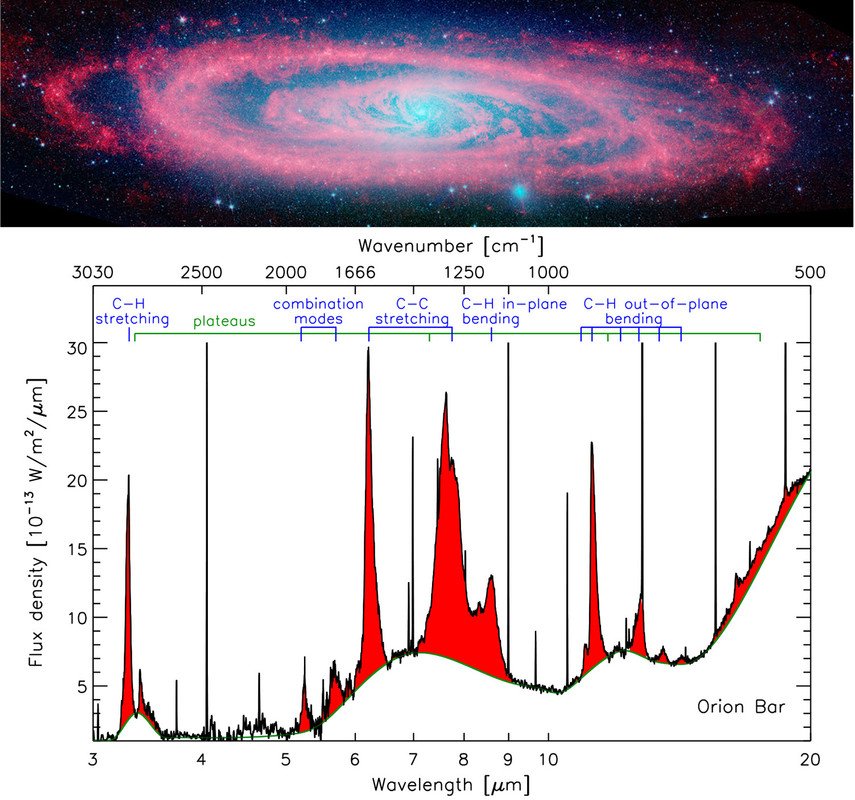 The caption:
Figure 1. Top: Spitzer-IRAC image of the Andromeda galaxy with the 3.6 and 4.5 μm (2778 and 2222 cm–1) emission (respectively blue and green) representing the stellar population and the 8.0 μm (1250 cm–1) emission (red) showcasing the ubiquitous PAH emission. Credit: NASA/JPL-Caltech/P. Barmby (Harvard-Smithsonian CfA). Bottom: The IR spectrum of the star-forming region, the Orion Bar, observed by the Infrared Space Observatory (ISO). The AIBs are shown in red, superimposed on top of broad plateaus. The corresponding vibrational modes are labeled at the top. Adapted with permission from ref (25). Copyright 2004 Astronomical Society of the Pacific.
The caption:
Figure 2. Spectroscopic variation in the 6–9 μm  (1666–1111 cm–1) PAH emission. Profiles are normalized to the peak intensity (Jy) in the 8 μm  (1250 cm–1) region. Strong aliphatic emission at 6.9 and 7.25 μm  (1449 and 1379 cm–1, purple) is seen in class . Class is represented by IRAS 23133 + 6050, class by HD 44179, class by IRAS 13416-6243, and class by IRAS f05110-6616. Adapted with permission from ref (26). Copyright 2002 EDP Sciences.
The caption:
Figure 3. Left: Variation of PAH charge, as traced by the 6.2/11.2 PAH ratio (1612/893, top),(3) and dominating PAH size, as traced by the 3.3/11.2 PAH ratio (3030/893, bottom),(57,58) as a function of distance from the illuminating star (i.e., UV radiation field strength) in NGC 2023. Adapted with permission from refs (3) and (58). Copyright 2017 AAS and 2020 Collin Knight. Right: Illustrating the observed range in the relative strength of the CH out-of-plane bending modes (top panels). The bottom panel shows the edge assignment in terms of CH groups based on harmonic DFT calculations. Adapted with permission from ref (37). Copyright 2009 AAS.
The caption:
Figure 4. Left: IR absorption spectrum of chrysene in the 3.3 μm  (3333 cm–1) region: harmonic spectrum (top), anharmonic spectrum (middle), and experimental gas-phase spectrum (at 20 K; bottom).(91) Right: IR absorption spectrum of tetracene in the 5–17 μm  (2000–588 cm–1) region: experimental gas-phase spectrum (at 20 K; top), anharmonic spectrum (middle), and harmonic spectrum (bottom).(93) Reproduced with permission from refs (91) and (93). Copyright 2016 AAS and 2019 EDP Sciences.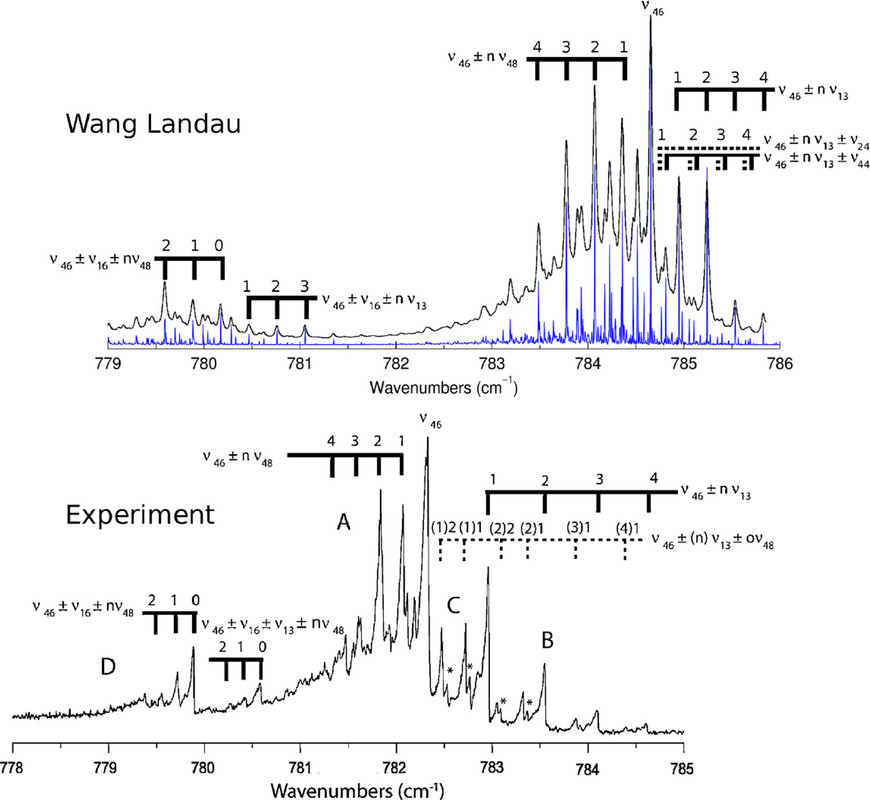 The caption:
Figure 5. Measured absorption spectrum of naphthalene (at 300 K; bottom(104)) compared to the calculated spectrum in the anharmonic approximation (blue sticks) convolved with a 0.02 cm–1 Gaussian (at 300 K; top(4)). Anharmonic interactions of the fundamental (ν46) with specific modes result in "satellite" bands shifted to lower or higher frequency. Reproduced with permission from refs (4) and (104). Copyright 2018 and 2009 AIP Publishing
The caption:
Figure 6. Calculated emission spectrum of the CH out-of-plane bending mode of anthracene (C14H10) as a function of the excitation energy (colored traces). The black trace is the spectrum calculated following the full energy cascade.
Here is the structure of one of the molecules described below, circumcoronene and a related molecule: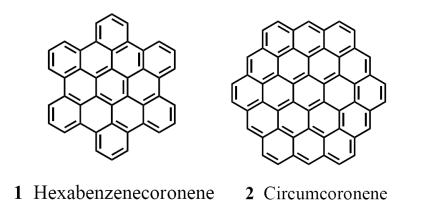 Here is the structure of another of the molecules described below, Circumcircumcoronene:
I have never worked on the synthetic chemistry of PAHs, but I'd guess, even with their high symmetry, these are non-trivial molecules to make. When I was a kid, there were all kinds of very smart people around trying to synthesize fullerene, mostly unsuccessfully. The Nobel Prize winning work of its discovery found that it is a component of lampblack.
(Today there's all kinds of fullerene chemistry going on.)
The last graphic from the paper: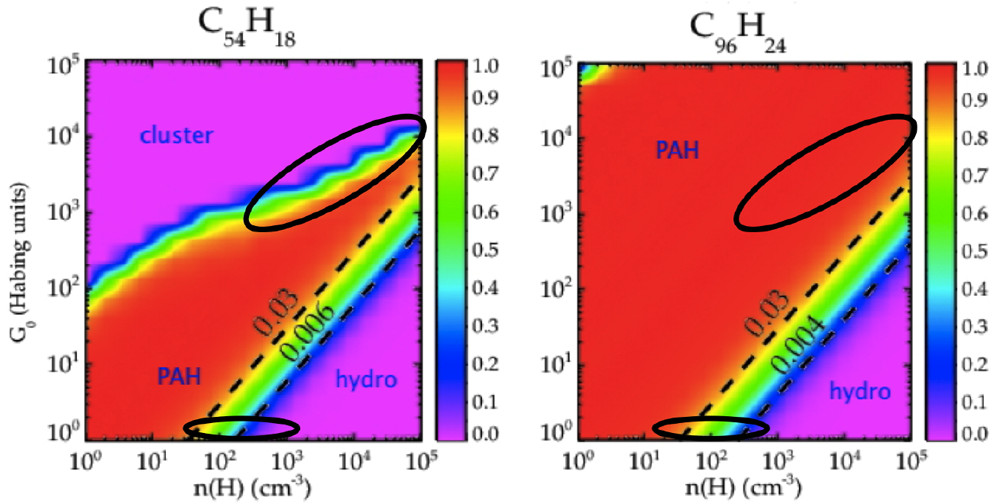 The caption:
Figure 7. Characteristics of circumcoronene (C54H18; left) and circumcircumcoronene C96H24; right) as a function of the strength of the FUV field, G0, and the atomic H density, nH. For high FUV fields, PAHs will be quickly completely dehydrogenated (labeled clusters), while, for high atomic H densities, PAHs will be superhydrogenated (labeled hydro). The two ovals in each panel indicate typical conditions in PDRs (top oval) and in diffuse interstellar clouds (bottom oval). Dashed black lines indicate constant G0/nH ratios.(1) Reproduced with permission from ref (1). Copyright 2016 EDP Sciences.
Recently, during the Q&A section of a talk at the virtual ACS meeting on the subject of the origins of life, which focused on showing that it originated on this planet, I made a case for the panspermic theory that the
molecules
of life, if not life itself, originated in space. The speaker dismissed my question with a remark that amounted to, "I don't study that, so your question is not worth addressing."
Oh well then.
One thing is certain, astrochemistry is a rich field with much to learn.
I'm not a "let's all take a ride to Mars with Elon Musk and inhabit it and build cities and make oxygen, because well, we've wrecked this planet" kind of guy.
I think in most cases robots in space do a better job than humans, more safely, at less cost. Although I'm convinced we need to focus our attention on the air above us, the water we drink, and the land beneath our feet, I also believe that the highest purpose of humanity is to extend our vision.
I was glad to learn about the James Webb telescope through this paper.
Have a nice day.
2 replies, 547 views
Replies to this discussion thread
| | | | |
| --- | --- | --- | --- |
| 2 replies | Author | Time | Post |
| A Spectroscopic View on Cosmic Polycyclic Aromatic Hydrocarbon (PAH) Emissions (Original post) | NNadir | May 2021 | OP |
| | jmbar2 | May 2021 | #1 |
| | NNadir | May 2021 | #2 |
---
Response to NNadir (Original post)
Sun May 2, 2021, 10:30 AM
jmbar2 (2,395 posts)
1. Scented products and PAHs
I am one of those folks who is sensitive to scented products. I had to move from my last apartment because of the excessive use of air fresheners, plug-ins, candles, aromatherapy and incense which triggered asthma.
While advocating for a reduced scent environment, I started looking at the research on the impact of this explosion in scented products on the environment. It fits in with this article.
They are now seeing accumulations of PAHs from scented products in remote environments, suggesting that some of the compounds are transported throughout the environment.
https://www.nature.com/articles/s41598-020-67642-x
Makes you think twice when you see ads for laundry scent beads.
---
Response to jmbar2 (Reply #1)
Sun May 2, 2021, 06:43 PM
NNadir (27,628 posts)
2. That's an interesting paper. Thanks. n/t.