Mon Jul 13, 2020, 05:54 PM
Judi Lynn (143,236 posts)
Lumpy flint figurines may be some of the earliest depictions of real people
By Tom Metcalfe - Live Science Contributor 9 hours ago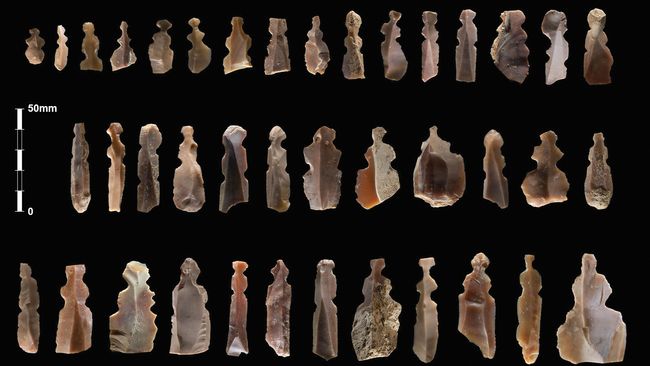 Archaeologists now think the Neolithic flint artifacts found at Kharaysin in Jordan are the earliest-known portrayals of real human beings in the Near East.
(Image: © Ibáñez et al/Kharaysin archaeological team/Antiquity Publications Ltd)
Archaeologists at an ancient burial site in Jordan thought one of their team might have sunstroke when he suggested some rough flints he'd found could represent people. But now his discovery could change how scientists think about the Neolithic Near East.
More than 100 of the unusual flint artifacts dating back to about 7500 B.C. have been discovered at Kharaysin, an archaeological site a few miles northeast of Amman in Jordan.
The archaeologists who found them now think the artifacts may be early depictions of real people and may have been used for ancestor worship. They also think the figurines could shed light on why portrayals of humans became widespread in the Near East from about 1,000 years earlier. However, experts contacted by Live Science were not entirely convinced that the lumpy stone artifacts were used in ancestor worship rituals, though they don't think it's out of the question.
After one of the team digging at Kharaysin unearthed several of the flint artifacts, each about 2 inches (5 centimeters) long, he proposed they showed rough human figures — with a projecting head flanked by two notches on each side that could represent the tops of shoulders and hips.
More:
https://www.livescience.com/grave-figurines-early-human-portrayal.html
5 replies, 530 views
Replies to this discussion thread
| | | | |
| --- | --- | --- | --- |
| 5 replies | Author | Time | Post |
| Lumpy flint figurines may be some of the earliest depictions of real people (Original post) | Judi Lynn | Jul 2020 | OP |
| | Ghost Dog | Jul 2020 | #1 |
| | AleksS | Jul 2020 | #2 |
| | Karadeniz | Jul 2020 | #3 |
| | Midnight Writer | Jul 2020 | #4 |
| | bluedigger | Jul 2020 | #5 |
---
Response to Judi Lynn (Original post)
Mon Jul 13, 2020, 06:25 PM
Ghost Dog (16,679 posts)
1. Pices of stone by themselves can't be C14-dated, however.
---
Response to Ghost Dog (Reply #1)
Mon Jul 13, 2020, 06:38 PM
AleksS (1,149 posts)
2. Several ways which can be used to corroborate each other
They can radioisotope date organic material found with the inorganic items.

If they can find known-age layers above and below an artifact they can get a relative date (for example if the artifact is found above sediment containing volcanic ash from one known event, and below silt from another known flooding event, it can give a relative age. )

If they find the artifacts mixed with other known-age artifacts it can be good evidence of a particular date.

In some scenarios, radioisotopes other than C14 can be used, some of which can be found in inorganic material.

And there are other methods used as well, but I have to get a kid to soccer practice.

There are many lines of evidence that when looked at together can lead to a very safe, reasonable, and justified conclusion.
---
Response to Judi Lynn (Original post)
Mon Jul 13, 2020, 07:10 PM
Karadeniz (9,667 posts)
3. I'm not au courant with 7500 bce fashion, esp. What men wore, but it looks like all the figures wear
A long skirt. Perhaps they're all the mother earth goddess.
---
Response to Judi Lynn (Original post)
Mon Jul 13, 2020, 07:32 PM
Midnight Writer (8,455 posts)
4. Figures look female. Goddess worship or prehistoric porn?
---
Response to Judi Lynn (Original post)
Mon Jul 13, 2020, 07:52 PM
bluedigger (16,118 posts)
5. Had a friend once who was a pretty good flint knapper.
He'd show up on a dig broke, and pay for all his beer by selling the other crew his work. His specialty was glass Elvis effigies.