Thu Sep 3, 2020, 06:31 PM
Jim__ (12,380 posts)
Drone survey reveals large earthwork at ancestral Wichita site in Kansas
From
phys.org
:
A Dartmouth-led study using multisensor drones has revealed a large circular earthwork at what may be Etzanoa, an archaeological site near Wichita, Kansas. Archaeologists speculate that the site was visited by a Spanish expedition, led by Juan de Oñate, a controversial conquistador, in 1601. The earthwork may be the remains of a so-called "council circle," as it is similar to several other circular earthworks in the region, according to the study's findings published in American Antiquity.
"Our findings demonstrate that undiscovered monumental earthworks may still exist in the Great Plains. You just need a different archeological approach to recognize them," explained lead author, Jesse J. Casana, a professor and chair of the department of anthropology at Dartmouth. "Our results are promising in suggesting that there may be many other impressive archaeological features that have not yet been documented, if we look hard enough," he added.
Archaeological features have various thermal effects. After the ground cools at nighttime, things below the ground cool and emit heat at different rates, enabling researchers to identify features based on thermal infrared radiation. The researchers obtained thermal and multispectral imagery of the site using drones.
The 18-hectare area of the site where the drone survey was conducted is currently home to a ranch property in the lower Walnut River valley, which has been used as a pasture. Topographically, the area is flat with no visible archaeological features. Yet, imagery shows that underground there is an ancient, circular shaped ditch measuring 50 meters wide and approximately 2 meters thick that has been infilled. As the soil erodes, it fills up the ditch with a different type of soil than was there before, and therefore retains water differently giving it unique thermal properties. The water retention levels also impact vegetation. Using near-infrared imagery, the researchers were able to identify areas that had been infilled because grass growth was more vigorous. As the study reports, the results provide evidence for what may have been a "single, sprawling population center" back in its day.
a bit more ...
6 replies, 1063 views
Replies to this discussion thread
| | | | |
| --- | --- | --- | --- |
| 6 replies | Author | Time | Post |
| Drone survey reveals large earthwork at ancestral Wichita site in Kansas (Original post) | Jim__ | Sep 3 | OP |
| | Judi Lynn | Sep 12 | #1 |
| | Judi Lynn | Sep 17 | #2 |
| | Jim__ | Sep 18 | #3 |
| | wnylib | Sep 24 | #4 |
| | Judi Lynn | Sep 26 | #5 |
| | Judi Lynn | Oct 9 | #6 |
---
Response to Jim__ (Original post)
Sat Sep 12, 2020, 10:12 AM
Judi Lynn (143,019 posts)
1. Tremendous. Thank you.
---
Response to Jim__ (Original post)
Thu Sep 17, 2020, 08:22 PM
Judi Lynn (143,019 posts)
2. Drones find signs of a Native American 'Great Settlement' beneath a Kansas pasture
The sprawling town may have been home to thousands before Spanish explorers arrived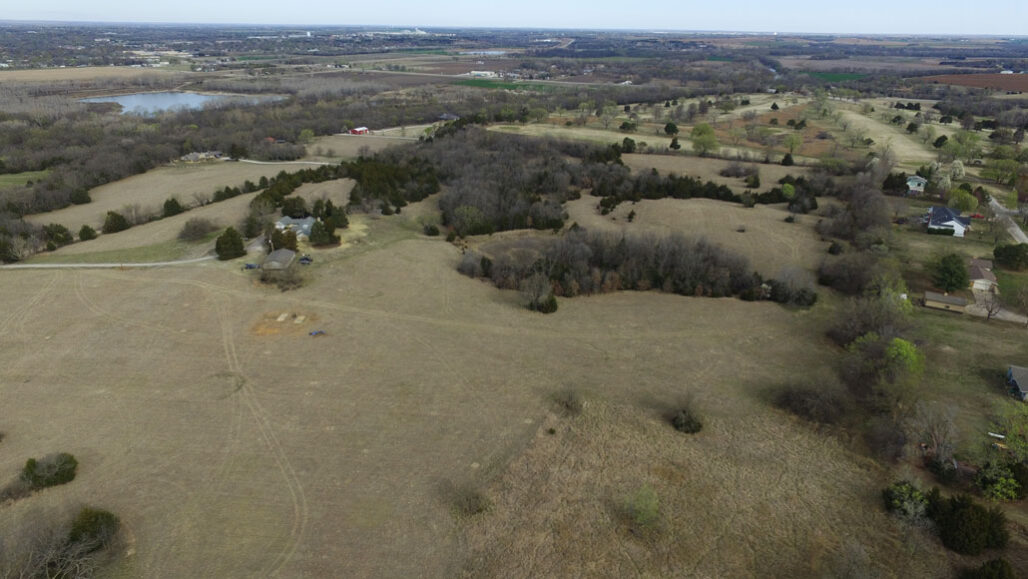 Remote-sensing devices mounted on drones identified a large earthwork beneath the surface of this cattle pasture in Kansas. Researchers suspect the site was once part of one of the largest Native American settlements north of Mexico.
J. CASANA
By Bruce Bower
SEPTEMBER 10, 2020 AT 6:00 AM
Specially equipped drones flying over a Kansas cattle ranch have detected the buried remnants of a horseshoe-shaped ditch made more than 400 years ago by ancestors of today's Wichita and Affiliated Tribes, scientists say.
The find adds to suspicions that the Kansas site was part of a sprawling population center that Spanish explorers dubbed the Great Settlement in 1601, archaeologist Jesse Casana of Dartmouth College and his colleagues report August 24 in
American Antiquity.
Called Etzanoa by a captive the Spanish took from the Great Settlement, it could turn out to be one of the largest Native American settlements ever established north of Mexico, if confirmed by further research. The largest currently known is Cahokia, a site in what's now Illinois where as many as 20,000 people lived between 1050 and 1150.
Ancestral Wichita communities in Kansas and northern Oklahoma that date to between around 1425 and 1650 existed in a time frame during which South America's Inca civilization rose and fell (
SN: 8/3/20
). In the 1800s, European settlers drove ancestral Wichita people from their native lands, leading to the destruction of their villages and communal traditions.
More:
https://www.sciencenews.org/article/drones-native-american-settlement-etzanoa-kansas-pasture
---
Response to Judi Lynn (Reply #2)
Fri Sep 18, 2020, 06:01 AM
Jim__ (12,380 posts)
3. A native American site where 20,000 people lived changes my conception of native American culture.
I know that the Incas had large population centers. I did not realize that native American cultures north of Mexico had such large population centers.
---
Response to Jim__ (Reply #3)
Thu Sep 24, 2020, 03:06 AM
wnylib (3,397 posts)
4. Oh, yeah. Cahokia, as the article says,
is the largest known one north of Mexico. Some other centers are thought to be more ceremonial than residential, although they would have required a large number of people to build the earthworks that exist at them.

Contrary to popular belief, the majority of Native Americans in North America, prior to Columbus, were not nomadic hunter gatherers. They lived in small villages and larger towns (and a few cities) and depended on the crops they grew, fish from local lakes and streams, and meat from animals they trapped or hunted on expeditions.

Since they didn't rotate crops, most of the people in the northeastern woodland areas moved their villages about every 20 years to a new spot nearby, keeping the village name, or sometimes giving it a new name.

They lacked the technology of the Europeans, but had some pretty sophisticated social organization and governments. They became less settled and more nomadic as they were displaced from their territories and villages and towns by European settlements.

People of the Plains and the Great Basin were nomadic prior to Columbus because on the Plains they followed bison herds and in the desert and Basin regions, there were insufficient food sources to survive without moving about. But those nomadic Plains hunters and Basin and desert people were not typical of most Native Americans.



---
Response to Jim__ (Reply #3)
Sat Sep 26, 2020, 02:52 AM
Judi Lynn (143,019 posts)
5. Hearing about large population centers came really late for me, too.
I think most serious investigation regarding any of the indigenous people in the Americas was not important to most European descended people as they were raised with the deeply ingrained ignorance and racism of those who preferred to disrespect ALL indingenous people from the first, opting to follow the ancient hatred in place from the first, when their ancestors chose to torture, murder, shun, devaluate them in order to steal their country, destroy their culture instead of treating them with ordinary human respect.

I think the "white" population has been as happy as clams imagining there was nothing of value about them, and they weren't bright enough to do anything but fight, making them great guys to destroy in the relentless movement west.

They couldn't slow down until they controlled everything.

I am certain that there will be an enormous body of discovery of native people and culture, the further away our "scientists" get from their systemically manipulated prejuidices.
---
Response to Jim__ (Original post)
Fri Oct 9, 2020, 10:51 PM
Judi Lynn (143,019 posts)
6. How Drones Help Archaeologists Peer Into the Earth
A late-night drone flight spotted a large, circular earthwork beneath a field in Kansas.
BY KAREN CHERNICK
OCTOBER 9, 2020
An aerial view of a portion of the site that a drone surveyed in Kansas. JESSE CASANA
FOR THE ARCHAEOLOGIST JESSE CASANA, midnight is the best time to find things underground. "It's always in the middle of the night, sometime between late and very late," he says. Casana, an anthropology professor at Dartmouth, has been testing a new thermal imaging drone for archaeological research. "It's a very weird kind of archaeology because usually we go and spend weeks and weeks working in the sun. In this case we just go in the middle of the night—once."
The advantage of late-night archaeology is that big, underground objects retain and emit heat at different rates than the soil surrounding them. Take thermal images of the ground at just the right moment, when everything is cooling down, and you'll see clear subterranean variations that may be undetectable using other methods.
Casana has a grant from the National Endowment for the Humanities to test this thermal imaging drone in different environments around the world, and for different archaeological features. So far, he's spent sleepless nights using the device in the Middle East, Hawai'i, and Mexico. Archaeologists keep asking him to fly out to particular patches of land that they're curious about.
One such request came from Donald Blakeslee, an archaeology professor at Wichita State University. Blakeslee and his team had already experimented with a drone, but its regular camera didn't register enough detail. They also used magnetometry, ground-penetrating radar, and electromagnetic conductivity devices. These methods were all noninvasive and faster than digging, but still considerably slower than Casana's drone, which could survey a 45-acre cattle ranch in just two nights.
More:
https://www.atlasobscura.com/articles/drone-archaeology-finds-underground-earthworks