Mon Apr 25, 2016, 09:35 PM
vintx (1,748 posts)
Campaign 2016: Hillary Clinton Pitched Iraq As 'A Business Opportunity' For US Corporations
When then-U.S. Sen. Hillary Clinton voted to authorize the war against Iraq in 2002, she justified her support of the invasion as a way to protect America's national security. But less than a decade later, as secretary of state, Clinton promoted the war-torn country as a place where American corporations could make big money.
"It's time for the United States to start thinking of Iraq as a business opportunity," she said in a 2011 speech.
The quote was included in an email released by the State Department on Wednesday that specifically mentioned JPMorgan and Exxon Mobil. JPMorgan was selected by the U.S. government to run a key import-export bank in Iraq and in 2013 announced plans to expand its operations in the country. Exxon Mobil signed a deal to redevelop Iraqi oil fields. JPMorgan has collectively paid the Clintons and the Clinton Foundation at least $450,000 for speeches, and Exxon Mobil has donated over $1 million to the family's foundation.
(more at link
http://www.ibtimes.com/campaign-2016-hillary-clinton-pitched-iraq-business-opportunity-us-corporations-2121999
6 replies, 1111 views
Replies to this discussion thread
| | | | |
| --- | --- | --- | --- |
| 6 replies | Author | Time | Post |
| Campaign 2016: Hillary Clinton Pitched Iraq As 'A Business Opportunity' For US Corporations (Original post) | vintx | Apr 2016 | OP |
| | Octafish | May 2016 | #1 |
| | vintx | May 2016 | #2 |
| | Tierra_y_Libertad | May 2016 | #3 |
| | Yurovsky | May 2016 | #4 |
| | Tierra_y_Libertad | May 2016 | #5 |
| | Cheese Sandwich | May 2016 | #6 |
---
Response to vintx (Original post)
Sun May 1, 2016, 12:52 PM
Octafish (55,745 posts)
1. Sounds about Right.
What Hillary tells the Big Wigs...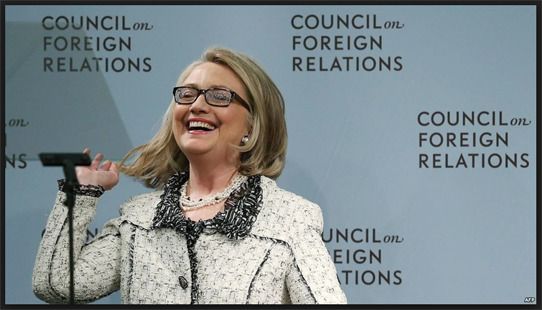 Hillary Clinton Speaks from Peter G. Peterson Institute on Foreign Aid
C-SPAN aired Secretary of State Hillary Clinton's remarks at the Peter G. Peterson Institute. Pete Peterson made billions as a private equity underwriter (PEU). He used $1 billion to establish his institute, focused on getting America's financial house of cards in order (without asking corporations or the rich to step up in any major way.)
[font color="green"]America believes government cannot do anything competently, thus the private sector is the answer. That goes for international development.
[/font color]
SNIP...
That requires partners. Giants of philanthropy gathered in New York in 2009. This list included Bill Gates, Warren Buffet, Pete Peterson, George Soros, David Rockefeller, and Oprah Winfrey.
SNIP...
Clinton stated in her talk:
[font color="green"][font size="5"]Aid chases need, investment chases opportunity.[/font size][/font color]
[font color="green"]She mentioned the Clinton Foundation as a partner. President Bill Clinton privatized government functions during his two terms, benefiting multiple private equity underwriters.[/font color]
CONTINUED...
http://stateofthedivision.blogspot.com/2010/01/hillary-clinton-speaks-from-peter-g.html
And money trumps peace.
---
Response to Octafish (Reply #1)
Sun May 1, 2016, 03:44 PM
vintx (1,748 posts)
2. It is literally nauseating.
I guess more privatization is the way of the New Democratic party.
---
Response to vintx (Original post)
Sun May 1, 2016, 03:57 PM
Tierra_y_Libertad (50,414 posts)
3. Not to mention a helluva PR opportunity for "Strong Leaders".
Complete with bursting bombs, lots of flags, generals with lotsa ribbons, "Support Our Troops" bumper stickers, teary eyed politicians, and renditions of "God Bless America" sung by super patriots.

All in glorious praise for another war we lost.
---
Response to Tierra_y_Libertad (Reply #3)
Sun May 1, 2016, 04:12 PM
Yurovsky (2,064 posts)
4. It's a matter of perspective...
You and I might think of the victims of America's wars as human beings who were killed or maimed in the name of Big Oil and corporate profits... For HRC, it's just the cost of doing business. Letting those innocent civilians live in peace didn't produce the kind of ROI that HRC, Goldman Sachs, and her other corporate sponsors were looking for.
If I lived in a volatile corner of the world, I'd be very afraid for my friends, family, & myself. HRC is getting ready to crank up the War Machine...
---
Response to Yurovsky (Reply #4)
Sun May 1, 2016, 04:18 PM
Tierra_y_Libertad (50,414 posts)
5. We have been a predator nation for a very long time.
The list of victims over the last 150 years is very long. But, we've become very adept at calling our atrocities "defense".
---