Sat Jun 9, 2012, 03:46 AM
Violet_Crumble (35,688 posts)
Why the Question of Palestine is a Feminist Concern
Note - because there's been some confusion at DU3 about where anything that mentions either Israelis or Palestinians should go (it's not like DU2 where it was all sent to the I/P forum), I thought I'd mention here that there's no restriction on posting anything about Israel, Palestine or the conflict anywhere but GD and one or two other forums
<snip>
I have been asked how I view the occupation of Palestine from my feminist perspective, or perhaps another way to put it, why and how I think the question of Palestine is a feminist concern. It seems to me that the question posed by the predicament of Palestinians is not merely the uncertainty of their future political fate as a people (a nation without a state, territory, and resources of its own, without capacities of self-determination). It is rather the question of the specific conditions of human devaluation and disposability to which they appear to be fated by a normalized system of exploitative inequality, dispossession and violence. That these conditions of devaluation and disposability depend on the maintenance of naturalized hierarchies of human difference (race, ethnicity, nationality, religion) will undoubtedly resonate with feminist analyses of forms of gendered devaluation, disposability and violence that obtain in many socio-historical contexts, including this one. It is also the case, however, that beyond any homologies, which this theoretical resonance might suggest (eg. between racialized and gendered forms of devaluation and disposability), the projects of settler colonialism and apartheid nationalism that the Israeli state embodies and the logic of security which undergirds and legitimates its policies of surveillance, militarization and war have long been feminist concerns. Feminist analyses have shown how such projects are enabled and upheld not only by normative cultural ideals of gender and sexuality embedded in their constitutive conceptions of land, territory, sovereignty, people/race, citizenship, freedom and power. As modes of producing and regulating life – indeed, as projects that see to the uneven distribution of life-chances (the augmentation of life-chances of some at the cost of the reduction of life-chances of others), like and in tandem with capitalism – the projects of settler colonialism and apartheid nationalism also require divisions of labor and forms of social reproduction (and social death) that are profoundly gendered and racialized in ways that exceed the dominant form of political antagonism.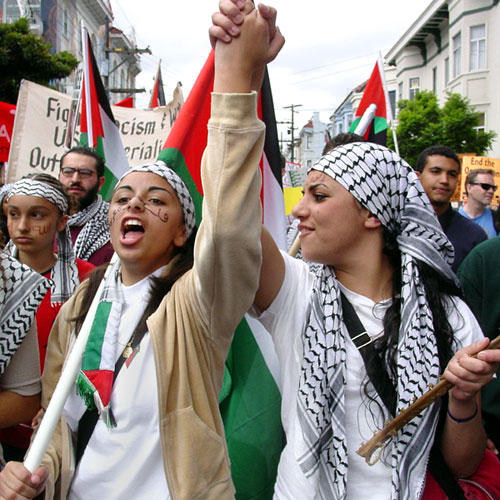 http://thefeministwire.com/2012/01/why-the-question-of-palestine-is-a-feminist-concern/
1 replies, 1128 views
Replies to this discussion thread
| | | | |
| --- | --- | --- | --- |
| 1 replies | Author | Time | Post |
| Why the Question of Palestine is a Feminist Concern (Original post) | Violet_Crumble | Jun 2012 | OP |
| | seabeyond | Jun 2012 | #1 |
---
Response to Violet_Crumble (Original post)
Sat Jun 9, 2012, 10:19 AM
seabeyond (110,159 posts)
1. the issue i have... and thank you for the article.
"Ultimately, however, what makes the question of Palestine a feminist concern does not rest on any one of these analytical perspectives or points of critique. It rests rather on the connections that the oppression and struggle of Palestinians enables us to draw across those differences on which the oppression depends and that the question as it is now posed presumes. It is a feminist concern because it calls us to forge new relations beyond the province of interests and inherited forms of social belonging to which we might have become tethered and, for those of us not already called, to feel the suffering and aspirations of Palestinians as also our own. The strangulation of Palestinian life is, after all, not the accomplishment of one aberrant state, inasmuch as the latter is supported by a global economy and geopolitical order, which condemns certain social groups and strata to the status of absolutely redundant, surplus populations – an order of insatiable accumulation and destruction that affects all planetary life. The question of Palestine is thus an urgent question of a just and equitable future that is both specific to this context and to this people, and a general and paradigmatic global concern. To take a stand in solidarity with and to be involved in the struggle of Palestinians to resist and transform the conditions of their own dispossession and disposability – to join in their aspiration for collective freedom and self-determination – is also to participate in the remaking of global life, which cannot but be a paramount feminist act."


the issue i have is i watched in other countries but notably egypt fight for rights as a whole. and all the while, as i listened to what was happening in the country adn cheering them on, i also recognized that there was a hope, but not voice for women rights. i was getting the strong feel that the women were going to be left out as they were hoping they would be a part.
so though palestine has a greater oppression, i dont think it behooves these women to put their demand for rights behind the whole. i think it is really important thru out that they continue to specifically speak toward womens rights, separate. after seeing what has happened with egypt.