Fri Jan 8, 2021, 12:48 PM
flamin lib (12,987 posts)
More reasons we can't have nice things. Ban all semi auto guns with removeable magazines.
First Amendment:
Congress shall make no law respecting an establishment of religion, or prohibiting the free exercise thereof; or abridging the freedom of speech, or of the press; or
the right of the people peaceably to assemble, and to petition the Government for a redress of grievances
.
Second Amendment:
A well regulated Militia
, being necessary to the security of a free State, the right of the people to keep and bear Arms, shall not be infringed.
Do any of the pictures below conform to the emphasized portions of the Amendments above cited?
https://www.washingtonpost.com/wp-apps/imrs.php?src=
&w=916
Michigan
https://i.insider.com/5eac2453e3c3fb73644ccc22?width=2000&format=jpeg&auto=webp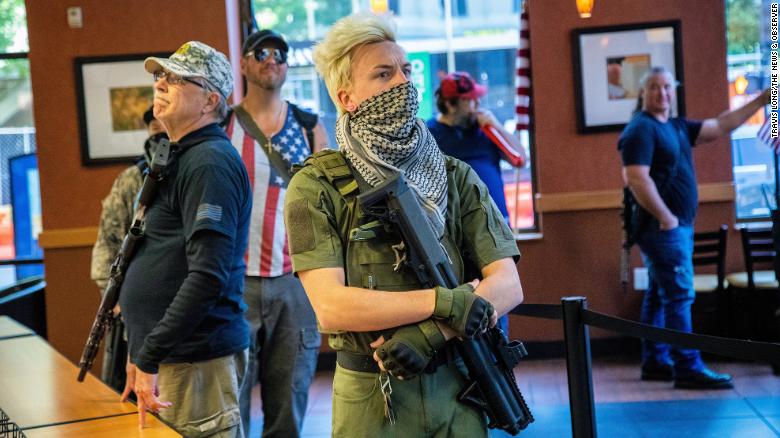 North Carolina
Missouri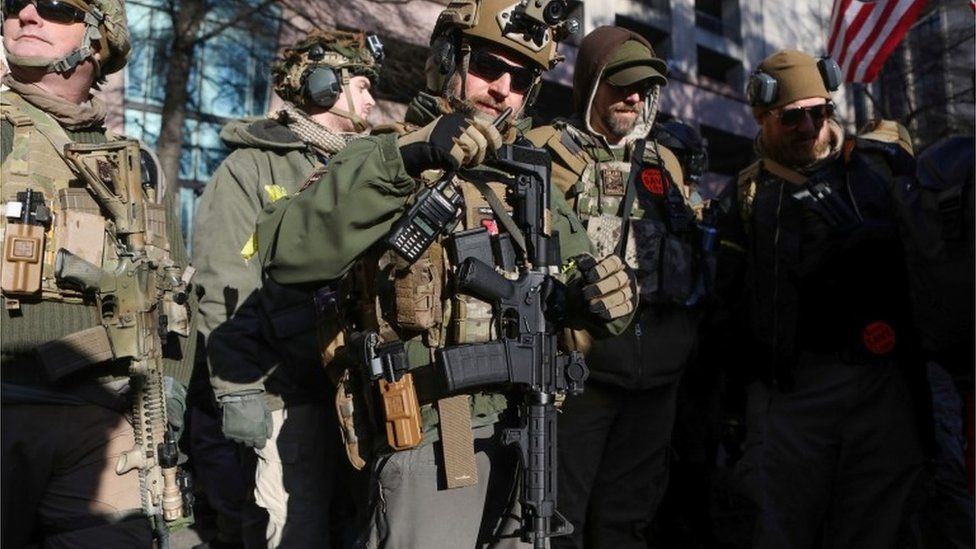 Virginia
?resize=770%2C513
New Mexico
https://www.click2houston.com/resizer/cEJymDE5K2VqWDMPvWh17MXFu8c=/1600x1066/smart/filters:format
(jpeg):strip_exif(true):strip_icc(true):no_upscale(true):quality(65)/cloudfront-us-east-1.images.arcpublishing.com/gmg/GC6VJTOPCRGN3HKXWZKZ3PLLIY.jpg
New Hampshire
?auto=compress&crop=faces&fit=fit&fm=jpg&h=0&ixlib=php-1.2.1&q=45&w=1260
Texas
?quality=80&strip=all
Clearly part of the 'Well Regulated Militia".
My advice for him? Go ahead, pull the trigger and see what happens next.
11 replies, 2356 views
Replies to this discussion thread
| | | | |
| --- | --- | --- | --- |
| 11 replies | Author | Time | Post |
| More reasons we can't have nice things. Ban all semi auto guns with removeable magazines. (Original post) | flamin lib | Jan 2021 | OP |
| | SheltieLover | Jan 2021 | #1 |
| | billh58 | Jan 2021 | #2 |
| | Aristus | Jan 2021 | #7 |
| | SheltieLover | Jan 2021 | #8 |
| | Aristus | Jan 2021 | #9 |
| | SheltieLover | Jan 2021 | #10 |
| | Dial H For Hero | Jan 2021 | #11 |
| | better | Jan 2021 | #3 |
| | flamin lib | Jan 2021 | #4 |
| | better | Jan 2021 | #5 |
| | flamin lib | Jan 2021 | #6 |
---
Response to flamin lib (Original post)
Fri Jan 8, 2021, 12:52 PM
SheltieLover (47,449 posts)
1. Omg!
Pix 1 - what is that gun hanging over asshole's chest?
---
Response to SheltieLover (Reply #1)
Fri Jan 8, 2021, 01:19 PM
billh58 (6,580 posts)
2. Just another
Proud Boy compensating for his inadequacies with a big gun in order to look manly.
---
Response to SheltieLover (Reply #1)
Fri Jan 8, 2021, 10:08 PM
Aristus (59,726 posts)
7. Not sure of the precise model.
But itís whatís known as a bullpup design. The trigger assembly goes in front of the ammunition magazine, instead of behind it.

It makes for a shorter rifle that has the accuracy of a long rifle.
---
Response to Aristus (Reply #7)
Fri Jan 8, 2021, 10:12 PM
SheltieLover (47,449 posts)
8. Ty
Never heard of this design, or seen one.
Clearly should only be for military, not civilians!
---
Response to SheltieLover (Reply #8)
Fri Jan 8, 2021, 10:17 PM
Aristus (59,726 posts)
9. Amen...
---
Response to Aristus (Reply #9)
Fri Jan 8, 2021, 10:20 PM
SheltieLover (47,449 posts)
10. ...
---
---
Response to flamin lib (Original post)
Fri Jan 8, 2021, 02:49 PM
better (884 posts)
3. So a caveat, first... I'm a supporter of gun rights, WITHIN REASON.
I disagree with the proposed ban, entirely because it lacks the specificity required to most effectively achieve the desired end result.

Banning "semi-automatic weapons with removable magazines" leaves far too many loopholes, like for example semi-automatic weapons with fixed high capacity magazines, rendering it ineffective at regulating the critical characteristics that actually matter, which are both how fast a weapon can be reloaded and the number of rounds it can fire before needing to be reloaded.

Addressing one without addressing the other is guaranteed to be insufficiently effective.

To that end, it remains my position that capacity is the first thing we need to regulate, and the most important.
And that we should regulate it completely irrespective of any other consideration or characteristic.

The language being considered here suffers from the exact same failure that both the original and the more recently proposed, but failed, assault weapons ban did, in that it relies on commonalities shared between "assault" weapons without adequate understanding of the relevance and practical implications of the commonalities in question, reliably leading to the identification of the WRONG commonalities, without addressing the correct ones.

When assessed with adequate understanding of firearms, two things are inarguably true:

A limited capacity weapon being semi-automatic poses very little more threat than if it were not semi-automatic.
A high capacity weapon poses dramatically more risk regardless of mode of operation.

Quite simply, reloading ANY weapon, regardless of method, takes considerably longer than cycling an action manually.
Ergo, capacity is the single most useful thing to regulate, regardless of mode of operation or means of reloading.

That's just the objective facts regarding how firearms actually work.

p.s. - This should not be taken as opposition to regulation of removable magazines or semi-automatic weapons, though I think both are unnecessary. Just that capacity should be addressed separately and exclusively, irrespective of whatever else may also be regulated.
---
Response to better (Reply #3)
Fri Jan 8, 2021, 03:18 PM
flamin lib (12,987 posts)
4. Thank you for your considered reply.
That said, I submit that you are wrong.

I admit that any regulation will only present a challenge to the gun nuttery that passes as the current firearms industry. There's always a workaround that will be exploited. No matter what is done with legislation the use of guns for killing innocent people will continue. That is what lead me to the conclusion that because we can't eliminate the carnage we should change our approach and reduce it.

There are problems with your approach, i.e. limiting magazine capacity. It can't be done. In states have limited capacity laws contraband magazines come from states without such limits. Were such limits made national there are numerous 3d printing applications available on-line. Nutters would simply print their own.

As for high capacity fixed magazines I can live with a 15 or 30 round fixed magazine loaded through the breach ala any of my WW1 and WWII infantry rifles. Knowing how long it takes to load those 5 and 6 round rifles I'd estimate that to re-load 30 rounds the same way might take a fella's lunch hour. Even with stripper clips it's not easy and doing so under pressure, say with 20 kindergarten kids screaming in your ear, will be difficult.

So, given the historic ability of the gun industry to find workarounds, I submit that the only solution is to ban the two functions that make it possible fire 500 rounds in 5 minutes in an elementary school: semi auto fire and interchangeable magazines.

Oh, BTW, I am a former FFL holder who can still put 3 rounds through a playing card at 100 yards with iron sights. I submit that I have an "adequate understanding of firearms".
---
Response to flamin lib (Reply #4)
Fri Jan 8, 2021, 04:53 PM
better (884 posts)
5. Thank you, likewise, for your OWN considered reply. It's refreshing!
I would, however, still argue that I am perhaps not entirely wrong, and I do agree with your impulse to reduce the carnage that we cannot entirely eliminate, which is why I remain so focused on capacity and speed of reloading, because those are the two characteristics most relevant to reducing the scale of carnage a weapon can inflict.

Yes, people could 3d print their own high-capacity removable magazines, but that doesn't negate the wisdom of banning them.

A ban on a weapon holding more than say 6 rounds, using the capacity of a common revolver for the purpose of debate, would also be vastly easier for law enforcement to identify and infraction of upon sight than anything like "semi-automatic with removable magazine". It's more practical to enforce, in my opinion, at least in the context of most popular weapons currently in circulation, because even at a distance, every single one of the weapons in the pictures in your OP (at least in which a removable magazine is visible at all) would be immediately identifiable as likely in violation of such a ban.

That Kel-Tec KSG in the second picture, by contrast, is NOT semi-automatic, AND does NOT have a removable magazine, yet does have a 14+1 capacity, chambered in 12 gauge. Your proposed ban language would leave this weapon unregulated, despite the very clear threat it poses, because it focuses exclusively on mode of operation and means of reloading, without consideration of capacity.

Similarly, I would submit that the amount of time it takes to reload a weapon (of any capacity) is of secondary relevance to its capacity.

Reduced capacity necessarily means more frequent chances to neutralize a shooter while they are busy reloading. A 15 or 30-round breech-loaded fixed magazine still presents a greater threat to public safety than a 6 round removable magazine-fed weapon in this regard. Simply because its user can engage more targets before needing to reload. Additionally, the attractiveness of a high rate of fire, which is of course related to your scenario of dumping X rounds in Y minutes, is proportional to capacity. The fewer rounds your weapon holds, the more carefully you're probably going to want to expend them, because empty equals vulnerable, no matter for how short a time.

Like I said before, I'm not particularly opposed to banning semi-automatic weapons, despite not thinking it's particularly necessary or would really make all that much of a difference. I mean, let's face it, a pump action rifle or shotgun can be cycled in well under half a second, which is why I'm displeased with the idea of that 12 gauge KSG remaining legal under your proposed language while my .22LR with a 10 round magazine would not. It has the effect of banning the less dangerous weapon while doing nothing about the more dangerous one, because the language of your ban is poorly focused to achieve the purpose.

And in fact I quite agree with banning removable magazines, simply because speed of reloading is, I would argue, the second most relevant characteristic to a weapon's suitability for assault, and similarly to the amount of carnage it can inflict, next to its capacity.

I just maintain that capacity is far and away the most relevant, easy, and productive thing to address.

And lastly, you're probably on to something with the deficiency of my observation about adequate understanding of firearms.

Our remaining disagreements would tend to suggest that there's more involved than basic understanding, as your understanding of firearms seems pretty clearly adequate to responsibly use them. But simply knowing how to responsibly use them does not necessarily equal correctly identifying the relative importance of their various characteristics, so perhaps my extension of that observation to your argument was imprecise, albeit perhaps not entirely incorrect.

In any case, it was unwarrantedly dismissive of your knowledge, and for that I apologize.
My frustration at poorly crafted laws sometimes gets ahead of my temperance.
---
Response to better (Reply #5)
Fri Jan 8, 2021, 05:26 PM
flamin lib (12,987 posts)
6. It appears that our only disagreement is
how to limit the capacity of carnage a firearm can create.

To reduce the differences we have to the basics:

Your stance is that an automatic weapon with small magazine size is sufficient to achieve the goal we share.

Mine is that the capacity of a magazine cannot be limited in that it is so easy to find a workaround therefore the only workable solution is to remove both features; magazines and autoload.

The downfall of legislation in the past has been the limited approach taken.

'But simply knowing how to responsibly use them does not necessarily equal correctly identifying the relative importance of their various characteristics,' is your second veiled ad hominem insult. You mistake this group as a place to play silly games. With that I bid you good day and suggest you take the minutia argument so often used in these discussions to a place that it will be more appreciated.