Congratulations to our presumptive Democratic nominee, Joe Biden!
Mon Jun 3, 2019, 11:17 AM
Vidal (642 posts)
Biden is running against himself
An article in POLITICO called "It's 2 primaries now: Biden and everyone else" makes the case that Biden is running against himself.
With the introductory stage of the Democratic presidential primary now over, the lines of engagement are beginning to take shape. And what is emerging is a primary that is no longer one nominating contest, but two.

The first, occurring wherever Joe Biden materializes, is the front-runner's campaign against himself — his history of failed presidential elections, his propensity for gaffes, his need to adhere to new "boundaries of protecting personal space."

The other includes everyone else.

Nowhere were the two tracks of the primary more stark than over the weekend, when Biden positioned himself in Ohio, far from the horde of other Democratic contenders. While more than half the field jostled at the Californian Democratic Party convention here — the largest single state party gathering in the nation — the former vice president had the lectern to himself at a Human Rights Campaign dinner on Saturday, contrasting his candidacy not with any Democrat, but with the Republican president.

His counter-programming appearance served the latest reminder that, with large leads in national and several early state polls, Biden is running a race in a vacuum, adhering to his own rules and schedule. The biggest threats to his campaign at the moment aren't his rivals so much as his advanced age and ability to remain disciplined in an era where missteps are under heightened scrutiny.

The other Democratic primary, consuming everyone else, is to see who can pull within striking distance and emerge as one of the handful of contenders still standing after the four early states vote next February.

"It's like an Alaskan dog sled," said Bob Mulholland, a Democratic National Committee member from California. "If you're not the lead dog, the view is the same all day long … Biden, as the leader, doesn't need to be at every weekend barbecue."
Read More:
https://www.politico.com/story/2019/06/03/joe-biden-2020-primaries-california-1351101
If I were to vote in a presidential
primary today, I would vote for:
Undecided
2 replies, 852 views
Replies to this discussion thread
| | | | |
| --- | --- | --- | --- |
| 2 replies | Author | Time | Post |
| Biden is running against himself (Original post) | Vidal | Jun 2019 | OP |
| | OKNancy | Jun 2019 | #1 |
| | OKNancy | Jun 2019 | #2 |
---
Response to Vidal (Original post)
Mon Jun 3, 2019, 11:39 AM
OKNancy (41,832 posts)
1. "his advanced age" ??? I wish I was as trim and fit as Joe Biden
He seems pretty sharp to me.
Taken 8 months ago.
?quality=90&auto=webp
If I were to vote in a presidential
primary today, I would vote for:
Joe Biden
---
Response to Vidal (Original post)
Mon Jun 3, 2019, 11:40 AM
OKNancy (41,832 posts)
2. My favorite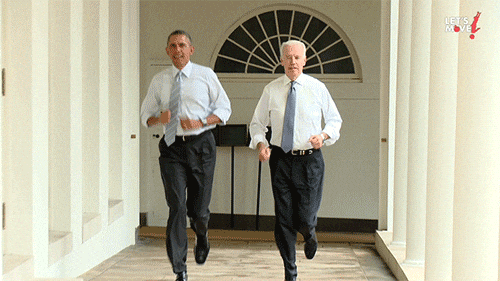 If I were to vote in a presidential
primary today, I would vote for:
Joe Biden