Welcome to DU!
The truly grassroots left-of-center political community where regular people, not algorithms, drive the discussions and set the standards.
Join the community:
Create a free account
Support DU (and get rid of ads!):
Become a Star Member
hermetic
hermetic's Profile

hermetic's Profile
Avatar Image
Signature Line
Education is the enemy of authoritarianism. That's why the GOP works so hard to defund it...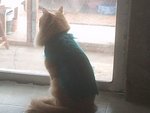 Statistics
Account status: Active
Member since: Mon Mar 15, 2004, 09:49 AM
Number of posts, all time: 8,074
Number of posts, last 90 days: 158
Favorite main forum:
General Discussion
, 10 posts in the last 90 days (6% of total posts)
Favorite topic forum:
Fiction
, 110 posts in the last 90 days (70% of total posts)
Last post:
Mon Nov 27, 2023, 03:01 PM
Jury
Willing to serve on Juries: No
Chance of serving on Juries: 100% (
explain
)
Hosting
Fiction
Latest Posts
Oooh, yeah
Mon Nov 27, 2023, 03:01 PM

Great video
Mon Nov 27, 2023, 02:53 PM

Oh gosh
Mon Nov 27, 2023, 01:53 PM

A very happy
Mon Nov 27, 2023, 01:46 PM

Welcome to DU!
Sun Nov 26, 2023, 03:17 PM


Latest Recs
Greater Austin Pow wow
Mon Nov 20, 2023, 11:21 AM

For cat lovers
Sun Nov 19, 2023, 03:24 PM

Great White Egret (Ardea alba) in Cypress Swamp
Sun Nov 19, 2023, 02:22 PM

Kayaking On A Carpet of Bald Cypress (Taxodium Distichum) Needles
Sun Nov 12, 2023, 02:26 PM

King Snag
Sun Nov 12, 2023, 12:31 PM


Latest Poll Votes
Act II: How do you plan to weather Kev's "Freedom Caucus Dollar Days Sell Out"? (UPDATED)
Fri Sep 29, 2023, 08:35 AM

Do you have a favorable or unfavorable opinion of Robert F Kennedy Jr.?
Sun Jul 9, 2023, 08:59 AM

***FALL Seasonal Photo Contest: Final Round***
Sun Dec 11, 2022, 08:56 AM

***November Photo Contest Preliminary Thread 3***
Fri Nov 11, 2022, 09:18 AM

***November Photo Contest Preliminary Thread 2***
Fri Nov 11, 2022, 09:18 AM