Wed Dec 12, 2012, 01:16 PM
G_j (40,134 posts)
Mourning an Alpha Female [View all]
http://green.blogs.nytimes.com/2012/12/10/mourning-an-alpha-female/
December 10, 2012,
Mourning an Alpha Female
By NATE SCHWEBER
As I reported on Sunday in The Times, Yellowstone National Park's best-known wolf was shot and killed last week outside the park's borders. A large gray alpha female known as 832F, she had been fitted by researchers with a GPS collar that allowed them to track her movements.
The wolf wowed scientists and tourists alike with her size and a strength so great that she could "take down animals on her own," said Daniel Stahler, a park wildlife biologist.
She also led the pack in Yellowstone's northeastern Lamar Valley, an area rich in bison and elk that has a road offering vantage points for wildlife watchers equipped with cameras and spotting scopes. The Lamar Canyon pack could be counted on to roam the valley near dawn and dusk, allowing scientists and tourists to observe wolf behavior at a level of detail rarely seen outside National Geographic specials.
(Wolf 832F, named thus by the park biologists who collared her, has also been known to wolf watchers as 06 — oh-six — because 2006 was her birth year.)
Marc Cooke, a member of the advocacy group Wolves of the Rockies, said he was moved by the way that 832F had cared for her pups, bringing them food and snarling ferociously at any animals that posed a threat to them.
"She was an amazing mother," Mr. Cooke said. "When I heard she died, I felt like I lost a family member."
..more..
[IMG]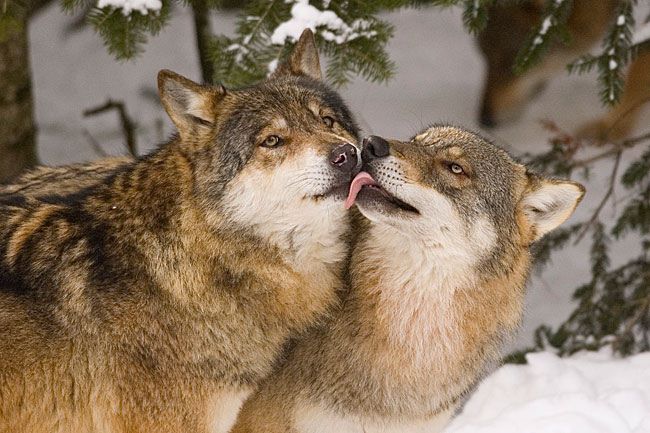 [/IMG]
[IMG]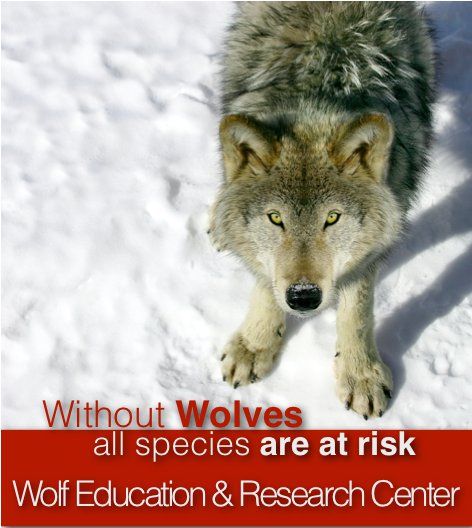 [/IMG]
http://www.democraticunderground.com/10021946313
Another collared, and very famous Yellowstone wolf killed in Wyoming's hunt
http://www.thewildlifenews.com/2012/12/07/yet-another-collared-and-very-famous-yellowstone-wolf-killed-in-wyomings-hunt/
Briefly noted wildlife news stories. Dec. 5, 2012..
Yet another collared, and very famous Yellowstone wolf killed in Wyoming's hunt.
By Ken Cole On December 7, 2012 ·
Wolf "06″, the alpha female of the Yellowstone's Lamar Canyon Pack has been shot in Wyoming by a hunter.
Wolf "06″ was probably the most famous wolf in Yellowstone and had been viewed by thousands of Park visitors. She was also part of the ongoing study of wolves that has been conducted in Yellowstone since the time they were reintroduced in 1995. So far there have been 8 collared Yellowstone wolves killed this year and an unknown number of uncollared Yellowstone wolves have likely been killed as well.
The ongoing study of wolves and their interactions with other species is responsible for the huge amount of information gained since the reintroduction of wolves to Yellowstone and Central Idaho. The number of collared wolves lost to the hunt in the surrounding parts of Idaho, Montana, and Wyoming could only be described as crippling to understanding the role that wolves play in the ecosystem. The wolves in Yellowstone also draw millions of tourist dollars to the area each year.
Several conservation groups have petitioned to ask that a buffer zone be created around Yellowstone National Park so that wolves that primarily use Yellowstone National Park have some level of protection when they move out of its boundaries.
A Conservation Icon in the Crosshairs
http://www.defendersblog.org/2012/12/conservation-icon-in-the-crosshairs/
It's just unfair. Hunters and outfitters are picking off the wolves of Yellowstone National Park. Call upon officials to create a buffer zone to protect them:
http://wg.convio.net/site/MessageViewer?em_id=10181.0
Reform the Federal Wildlife-Killing Program
Urge Agriculture Secretary Tom Vilsack to reform Wildlife Services from the federal government's top wildlife killers to a program that can truly resolve wildlife conflicts.
http://secure.defenders.org/site/Advocacy?pagename=homepage&page=UserAction&id=2443&fb_action_ids=4602717198872&fb_action_types=og.recommends&fb_source=aggregation&fb_aggregation_id=288381481237582
~~
http://www.wolfcenter.org/pdf/Benerfits-Wolves.pdf
27 replies, 6448 views
Replies to this discussion thread
27 replies
Author
Time
Post

Mourning an Alpha Female

[View all]

G_j
Dec 2012
OP
sinkingfeeling
Dec 2012
#1
TwilightGardener
Dec 2012
#2
In_The_Wind
Dec 2012
#3
Beringia
Dec 2012
#4
G_j
Dec 2012
#5
2naSalit
Dec 2012
#6
G_j
Dec 2012
#19
Egalitarian Thug
Dec 2012
#7
heaven05
Dec 2012
#8
a la izquierda
Dec 2012
#9
AtheistCrusader
Dec 2012
#10
maddiemom
Dec 2012
#11
AtheistCrusader
Dec 2012
#12
2naSalit
Dec 2012
#13
AtheistCrusader
Dec 2012
#14
2naSalit
Dec 2012
#17
Hayabusa
Dec 2012
#20
2naSalit
Dec 2012
#22
Hayabusa
Dec 2012
#23
2naSalit
Dec 2012
#24
Hydra
Dec 2012
#15
Solly Mack
Dec 2012
#16
Doremus
Dec 2012
#18
srican69
Dec 2012
#21
tabasco
Dec 2012
#25
maddiemom
Dec 2012
#26
maddiemom
Dec 2012
#27