60. We are certainly bounded by our culture,
Mon Sep 16, 2013, 09:57 AM
Sep 2013
but who designed the culture that bounds us? How is it distributed and how do we acquire it? How diverse is the marketplace of ideas? Ideology, on the right and the left, has become little more than a consumer product. The institutions that have traditionally been a bulwark against mercantilism have been co-opted or marginalized by the profit motive, and when they fail, disaster capitalism can find a way to make money off of that.

College enrollment is going up, but look what the kids are studying: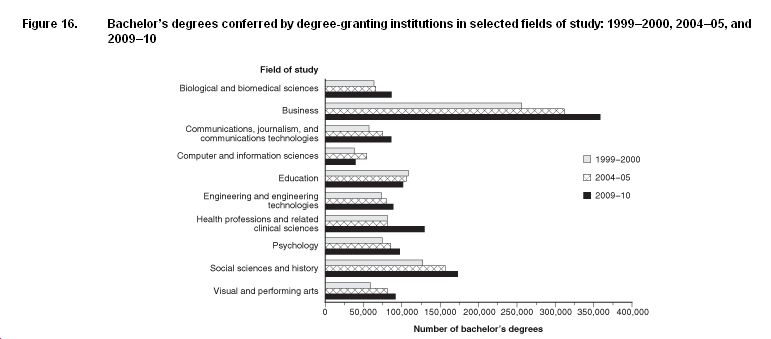 http://nces.ed.gov/programs/digest/d11/figures/fig_16.asp?referrer=figures

And add to that the number of disciplines that are considered mere extensions of business like communications, journalism, engineering, health professions and the arts. While the objectives and methods of business are obvious, how many people are trained in other disciplines within the context of those same methods and objectives? That's how we get Madison Avenue, network television, HMO's, Google Glass, Twitter, SSRI uptake inhibitors for "social anxiety", Olestra, Fox News and the Southern Baptist Convention.

I once talked to a cowboy that trained horses for a living. He said the trick to training horses was to make the right thing easy and the wrong thing hard. We are suffering from a national sense of anomie because our culture is been skewed to train us to make the wrong thing easy and the right thing hard. Today, given the obvious dangers over the horizon regarding resource depletion and climate change, the wrong thing is to do it the way we've done it for hundreds of years.

The term "liberal" refers to increased, or "liberally applied", cultural change. That's why we need a Democratic congress in 2014, because it's our best chance for change in a time when cultural change will make or break our country and our species. Conservatism simply makes no sense given what we know about the world today and our prospects for tomorrow.

Everywhere you look, from incessant culture wars to packaged cable television, your culture is doled out to you . Ninety nine percent of the images people see every day are produced by a corporation. Human relationships are metered and squeezed for profit by limiting them to, for example, 140 characters. Political discourse is dominated by ratings driven hyperbole on both sides of the aisle. From where I sit whole swaths of our population have become little more than trained pigeons pecking at a button for a pellet.
Edit history
Please
sign in
to view edit histories.
62 replies
= new reply since forum marked as read
Highlight:
None

Don't highlight anything
5 newest

Highlight 5 most recent replies
Recommended

Highlight replies with 5 or more recommendations