Fri Jan 31, 2014, 11:11 AM
PowerToThePeople (9,610 posts)
Hillary Clinton [View all]
Last edited Fri Jan 31, 2014, 11:41 AM - Edit history (1)
Hillary Clinton: No regret on Iraq vote
WASHINGTON (CNN) -- Sen. Hillary Rodham Clinton said she is not sorry she voted for a resolution authorizing President Bush to take military action in Iraq despite the recent problems there but she does regret "the way the president used the authority."
http://www.cnn.com/2004/ALLPOLITICS/04/21/iraq.hillary/
Hillary Clinton Defends 2002 Iraq War Vote On Meet The Press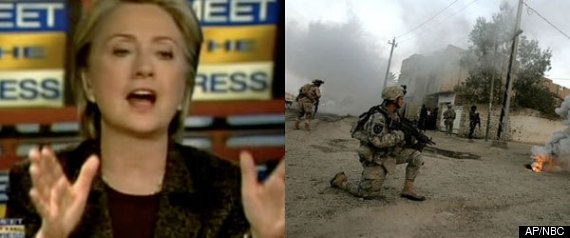 Moderator Tim Russert pointed out that the title of the resolution was the "Authorization for Use of Military Force Against Iraq Resolution of 2002." Clinton responded saying, "We can have this Jesuitical argument about what exactly was meant. But when Chuck Hagel, who helped to draft the resolution said, 'It was not a vote for war,' What I was told directly by the White House in response to my question, 'If you are given this authority, will you put the inspectors in and permit them to finish their job,' I was told that's exactly what we intended to do. "
http://www.huffingtonpost.com/2008/01/13/hillary-clinton-defends-2_n_81261.html

Hillary Clinton's Business Legacy at the State Department (leading part in drafting TPP)
She's pressed the case for U.S. business in Cambodia, Singapore, Vietnam, Indonesia, and other countries in China's shadow.
She's also taken a leading part in drafting the Trans-Pacific Partnership, the free-trade pact that would give U.S. companies a leg up on their Chinese competitors.
http://www.democraticunderground.com/?com=view_post&forum=1016&pid=67554
9 replies, 1759 views
Replies to this discussion thread
9 replies
Author
Time
Post

Hillary Clinton

[View all]

PowerToThePeople
Jan 2014
OP
polichick
Jan 2014
#1
William769
Jan 2014
#2
hrmjustin
Jan 2014
#7
RC
Jan 2014
#3
DURHAM D
Jan 2014
#4
PowerToThePeople
Jan 2014
#5
DURHAM D
Jan 2014
#6
OKNancy
Jan 2014
#8
Tierra_y_Libertad
Jan 2014
#9