Fri Jan 2, 2015, 01:10 AM
Cha (276,240 posts)
There's the NYPD and then there's the Police Chief in little ol Pittsburgh, PA [View all]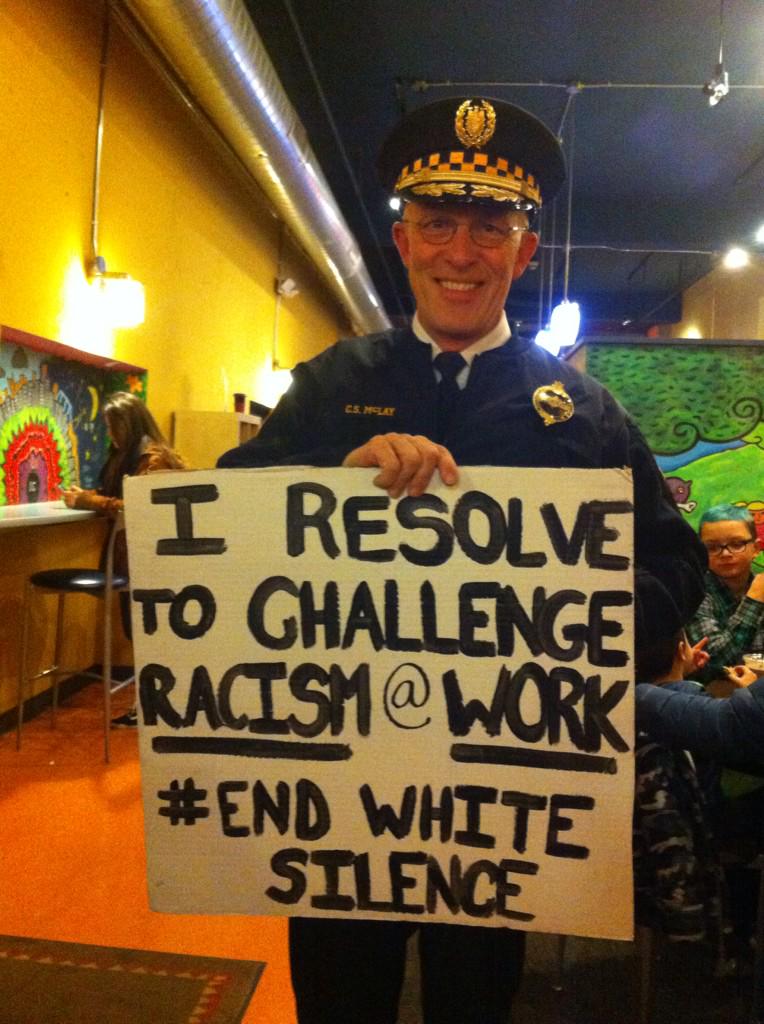 Davon Magwood @davonmagwood
Follow
NYPD turn their backs on their mayor, threaten strikes,meanwhile in little ol' Pittsburgh our police chief is like...
9:20 PM - 31 Dec 2014
1,621 Retweets
1,365 favorites
http://theobamadiary.com/2015/01/01/chat-on-63/
Back in September 2014
..
Cameron McLay Introduced As Pittsburgh Police Chief
short snip//
"My job will be to close the gap between the police and the community," McLay said as he met the press."
He listed a number of changes he hopes to implement:
•
Restore
accountability
•
Dispersed
leadership
•
Community
surveys
•Rebuild
confidence and pride in bureau
MOre
http://pittsburgh.cbslocal.com/2014/09/12/cameron-mclay-introduced-as-pittsburgh-police-chief/
Oceana~Best wishes from Oceana and moi as we head into 2015!
Happy New Year, DU!
!

107 replies, 12635 views
Replies to this discussion thread
107 replies
Author
Time
Post

There's the NYPD and then there's the Police Chief in little ol Pittsburgh, PA

[View all]

Cha
Jan 2015
OP
Cha
Jan 2015
#1
KMOD
Jan 2015
#2
Cha
Jan 2015
#3
KMOD
Jan 2015
#4
Cha
Jan 2015
#5
marym625
Jan 2015
#82
Cha
Jan 2015
#83
Cha
Jan 2015
#8
KMOD
Jan 2015
#9
ucrdem
Jan 2015
#6
Cha
Jan 2015
#7
freshwest
Jan 2015
#10
Cha
Jan 2015
#11
marble falls
Jan 2015
#12
Cha
Jan 2015
#13
Cha
Jan 2015
#14
Cha
Jan 2015
#15
SunSeeker
Jan 2015
#16
Cha
Jan 2015
#17
Cha
Jan 2015
#18
Cha
Jan 2015
#19
yortsed snacilbuper
Jan 2015
#20
Cha
Jan 2015
#21
mrmpa
Jan 2015
#22
Cha
Jan 2015
#23
mrmpa
Jan 2015
#24
Cha
Jan 2015
#25
Tommymac
Jan 2015
#56
mrmpa
Jan 2015
#96
Tommymac
Jan 2015
#97
Cha
Jan 2015
#26
napkinz
Jan 2015
#27
Cha
Jan 2015
#28
napkinz
Jan 2015
#51
Cha
Jan 2015
#62
cpamomfromtexas
Jan 2015
#29
Cha
Jan 2015
#30
steve2470
Jan 2015
#31
Cha
Jan 2015
#32
silverweb
Jan 2015
#33
Cha
Jan 2015
#34
Cha
Jan 2015
#35
Cha
Jan 2015
#36
Cha
Jan 2015
#37
JustAnotherGen
Jan 2015
#38
Cha
Jan 2015
#39
Cha
Jan 2015
#40
Cha
Jan 2015
#41
Cha
Jan 2015
#42
Cha
Jan 2015
#43
Mc Mike
Jan 2015
#44
Cha
Jan 2015
#45
Mc Mike
Jan 2015
#98
MrMickeysMom
Jan 2015
#63
Mc Mike
Jan 2015
#100
MrMickeysMom
Jan 2015
#101
Mc Mike
Jan 2015
#105
MrMickeysMom
Jan 2015
#106
Mc Mike
Jan 2015
#107
Cha
Jan 2015
#46
Cha
Jan 2015
#47
Cha
Jan 2015
#48
Cha
Jan 2015
#49
napkinz
Jan 2015
#50
randys1
Jan 2015
#52
Cha
Jan 2015
#64
randys1
Jan 2015
#65
Cha
Jan 2015
#66
Dont call me Shirley
Jan 2015
#53
Cha
Jan 2015
#67
niyad
Jan 2015
#54
Cha
Jan 2015
#68
niyad
Jan 2015
#99
Cha
Jan 2015
#104
sheshe2
Jan 2015
#55
Cha
Jan 2015
#70
sheshe2
Jan 2015
#77
Cha
Jan 2015
#78
sheshe2
Jan 2015
#79
yardwork
Jan 2015
#57
Cha
Jan 2015
#72
yardwork
Jan 2015
#102
Cha
Jan 2015
#103
WillyT
Jan 2015
#58
napkinz
Jan 2015
#59
Cha
Jan 2015
#75
ebbie15644
Jan 2015
#60
Kath1
Jan 2015
#61
Cha
Jan 2015
#76
Kath1
Jan 2015
#90
Cha
Jan 2015
#91
Kath1
Jan 2015
#92
Cha
Jan 2015
#93
marym625
Jan 2015
#69
Cha
Jan 2015
#80
marym625
Jan 2015
#81
blkmusclmachine
Jan 2015
#71
mountain grammy
Jan 2015
#73
Cha
Jan 2015
#84
1step
Jan 2015
#74
Cha
Jan 2015
#85
Cha
Jan 2015
#86
Cha
Jan 2015
#87
KMOD
Jan 2015
#88
Cha
Jan 2015
#89
Major Hogwash
Jan 2015
#94
Cha
Jan 2015
#95