Sun Jun 12, 2016, 02:57 PM
AntiBank (1,339 posts)
UEFA threatens to BAR England from Euro 2016 if violence continues after two days of carnage [View all]
Source:
The Daily Mail UK
UEFA have threatened to ban England and Russia from Euro 2016 if there is further violence following ugly scenes in the Stade Vélodrome last night. It comes as thousands of English and Russian supporters travel to Lille, in northern France, for their second games of the tournament.
Last night several hundred English and Russian fans squared off in Marseille, hurling beer bottles and chairs and drawing volleys of tear gas from riot police who struggled to contain the fighting in the narrow streets of the Old Port district.
Inside Marseille's Stade Vélodrome the Balaclava-clad Russian thugs - wearing gum shields and mixed martial arts gloves and wielding telescopic truncheons - then charged at their English counterparts at the final whistle - as well as firing a flare gun into the England fans.
The French government on Sunday announced a ban on alcohol near Euro 2016 venues and fan zones, after three days of drunken violence among fans in the southern city of Marseille. 'I have asked for all necessary measures to be taken to prohibit the sale, consumption and transport of alcoholic drinks in sensitive areas on match days and the day before, and on days when fan zones are open,' Interior Minister Bernard Cazeneuve said.
England fans hurled themselves over railings and concerned parents were seen carrying their children away from the fighting, with stewards - rather than police - left to intervene between scuffles. Russian fans then paraded the English flags they had stolen as trophies in a square in Marseille.In a statement UEFA said: 'Such unacceptable behaviour by so-called supporters of the national teams of England and Russia has no place in football, a sport we must protect and defend.
Read more:
http://www.dailymail.co.uk/news/article-3637663/UEFA-threatens-ban-England-Euro-2016-violence-continues.html
---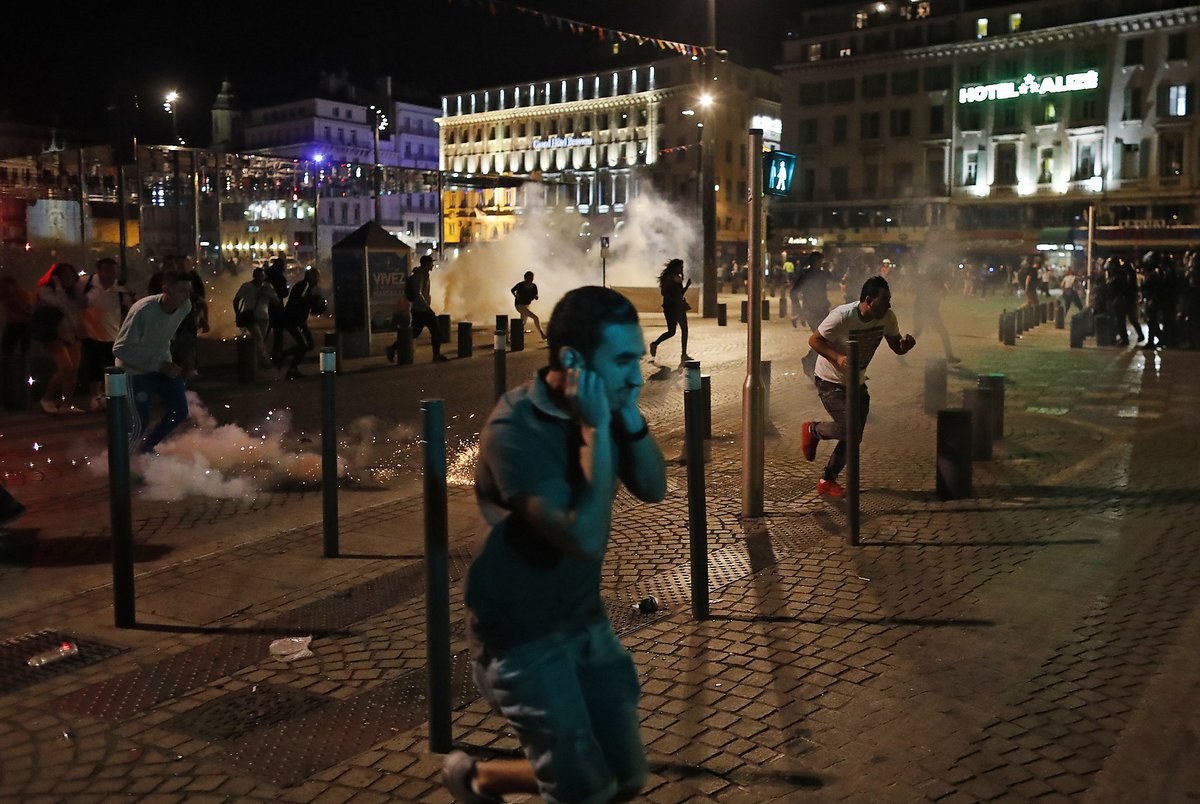 10 replies, 2421 views
Replies to this discussion thread
10 replies
Author
Time
Post

UEFA threatens to BAR England from Euro 2016 if violence continues after two days of carnage

[View all]

AntiBank
Jun 2016
OP
JustABozoOnThisBus
Jun 2016
#1
brentspeak
Jun 2016
#2
newthinking
Jun 2016
#3
brooklynite
Jun 2016
#9
840high
Jun 2016
#4
brentspeak
Jun 2016
#5
840high
Jun 2016
#6
ananda
Jun 2016
#7
MowCowWhoHow III
Jun 2016
#8
Sunlei
Jun 2016
#10