Fri Apr 3, 2020, 08:08 PM
Omaha Steve (76,828 posts)
Trump, 3M clash over order to produce more face masks for US [View all]
Source:
AP
By DAVID KOENIG and ZEKE MILLER
President Donald Trump said Friday his administration will try to stop "profiteers" from exporting medical protective gear, shortly after picking a fight with manufacturing giant 3M, a major producer and exporter of face masks used to protect health care workers from the coronavirus.
3M argued that blocking exports will raise "significant humanitarian implications" abroad and lead other countries to retaliate by withholding much-needed medical supplies from the U.S.
Nearly all of 3M's exports of high-grade N95 masks go to Canada and Latin America, and Canadian officials led by Prime Minister Pierre Trudeau took the company's side. They lobbied Trump administration officials not to cut off part of their supply.
That was not enough to persuade Trump.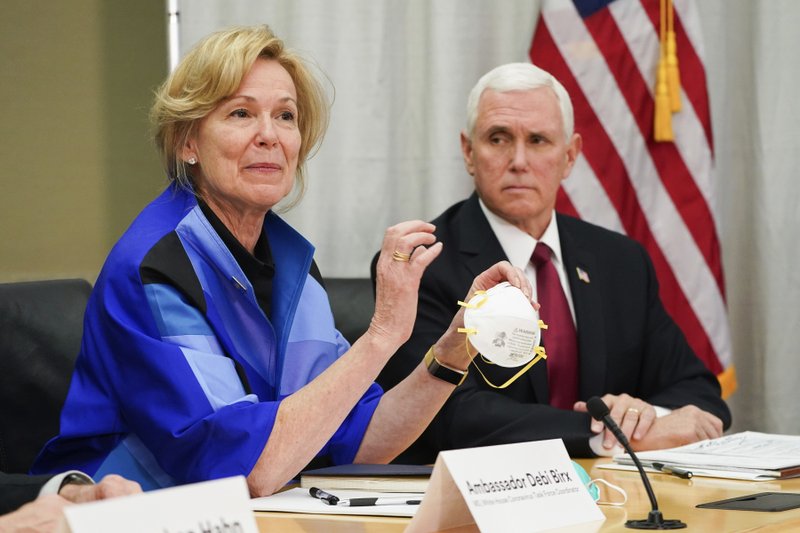 FILE - In this March 5, 2020, file photo, Dr. Deborah Birx, Ambassador and White House coronavirus response coordinator, holds a 3M N95 mask as she and Vice President Mike Pence visit 3M headquarters in Maplewood, Minn., in a meeting with the company's leaders and Minnesota Gov. Tim Walz to coordinate response to the COVID-19 coronavirus. On Friday, April 3, 2020, the manufacturing giant pushed back against criticism from Trump over production of face masks that are badly needed by American health care workers. 3M said the administration asked it to stop exporting medical-grade masks to Canada and Latin America, which the company said raises "significant humanitarian implications" and will backfire by causing other countries to retaliate against the U.S. (Glen Stubbe/Star Tribune via AP, File)/Star Tribune via AP)
Read more:
https://apnews.com/cbed1f366882b07ecc5a45cdee9f4e1e
17 replies, 2918 views
Replies to this discussion thread
17 replies
Author
Time
Post

Trump, 3M clash over order to produce more face masks for US

[View all]

Omaha Steve
Apr 2020
OP
SheltieLover
Apr 2020
#1
Dem2theMax
Apr 2020
#2
underpants
Apr 2020
#6
iluvtennis
Apr 2020
#10
Mc Mike
Apr 2020
#13
Adsos Letter
Apr 2020
#3
underpants
Apr 2020
#4
babylonsister
Apr 2020
#5
docgee
Apr 2020
#7
Haggis for Breakfast
Apr 2020
#8
luvtheGWN
Apr 2020
#16
BusyBeingBest
Apr 2020
#9
Bernardo de La Paz
Apr 2020
#12
NBachers
Apr 2020
#11
Hotler
Apr 2020
#17
Cognitive_Resonance
Apr 2020
#14
paleotn
Apr 2020
#15