Tue Jun 9, 2020, 09:50 PM
Omaha Steve (95,904 posts)
Senate confirms first black service chief in unanimous vote [View all]
Source:
AP
By LAURIE KELLMAN
WASHINGTON (AP) — The Senate on Tuesday unanimously confirmed Gen. Charles Brown Jr. as chief of staff of the U.S. Air Force, making him the first black officer to lead one of the nation's military services.
Vice President Mike Pence took the unusual step of presiding over the vote, something he usually does to break ties. But Brown's confirmation, 98-0, was not close. Pence called the moment "historic."
The vote came as the Trump administration and the mostly white Senate Republican conference grapple with the aftermath of the killing of George Floyd in police custody in Minneapolis. Protests have convulsed the nation alongside the coronavirus pandemic, with racial discrimination being the common thread between them. The vote in Washington overlapped with Floyd's funeral in Houston.
Brown most recently served as the commander of U.S. Pacific Air Forces. He is a fighter pilot, with more than 2,900 flying hours, including 130 in combat.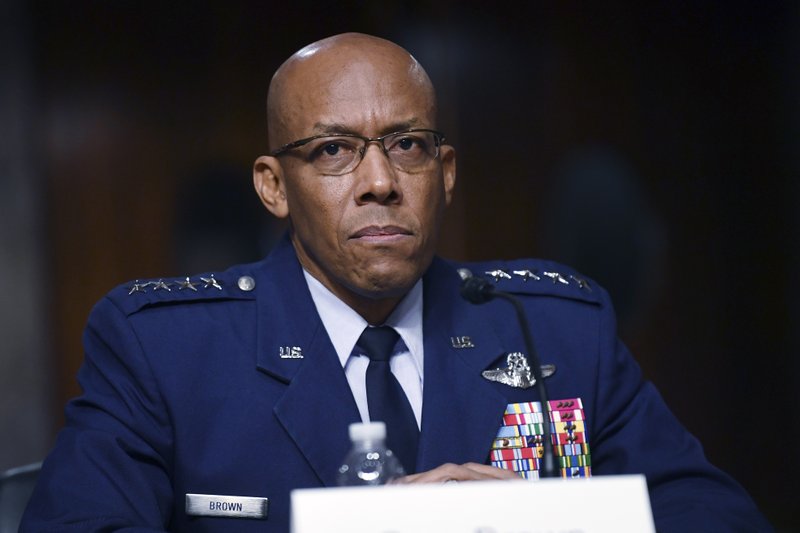 FILE - In this May 7, 2020, file photo Charles Q. Brown, Jr., nominated for reappointment to the grade of General and to Chief of Staff of the U.S. Air Force, testifies during a Senate Armed Services Committee nominations hearing on Capitol Hill in Washington. The Senate on Tuesday, June 9, unanimously confirmed Gen. Charles Brown Jr. as chief of staff of the U.S. Air Force, making him the first black officer to lead one of the nation's military services. (Kevin Dietsch/Pool via AP, File)
Read more:
https://apnews.com/65c97d955ef931c9aae6f36fed8f7aee
14 replies, 2097 views
Replies to this discussion thread
14 replies
Author
Time
Post

Senate confirms first black service chief in unanimous vote

[View all]

Omaha Steve
Jun 2020
OP
Polybius
Jun 2020
#1
The Polack MSgt
Jun 2020
#4
underpants
Jun 2020
#2
OnlinePoker
Jun 2020
#3
zipplewrath
Jun 2020
#5
The Polack MSgt
Jun 2020
#7
OnlinePoker
Jun 2020
#10
RockRaven
Jun 2020
#6
The Polack MSgt
Jun 2020
#8
Maeve
Jun 2020
#12
The Polack MSgt
Jun 2020
#9
sarge43
Jun 2020
#11
The Polack MSgt
Jun 2020
#13
sarge43
Jun 2020
#14