Tue Sep 15, 2020, 04:54 PM
RainCaster (6,326 posts)
Alan Dershowitz Files $300 Million Lawsuit Against CNN for Portraying Him as an 'Intellectual... [View all]
Source:
Law & Crime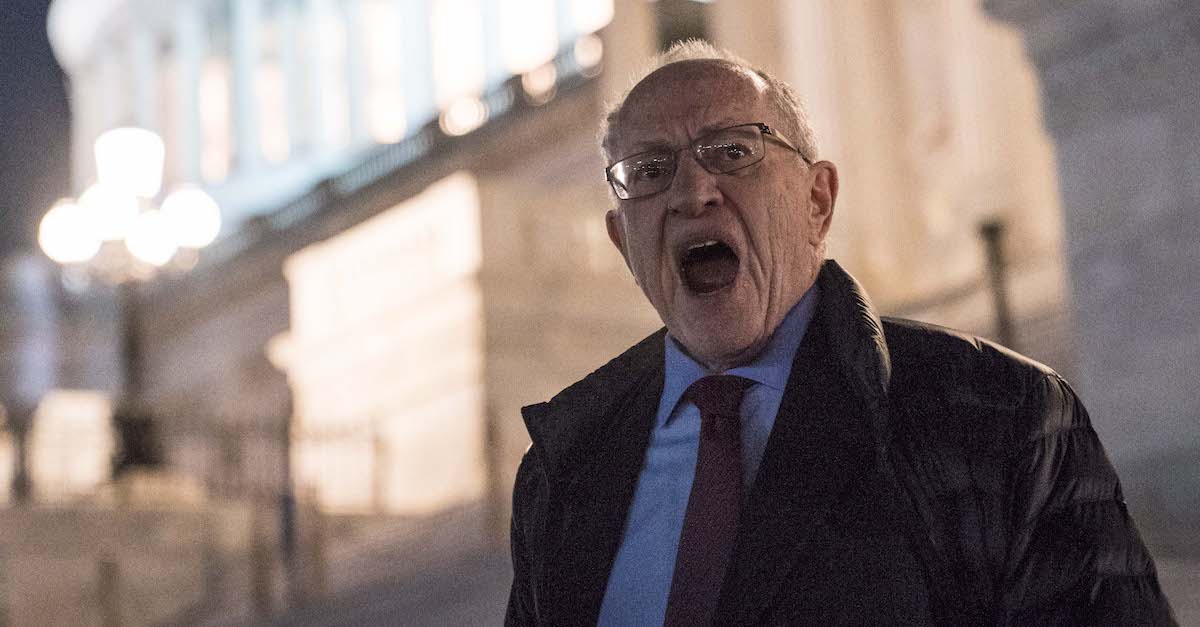 Harvard Law professor emeritus Alan Dershowitz on Tuesday filed a lawsuit against CNN, claiming the cable news network, together with their hosts and panelists, intentionally created a false narrative about what the famed criminal defense attorney argued while defending the president during impeachment proceedings earlier this year.
Dershowitz's allegations stem from news coverage of his argument about the kind of quid pro quos a sitting president may engage in while office—provided that the exchange is done with the intent of winning re-election in the public interest and not in violation of some law. While his theory was widely panned by attorneys and legal experts across the media, Dershowitz claimed that CNN intentionally omitted portions of his argument to make it appear as though he was arguing "the exact opposite of what he said."
The specific exchange at the crux of the controversy came when Sen. Ted Cruz (R-Texas) asked Dershowitz if it mattered whether there was a quid pro quo arrangement in Trump's dealings with Ukraine.
"The only thing that would make a quid pro quo unlawful is if the 'quo' were in some way illegal," Dershowitz responded, saying there were "three possible motives" a political figure could have for their conduct: a motive in the public interest, a motive in his own political interest, and a motive in his own financial interest.
Read more:
https://lawandcrime.com/lawsuit/alan-dershowitz-files-300-million-lawsuit-against-cnn-for-portraying-him-as-an-intellectual-who-had-lost-his-mind/
---
I like the photo- it shows what a nut job Douche-Witz is.
Although I'm no lawyer, and I don't play one on TV, I think his theories about why DFT is above the law are just plain nuts.
41 replies, 5965 views
Replies to this discussion thread
41 replies
Author
Time
Post

Alan Dershowitz Files $300 Million Lawsuit Against CNN for Portraying Him as an 'Intellectual...

[View all]

RainCaster
Sep 15
OP
C_U_L8R
Sep 15
#1
Proud liberal 80
Sep 15
#20
orleans
Sep 15
#31
Moostache
Sep 15
#2
no_hypocrisy
Sep 15
#3
Mr.Bill
Sep 15
#4
tblue37
Sep 15
#5
Grokenstein
Sep 15
#21
The Velveteen Ocelot
Sep 15
#6
wryter2000
Sep 15
#7
brush
Sep 15
#8
lastlib
Sep 15
#10
Submariner
Sep 15
#9
SunSeeker
Sep 15
#33
johnnyfins
Sep 15
#11
groundloop
Sep 15
#12
Joinfortmill
Sep 15
#13
ffr
Sep 15
#14
PatSeg
Sep 15
#15
smb
Sep 15
#16
RainCaster
Sep 15
#34
Mike Nelson
Sep 15
#17
SunSeeker
Sep 15
#35
Mike Nelson
Sep 15
#36
George II
Sep 15
#18
Totally Tunsie
Sep 15
#27
Evolve Dammit
Sep 15
#19
Grokenstein
Sep 15
#22
Bengus81
Sep 16
#40
stillcool
Sep 15
#23
BlueIdaho
Sep 15
#24
warmfeet
Sep 15
#25
Pepsidog
Sep 15
#26
SunSeeker
Sep 15
#30
bucolic_frolic
Sep 15
#28
SunSeeker
Sep 15
#29
jmbar2
Sep 15
#32
DBoon
Sep 15
#37
Bengus81
Sep 16
#39
Javaman
Sep 16
#38
Turbineguy
Sep 16
#41