Wed Feb 24, 2016, 09:40 PM
TBF (31,861 posts)
Ireland's Battle for Abortion Rights [View all]
Going abroad for an abortion is primarily an option for the more privileged, who have the financial resources and are able—physically and legally—to travel outside of Ireland. <snip> This also leaves the most marginalized and at-risk women—women who are poor, migrants, disabled or minors, unable to access what is often essential healthcare. These women and girls are then forced to have illegal abortions in Ireland, or to continue with unwanted pregnancies.
Ireland's Battle for Abortion Rights
Sinead Corcoran ▪ February 24, 2016
On a sunny Saturday afternoon last May, thousands gathered in the main square in Dublin Castle and the surrounding streets and pubs awaiting the results of a vote that would determine if Ireland would legalize same-sex marriage. After months of tense public debate, campaigns, counter-campaigns, celebrity endorsements, emotional personal testimonies, and thousands of intimate discussions around kitchen tables across the country, observers within and outside Ireland held their breath for the final tally. When the results were announced, the nation erupted: Ireland had made history by becoming the first nation to legalize same-sex marriage by popular vote.
Although Ireland is today celebrated around the world as a beacon of inclusiveness, equality, and human rights, a serious challenge to this nation's humanity remains: the Irish constitution continues to ban abortion except in cases when a pregnancy endangers a woman's life. Will this final stronghold of Catholic morality in Ireland be the next battleground for change?
Twentieth-century Irish society was dominated by the Roman Catholic Church: the sale of contraception without restriction was only possible by 1992; homosexuality was criminalized until 1993, and divorce remained illegal until as late as 1996. The twenty-first century has transformed this island nation, bringing with it not only economic booms and busts, multinational corporations and tech giants, and inward migration by the Irish diaspora and foreigners alike, but also new challenges to the religious and conservative establishment that has long maintained a stranglehold on Irish culture and values. Ireland is changing: the win for marriage equality and the enactment of the Gender Recognition Act in 2015 (which allows trans* people to legally change their gender), are clear evidence of a cultural shift away from the dogma of the church. But one issue that strikes at the heart of Ireland's Catholic morality remains—the right to abortion ...
Much more here:
https://www.dissentmagazine.org/online_articles/abortion-ireland-same-sex-marriage-referendum-election
Dubliners march in memory of Savita Halappanavar, who died of a miscarriage after being denied an abortion, September 29, 2012 (William Murphy / StreetsofDublin.com):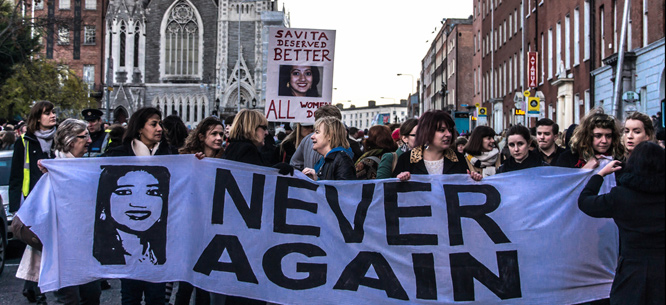 1 replies, 1154 views
Replies to this discussion thread