Tue Jan 27, 2015, 05:31 AM
regnaD kciN (25,613 posts)
Before The Fall (a rant) [View all]
Does this look like an $800 photograph to you? Me neither. And yet...it is.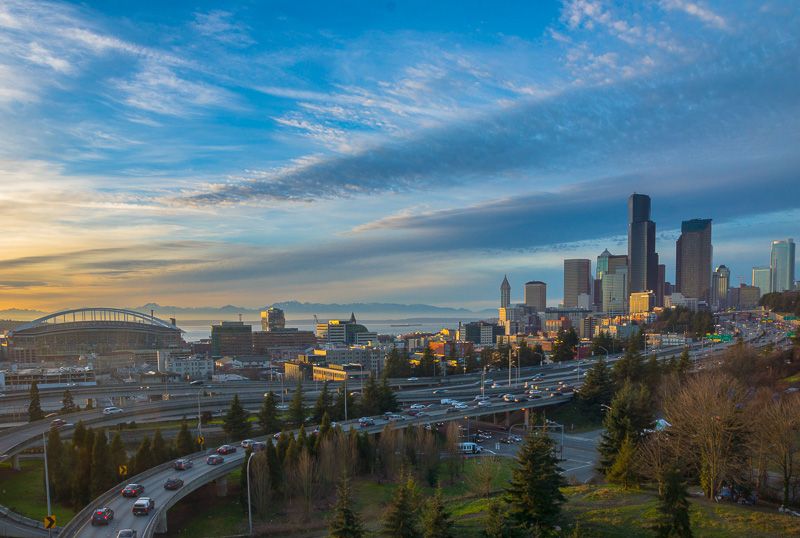 You see, I was beginning a shoot of the Seattle skyline late Sunday afternoon, and started off on the Rizal Bridge. Just after taking this photograph, my teenager asked me a question about setting up their tripod. As I turned around to help out, my camera backpack hit
my
tripod, sending it and my camera tumbling onto the concrete of the bridge.
As it turned out, the camera itself was fine. However, the same could not be said for the ($800) Sony 16-50mm DT lens, whose focusing mechanism is D.O.A. (Ironically, had it been the camera body which had broken, it would have been annoying, but at least I had a spare body. Did I have a spare normal lens? Nooooooooo.....)
Anyway, the lens is now at the local repair facility, and only time will tell if it can be repaired, or if I'm going to have to resort to shelling out for a replacement. In the meantime, anyone want to buy a photo of a sunset, a skyline, and a lot of interstate traffic for $800? Visa and Mastercard accepted...
18 replies, 8167 views
Replies to this discussion thread
18 replies
Author
Time
Post

Before The Fall (a rant)

[View all]

regnaD kciN
Jan 2015
OP
mnhtnbb
Jan 2015
#1
Mira
Jan 2015
#2
regnaD kciN
Jan 2015
#3
Mira
Jan 2015
#4
alfredo
Jan 2015
#5
regnaD kciN
Jan 2015
#7
alfredo
Jan 2015
#10
regnaD kciN
Jan 2015
#15
CaliforniaPeggy
Jan 2015
#6
liberal N proud
Jan 2015
#8
ManiacJoe
Jan 2015
#9
bluedigger
Jan 2015
#11
Major Nikon
Jan 2015
#12
belcffub
Jan 2015
#13
regnaD kciN
Jan 2015
#14
Blue_In_AK
Jan 2015
#16
handmade34
Jan 2015
#17
Solly Mack
Jan 2015
#18