Sun Nov 29, 2015, 09:28 AM
Ichingcarpenter (36,988 posts)
Doggerland in the news again [View all]
Thanks to Demeter in good reads
http://www.democraticunderground.com/1016138209#post2
Hunting for DNA in Doggerland, an Ancient Land Beneath the North Sea

http://www.wired.com/2015/11/hunting-for-dna-in-doggerland-an-ancient-land-beneath-the-north-sea/
.Archaeologists began looking at remote sensing data that these companies had gathered while seeking oil and gas. They had a 3D seismic dataset that shows distinct layers. "Imagine just cutting a nice big cake," Gaffney says. "You can see the layers of sponge and cream—and of course on the bottom there's oil in there somewhere." The energy companies only care about the very bottom of the cake, but Gaffney and his colleagues focused on a layer closer to the frosting. Based on studies that had dated the sediment, they knew that between 30 and 50 meters under the sea floor lay the former surface of Doggerland.
Tracing this layer of sediment, the team mapped about 17,000 square miles of the drowned and buried country—an area, Gaffney says, "slightly larger than Holland." In its topography they've found hills, coastlines, lakes and rivers. "But it's a map without people at the moment, or animals or plants," Gaffney says. That's where the project's next phase comes in.
The European Research Council recently awarded a team led by Gaffney a €2.5 million grant—about $2.6 million. Soon the scientists will head to sea. But they plan to do a lot more than just make maps. They'll follow two of the country's sunken river beds, taking core samples in search of pollen, fossils, insect remains, and other signs of life.
They'll also hunt for ancient DNA. This technique is still new and somewhat controversial. In a paper in the journal Science last February, members of the same team described DNA they'd dug up at Bouldnor Cliff, a submerged site off the Isle of Wight. They found evidence of wheat from 8,000 years ago—about 2,000 years before farming arrived in mainland Britain. Other researchers argued that the wheat DNA must have been modern contamination. In the Doggerland samples, the team will look for DNA from crops or even domestic animals like sheep and goats. Gaffney says the findings might help identify the best spots to search for human archaeology—evidence of cleared areas, burning, or environments that would have made ideal settlements.
The samples will cover about 5,000 years of Doggerland's history, from around 10,000 BC until the sea swallowed it...
Ghost Dog gave me this map in that OP
in which I added this
What's interesting with this timeline map is recent findings
View profile
The Ness of Brodgar archaeological site in the Orkney Islands is almost a thousand years older than Stonehenge and the center for Neolithic Britain and shares some of the same cultural artifacts found there.
Now if we look at your map you can see that these islands in Northern Scotland were once mountain regions of early Doggerland that was first area destroyed by the first stage of the flooding in the timeline. In fact the earliest record of Neolithic Britain are all almost found in Scotland with some exceptions.
If you notice in your map the largest major river system in Doggerland is east of the Orkney's which would be a desirable place for human settlement.
Suggesting that the Orkney mountains is where they fled to during the flood.
And this is the location of after flood settlements and Ness of Brodgar plus
The Ring of Brodgar which The site has resisted attempts at scientific dating and the monument's age remains uncertain.
Ring of Brodgar much older than Stonehenge
About the ring
https://en.wikipedia.org/wiki/Ring_of_Brodgar
The Ness of Brodgar reconstruction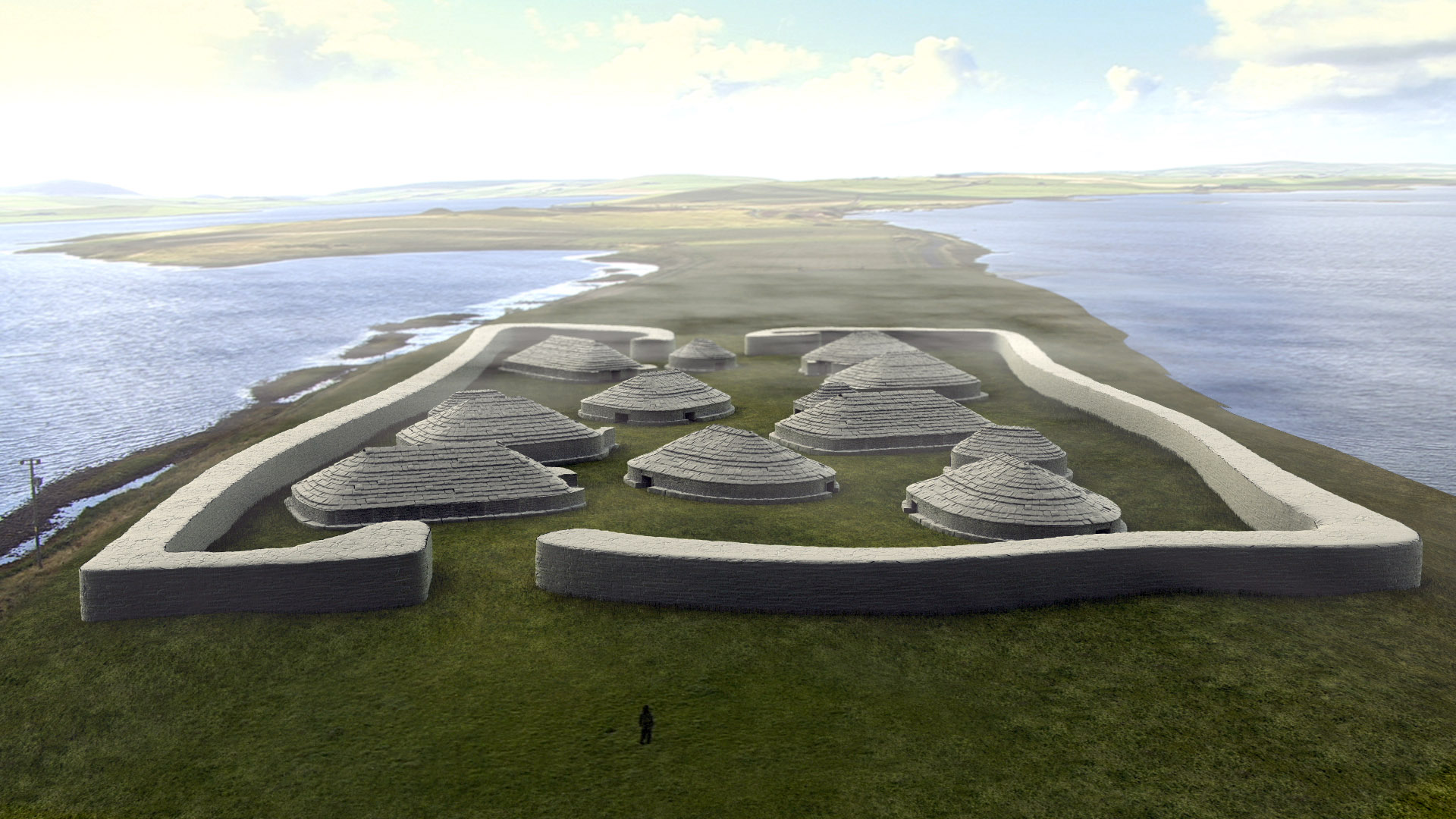 The site today
wikipedia
https://en.wikipedia.org/wiki/Ness_of_Brodgar
Also here
http://www.dailymail.co.uk/sciencetech/article-2081254/Stone-Age-temple-Orkney-significant-Stonehenge.html
I think that a underwater study of that flooded river system would be interesting.
83 replies, 8921 views
Replies to this discussion thread
83 replies
Author
Time
Post

Doggerland in the news again

[View all]

Ichingcarpenter
Nov 2015
OP
Judi Lynn
Dec 2015
#1
germamba
Aug 2016
#16
Judi Lynn
Sep 2016
#21
germamba
Sep 2016
#22
germamba
Oct 2016
#29
Judi Lynn
Feb 2017
#34
germamba
Aug 15
#75
germamba
Apr 2016
#2
Rhiannon12866
Apr 2016
#3
germamba
Apr 2016
#4
Ichingcarpenter
Apr 2016
#5
germamba
Apr 2016
#6
germamba
Apr 2016
#7
GeoWilliam750
Jun 2016
#10
germamba
Sep 2016
#25
Judi Lynn
Oct 2016
#27
Warpy
Sep 1
#79
germamba
Apr 2016
#8
Judi Lynn
Jun 2016
#11
germamba
Jun 2016
#9
germamba
Jul 2016
#12
RegexReader
Jul 2016
#13
germamba
Aug 2016
#14
Judi Lynn
Aug 2016
#15
germamba
Sep 2016
#23
germamba
Aug 2016
#17
germamba
Aug 2016
#18
bluedigger
Aug 2016
#19
germamba
Sep 2016
#20
germamba
Sep 2016
#24
germamba
Oct 2016
#26
germamba
Oct 2016
#28
germamba
Oct 2016
#30
germamba
Dec 2016
#31
Judi Lynn
Dec 2016
#33
Judi Lynn
Dec 2016
#32
germamba
Jul 2020
#35
Judi Lynn
Jul 2020
#36
germamba
Jul 2020
#37
Judi Lynn
Jul 2020
#38
germamba
Jul 2020
#40
Judi Lynn
Jul 2020
#41
germamba
Jul 2020
#43
germamba
Jul 2020
#42
Judi Lynn
Jul 2020
#44
germamba
Jul 2020
#45
Judi Lynn
Jul 2020
#46
germamba
Jul 2020
#47
Judi Lynn
Jul 2020
#48
germamba
Jul 2020
#49
Judi Lynn
Aug 2
#51
germamba
Aug 3
#52
germamba
Aug 3
#53
Judi Lynn
Aug 4
#55
germamba
Aug 4
#56
germamba
Aug 4
#57
germamba
Aug 4
#58
germamba
Aug 3
#54
Judi Lynn
Aug 5
#60
Judi Lynn
Aug 5
#59
germamba
Aug 5
#61
Judi Lynn
Aug 5
#62
germamba
Aug 5
#63
Judi Lynn
Aug 5
#65
germamba
Aug 6
#66
germamba
Aug 5
#64
germamba
Aug 6
#67
germamba
Aug 6
#68
Judi Lynn
Aug 7
#69
germamba
Aug 7
#70
germamba
Aug 10
#71
germamba
Sep 15
#83
germamba
Jul 2020
#50
germamba
Jul 2020
#39
germamba
Aug 10
#72
germamba
Aug 11
#73
germamba
Aug 11
#74
Warpy
Aug 30
#76
germamba
Sep 1
#77
Warpy
Sep 1
#78
germamba
Sep 2
#80
germamba
Sep 3
#81
germamba
Sep 3
#82