Wed Sep 19, 2012, 09:14 PM
Tx4obama (36,974 posts)
Mitt Romney dyed his face brown for his Univision interview - 'Real Photo'
Last edited Fri Sep 21, 2012, 04:02 PM - Edit history (2)
Photo from Wednesday at Univision:
How he normally looks:
ALSO:
When Romney got off of the plane Wednesday in Miami 'BEFORE' going to Univision his face was already brown,
so in my opinion no one should blame it on a Univision make-up person.
You can see in the photo below a vertical line on his neck - 47% of his neck is white and the rest is brown.
The photo below is from Wednesday and shows how his face looked when he got off of the plane in Miami: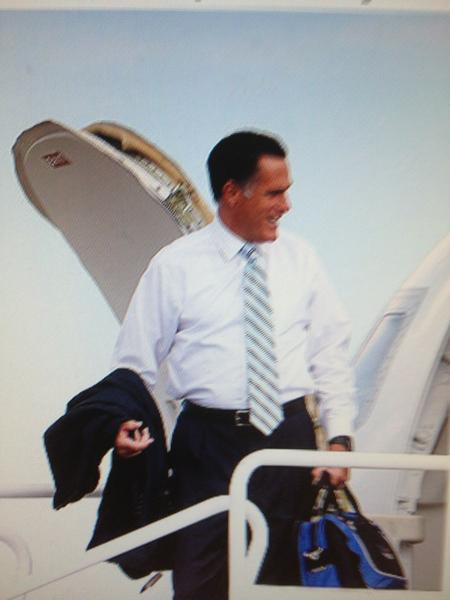 Edited to add...
There are more photos below down in the comments and also a video.
h/t bushisanidiot
340 replies, 299284 views
Replies to this discussion thread
| | | | |
| --- | --- | --- | --- |
| 340 replies | Author | Time | Post |
| Mitt Romney dyed his face brown for his Univision interview - 'Real Photo' | Tx4obama | Sep 2012 | OP |
| | SDjack | Sep 2012 | #1 |
| | ErikJ | Sep 2012 | #26 |
| | Politicalboi | Sep 2012 | #34 |
| | eppur_se_muova | Sep 2012 | #294 |
| | NYC_SKP | Sep 2012 | #314 |
| | Justice | Sep 2012 | #330 |
| | Suji to Seoul | Sep 2012 | #43 |
| | 6502 | Sep 2012 | #212 |
| | Suji to Seoul | Sep 2012 | #320 |
| | WallaceRitchie | Sep 2012 | #68 |
| | Bozita | Sep 2012 | #89 |
| | flamingdem | Sep 2012 | #121 |
| | tavalon | Sep 2012 | #150 |
| | ErikJ | Sep 2012 | #162 |
| | aint_no_life_nowhere | Sep 2012 | #163 |
| | Jeff In Milwaukee | Sep 2012 | #185 |
| | lexw | Sep 2012 | #224 |
| | George II | Sep 2012 | #252 |
| | Voice for Peace | Sep 2012 | #253 |
| | arikara | Sep 2012 | #280 |
| | caseymoz | Sep 2012 | #116 |
| | Joe Bacon | Sep 2012 | #126 |
| | GermanDem | Sep 2012 | #256 |
| | cash__whatiwant | Sep 2012 | #2 |
| | KaryninMiami | Sep 2012 | #60 |
| | beac | Sep 2012 | #3 |
| | brewens | Sep 2012 | #4 |
| | Bette Noir | Sep 2012 | #100 |
| | tavalon | Sep 2012 | #151 |
| | lexw | Sep 2012 | #229 |
| | csziggy | Sep 2012 | #217 |
| | Delmette | Sep 2012 | #303 |
| | mahina | Sep 2012 | #5 |
| | jillan | Sep 2012 | #6 |
| | caseymoz | Sep 2012 | #107 |
| | gateley | Sep 2012 | #143 |
| | Quantess | Sep 2012 | #173 |
| | ruffburr | Sep 2012 | #265 |
| | crunch60 | Sep 2012 | #283 |
| | progressivebydesign | Sep 2012 | #7 |
| | Indpndnt | Sep 2012 | #8 |
| | cr8tvlde | Sep 2012 | #9 |
| | caseymoz | Sep 2012 | #105 |
| | tavalon | Sep 2012 | #154 |
| | cr8tvlde | Sep 2012 | #243 |
| | tridim | Sep 2012 | #10 |
| | tavalon | Sep 2012 | #155 |
| | Blue_Tires | Sep 2012 | #223 |
| | Kadie | Sep 2012 | #11 |
| | Tx4obama | Sep 2012 | #12 |
| | tridim | Sep 2012 | #16 |
| | FrenchieCat | Sep 2012 | #17 |
| | bayareamike | Sep 2012 | #21 |
| | SaveAmerica | Sep 2012 | #31 |
| | caseymoz | Sep 2012 | #109 |
| | ywcachieve | Sep 2012 | #260 |
| | caseymoz | Sep 2012 | #279 |
| | nc4bo | Sep 2012 | #57 |
| | R. Daneel Olivaw | Sep 2012 | #41 |
| | glinda | Sep 2012 | #81 |
| | tavalon | Sep 2012 | #113 |
| | caseymoz | Sep 2012 | #118 |
| | marasinghe | Sep 2012 | #171 |
| | MuseRider | Sep 2012 | #210 |
| | eppur_se_muova | Sep 2012 | #296 |
| | R. Daneel Olivaw | Sep 2012 | #307 |
| | left on green only | Sep 2012 | #148 |
| | Hepburn | Sep 2012 | #200 |
| | Arugula Latte | Sep 2012 | #225 |
| | heaven05 | Sep 2012 | #222 |
| | Auntie Bush | Sep 2012 | #19 |
| | agentS | Sep 2012 | #228 |
| | classof56 | Sep 2012 | #30 |
| | Iliyah | Sep 2012 | #37 |
| | gkhouston | Sep 2012 | #141 |
| | caseymoz | Sep 2012 | #119 |
| | progressivebydesign | Sep 2012 | #51 |
| | nichomachus | Sep 2012 | #237 |
| | caseymoz | Sep 2012 | #111 |
| | Tx4obama | Sep 2012 | #172 |
| | heaven05 | Sep 2012 | #220 |
| | CAG | Sep 2012 | #13 |
| | Tx4obama | Sep 2012 | #14 |
| | SaveAmerica | Sep 2012 | #33 |
| | tavalon | Sep 2012 | #114 |
| | aint_no_life_nowhere | Sep 2012 | #146 |
| | tavalon | Sep 2012 | #149 |
| | hamsterjill | Sep 2012 | #235 |
| | Xyzse | Sep 2012 | #191 |
| | mercuryblues | Sep 2012 | #192 |
| | crunch60 | Sep 2012 | #290 |
| | Kadie | Sep 2012 | #193 |
| | eShirl | Sep 2012 | #15 |
| | Bluegene | Sep 2012 | #61 |
| | Frustratedlady | Sep 2012 | #183 |
| | EffYoo | Sep 2012 | #276 |
| | glinda | Sep 2012 | #82 |
| | Shankapotomus | Sep 2012 | #18 |
| | lovemydog | Sep 2012 | #22 |
| | eShirl | Sep 2012 | #298 |
| | SaveAmerica | Sep 2012 | #28 |
| | Tx4obama | Sep 2012 | #39 |
| | Guy Whitey Corngood | Sep 2012 | #71 |
| | flamingdem | Sep 2012 | #125 |
| | Generic Brad | Sep 2012 | #20 |
| | lunasun | Sep 2012 | #23 |
| | caseymoz | Sep 2012 | #145 |
| | no_hypocrisy | Sep 2012 | #24 |
| | Daemonaquila | Sep 2012 | #25 |
| | LadyHawkAZ | Sep 2012 | #27 |
| | SaveAmerica | Sep 2012 | #29 |
| | mckara | Sep 2012 | #32 |
| | caseymoz | Sep 2012 | #123 |
| | kestrel91316 | Sep 2012 | #35 |
| | Tx4obama | Sep 2012 | #36 |
| | Heather MC | Sep 2012 | #49 |
| | BattyDem | Sep 2012 | #93 |
| | gkhouston | Sep 2012 | #142 |
| | Hutzpa | Sep 2012 | #241 |
| | krkaufman | Sep 2012 | #190 |
| | april | Sep 2012 | #274 |
| | MrMickeysMom | Sep 2012 | #285 |
| | tracker1312 | Sep 2012 | #332 |
| | ornotna | Sep 2012 | #38 |
| | Iliyah | Sep 2012 | #40 |
| | mikki35 | Sep 2012 | #42 |
| | R. Daneel Olivaw | Sep 2012 | #44 |
| | brush | Sep 2012 | #45 |
| | Spitfire of ATJ | Sep 2012 | #53 |
| | brush | Sep 2012 | #64 |
| | tavalon | Sep 2012 | #117 |
| | Cha | Sep 2012 | #46 |
| | progressivebydesign | Sep 2012 | #47 |
| | Tx4obama | Sep 2012 | #48 |
| | BattyDem | Sep 2012 | #95 |
| | progressivebydesign | Sep 2012 | #99 |
| | BlueStreak | Sep 2012 | #50 |
| | Tx4obama | Sep 2012 | #54 |
| | caseymoz | Sep 2012 | #101 |
| | Arugula Latte | Sep 2012 | #52 |
| | klook | Sep 2012 | #55 |
| | glinda | Sep 2012 | #84 |
| | tavalon | Sep 2012 | #152 |
| | klook | Sep 2012 | #165 |
| | tavalon | Sep 2012 | #168 |
| | Spitfire of ATJ | Sep 2012 | #56 |
| | defacto7 | Sep 2012 | #58 |
| | KaryninMiami | Sep 2012 | #59 |
| | GreenPartyVoter | Sep 2012 | #62 |
| | Tx4obama | Sep 2012 | #98 |
| | BattyDem | Sep 2012 | #112 |
| | GreenPartyVoter | Sep 2012 | #178 |
| | SunSeeker | Sep 2012 | #63 |
| | BattyDem | Sep 2012 | #91 |
| | WallaceRitchie | Sep 2012 | #65 |
| | TahitiNut | Sep 2012 | #233 |
| | KaryninMiami | Sep 2012 | #66 |
| | liberalmuse | Sep 2012 | #67 |
| | Arugula Latte | Sep 2012 | #248 |
| | ailsagirl | Sep 2012 | #321 |
| | NRaleighLiberal | Sep 2012 | #69 |
| | LynneSin | Sep 2012 | #70 |
| | Spitfire of ATJ | Sep 2012 | #77 |
| | glinda | Sep 2012 | #85 |
| | evilhime | Sep 2012 | #72 |
| | unc70 | Sep 2012 | #73 |
| | Rosa Luxemburg | Sep 2012 | #74 |
| | jtuck004 | Sep 2012 | #75 |
| | craigmatic | Sep 2012 | #76 |
| | Indpndnt | Sep 2012 | #132 |
| | tavalon | Sep 2012 | #156 |
| | Drunken Irishman | Sep 2012 | #78 |
| | DianaForRussFeingold | Sep 2012 | #88 |
| | renate | Sep 2012 | #92 |
| | BattyDem | Sep 2012 | #96 |
| | Aldo Leopold | Sep 2012 | #206 |
| | kooljerk666 | Sep 2012 | #297 |
| | mindwalker_i | Sep 2012 | #79 |
| | limpyhobbler | Sep 2012 | #80 |
| | Historic NY | Sep 2012 | #83 |
| | neverforget | Sep 2012 | #86 |
| | Kalidurga | Sep 2012 | #87 |
| | BattyDem | Sep 2012 | #90 |
| | Tx4obama | Sep 2012 | #97 |
| | Bette Noir | Sep 2012 | #94 |
| | ailsagirl | Sep 2012 | #102 |
| | caseymoz | Sep 2012 | #103 |
| | BattyDem | Sep 2012 | #136 |
| | demosincebirth | Sep 2012 | #104 |
| | BattyDem | Sep 2012 | #106 |
| | Scootaloo | Sep 2012 | #108 |
| | tavalon | Sep 2012 | #120 |
| | aletier_v | Sep 2012 | #110 |
| | Cleita | Sep 2012 | #115 |
| | tavalon | Sep 2012 | #122 |
| | beachgirl2365 | Sep 2012 | #271 |
| | aletier_v | Sep 2012 | #124 |
| | jberryhill | Sep 2012 | #127 |
| | MFM008 | Sep 2012 | #128 |
| | Speck Tater | Sep 2012 | #129 |
| | Bernardo de La Paz | Sep 2012 | #130 |
| | Bernardo de La Paz | Sep 2012 | #131 |
| | aletier_v | Sep 2012 | #133 |
| | tavalon | Sep 2012 | #153 |
| | mshasta | Sep 2012 | #134 |
| | Kablooie | Sep 2012 | #135 |
| | Tx4obama | Sep 2012 | #139 |
| | BattyDem | Sep 2012 | #144 |
| | Kablooie | Sep 2012 | #160 |
| | SDjack | Sep 2012 | #194 |
| | intaglio | Sep 2012 | #137 |
| | aint_no_life_nowhere | Sep 2012 | #138 |
| | Speck Tater | Sep 2012 | #140 |
| | Jennicut | Sep 2012 | #147 |
| | gopiscrap | Sep 2012 | #157 |
| | polly7 | Sep 2012 | #158 |
| | SDjack | Sep 2012 | #197 |
| | brush | Sep 2012 | #250 |
| | schmice | Sep 2012 | #159 |
| | Vestigial_Sister | Sep 2012 | #161 |
| | michael811 | Sep 2012 | #164 |
| | sakabatou | Sep 2012 | #166 |
| | Kolesar | Sep 2012 | #175 |
| | pamela | Sep 2012 | #167 |
| | marasinghe | Sep 2012 | #169 |
| | Tx4obama | Sep 2012 | #170 |
| | Kadie | Sep 2012 | #195 |
| | Arugula Latte | Sep 2012 | #227 |
| | LeighAnn | Sep 2012 | #174 |
| | 2on2u | Sep 2012 | #176 |
| | CoffeeCat | Sep 2012 | #177 |
| | yellowcanine | Sep 2012 | #179 |
| | yellowcanine | Sep 2012 | #180 |
| | Brewinblue | Sep 2012 | #181 |
| | Laura PourMeADrink | Sep 2012 | #182 |
| | livetohike | Sep 2012 | #184 |
| | bushisanidiot | Sep 2012 | #186 |
| | WilliamPitt | Sep 2012 | #187 |
| | bushisanidiot | Sep 2012 | #202 |
| | Coyotl | Sep 2012 | #188 |
| | FSogol | Sep 2012 | #189 |
| | Blue Owl | Sep 2012 | #196 |
| | Hepburn | Sep 2012 | #198 |
| | aint_no_life_nowhere | Sep 2012 | #199 |
| | GermanDem | Sep 2012 | #261 |
| | mercuryblues | Sep 2012 | #201 |
| | MrTriumph | Sep 2012 | #203 |
| | frylock | Sep 2012 | #204 |
| | bettydavis | Sep 2012 | #205 |
| | efhmc | Sep 2012 | #207 |
| | riverwalker | Sep 2012 | #208 |
| | central scrutinizer | Sep 2012 | #216 |
| | George II | Sep 2012 | #209 |
| | Botany | Sep 2012 | #211 |
| | LoisB | Sep 2012 | #213 |
| | No DUplicitous DUpe | Sep 2012 | #214 |
| | Tx4obama | Sep 2012 | #288 |
| | No DUplicitous DUpe | Sep 2012 | #326 |
| | polichick | Sep 2012 | #215 |
| | hedgehog | Sep 2012 | #218 |
| | PoliticalBiker | Sep 2012 | #219 |
| | Raine1967 | Sep 2012 | #221 |
| | lexw | Sep 2012 | #231 |
| | polichick | Sep 2012 | #272 |
| | RedStateLiberal | Sep 2012 | #232 |
| | bushisanidiot | Sep 2012 | #238 |
| | aint_no_life_nowhere | Sep 2012 | #240 |
| | Tx4obama | Sep 2012 | #289 |
| | cleduc | Sep 2012 | #226 |
| | aint_no_life_nowhere | Sep 2012 | #230 |
| | cleduc | Sep 2012 | #234 |
| | nichomachus | Sep 2012 | #239 |
| | mimi85 | Sep 2012 | #236 |
| | yurbud | Sep 2012 | #242 |
| | yurbud | Sep 2012 | #244 |
| | rustydog | Sep 2012 | #245 |
| | Solly Mack | Sep 2012 | #246 |
| | flamingdem | Sep 2012 | #247 |
| | wildeyed | Sep 2012 | #249 |
| | patrice | Sep 2012 | #251 |
| | livetohike | Sep 2012 | #273 |
| | CoffeeCat | Sep 2012 | #281 |
| | livetohike | Sep 2012 | #304 |
| | DeSwiss | Sep 2012 | #254 |
| | WilliamPitt | Sep 2012 | #255 |
| | Poll_Blind | Sep 2012 | #257 |
| | Barack_America | Sep 2012 | #258 |
| | beac | Sep 2012 | #277 |
| | sasha031 | Sep 2012 | #259 |
| | myrna minx | Sep 2012 | #262 |
| | HopeHoops | Sep 2012 | #263 |
| | bupkus | Sep 2012 | #264 |
| | countryjake | Sep 2012 | #266 |
| | LeighAnn | Sep 2012 | #267 |
| | Aerows | Sep 2012 | #268 |
| | animalcrackers | Sep 2012 | #269 |
| | livetohike | Sep 2012 | #275 |
| | Bernardo de La Paz | Sep 2012 | #270 |
| | bongbong | Sep 2012 | #278 |
| | Indpndnt | Sep 2012 | #282 |
| | Kadie | Sep 2012 | #284 |
| | crunch60 | Sep 2012 | #286 |
| | JaneQPublic | Sep 2012 | #287 |
| | Blue Owl | Sep 2012 | #291 |
| | HooptieWagon | Sep 2012 | #292 |
| | Scuba | Sep 2012 | #293 |
| | tblue37 | Sep 2012 | #295 |
| | M_M | Sep 2012 | #299 |
| | Tx4obama | Sep 2012 | #300 |
| | Aerows | Sep 2012 | #301 |
| | chuckstevens | Sep 2012 | #302 |
| | WI_DEM | Sep 2012 | #305 |
| | animalcrackers | Sep 2012 | #306 |
| | bushisanidiot | Sep 2012 | #317 |
| | MichaelAK | Sep 2012 | #308 |
| | MichaelAK | Sep 2012 | #309 |
| | Catherine Vincent | Sep 2012 | #310 |
| | lumpy | Sep 2012 | #311 |
| | oldsarge54 | Sep 2012 | #312 |
| | davidb19766 | Sep 2012 | #313 |
| | JaneQPublic | Sep 2012 | #315 |
| | Ken Burch | Sep 2012 | #316 |
| | classof56 | Sep 2012 | #318 |
| | flyguyjake | Sep 2012 | #319 |
| | progree | Sep 2012 | #322 |
| | Whisp | Sep 2012 | #323 |
| | leftieNanner | Sep 2012 | #324 |
| | longmont777 | Sep 2012 | #325 |
| | rks306 | Sep 2012 | #327 |
| | MrScorpio | Sep 2012 | #328 |
| | Justice | Sep 2012 | #329 |
| | sarge43 | Sep 2012 | #331 |
| | Tx4obama | Sep 2012 | #333 |
| | jenmito | Sep 2012 | #334 |
| | Chemisse | Sep 2012 | #335 |
| | aint_no_life_nowhere | Sep 2012 | #336 |
| | animalcrackers | Sep 2012 | #337 |
| | outsideworld | Sep 2012 | #338 |
| | pokerfan | Sep 2012 | #339 |
| | dawnwells | Apr 2016 | #340 |