Page: 1
Aquaria
Aquaria's Journal
Profile Information
Gender: Do not display
Hometown: Texas
Member since: Wed Oct 23, 2019, 01:35 AM
Number of posts: 1,076

Journal Archives
I don't have many favorites in this life, but my favorite girl group, hands down, is Mamamoo, a quartet who debuted for the boutique label Rainbow Bridge in 2014, and are renowned for their vocal prowess. Yes, I have a thing for vocals, why do you ask? I also like that they are not a cutesie girl group. It's rare for me to like cutesie girl groups or their songs. I like some. But not many. That's because I prefer for women to sing as women, not some idiotic sexist purity ideal, and I'm not much of a fan of bubblegum music, which most of the cutesie girls put out. A big reason why I love Mamamoo is that they don't play that bullshit purity game. They and their material veer to the mature and sometimes even sexy, but they are never annoying about it, unlike a certain famous rapper I could name.
Mamamoo consists of (clockwise from the right) Solar as lead vocalist and leader of the group, Moon Byul as lead rapper, Whee In as a main vocalist and Hwa Sa as a vocalist, rapper and maknae, or youngest member of the group. Every KPop group has a leader and a maknae, even if they're only a duo. The leader is usually (not always) the eldest member of the group, as Solar is in this case, and is supposed to be responsible for looking out for the younger members and keeping them in line. The maknaes are expected to show deference to their elders. In return they are absolved of leadership responsibilities and get babied quite a bit. However, not every leader is enthused about the role enough to impose their will on a group, and the occasional maknae falls into the "Evil Maknae" category, a rebellious troublemaker who is disrespectful to elders in a way that amuses fans. Hwa Sa can be a little naughty sometimes, as maknaes are allowed to be, but rarely to the point of being an Evil Maknae.
Now that the KPop cultural lesson is over, it's time for the music. Mamamoo has covered a shocking array of genres, and done all of them well: 40s swing ( "Piano Man" ), late 50s/early 60s boogie woogie ( "Ah! Oop!" ), sweeping 60s lounge ballads ( "Don't Be Happy" ), 70s power pop ( "You're the Best" ), ethereal slow jams ( "Starry Night" ), angry, Latin-fusion breakup songs ( "Egotistic" ), and more. I could have picked dozens of songs as representative of their sound. How is it possible that a group of such recent vintage could rack up so many outstanding songs? Well, again, it comes back to the vocal talent. When you have the pipes, you can crank out the great tunes.
Still, I could pick only one song here, and that had to be their 2016 smash hit, "Décalcomanie," a French art term for transferring an image or design to another surface, which creates a mirror image in the process. Mamamoo will play with that mirror theme and its implications of equal and opposite reactions throughout the video, in numerous ways. The opposites reacting theme means that this is not a light or fluffy song or video, but a driving, passionate tour de force about sexual awakening and the power of sexual attraction. The video's plot and even its look, from clothes to symbols to locales, reflect both.
Note: The beginning and middle part of the video will feature a completely different soundscape from "Décalcomanie." It's not part of the song itself, but a pair of excerpts from a Mamamoo Christmas song called "Memory" that gets used as filler for the relevant scenes. KPop often does these illogical leaps to or from unrelated music in their videos. Why? I don't know, but I thought I'd provide the warning.
English lyrics are available by clicking the CC button at the bottom.
As with the post about Jonghyun, I'm sharing a live performance to demonstrate that KPop's popularity doesn't mean the talent is fake or manufactured. Some is, but not all. Mamamoo is firmly in the real deal category, as their live shows attest. Like "Décalcomanie," this particular video is from 2016, when Mamamoo appeared on Immortal Songs 2, a music showcase where current artists perform covers of classic tunes from Korea or beyond, based on a particular composer, artist or theme. Although Mamamoo has been on the show multiple times, I chose the cover of Yoon Soo Il's 1989 hit, "Wonderful Confession," because I like the energetic arrangement, and the performance is so damned good. Their combination of power vocals and beautiful harmonies is sex for your ears.
Trivia
Most people wonder what the heck Mamamoo means. Simple: It's a baby-babble portmanteau of "Mama" and the Korean word for radish, which is "moo." The Mama portion expresses Mamamoo's belief in the creative, nurturing and life-giving power of music, while the moo/radish represents an earthy yet piquant sensibility. Put the two together, and it adds up to Mamamoo and their desire to approach music like a baby does when making sounds: instinctively, organically and with a whole lot of sass.
Fandom name: Moo-Moos, AKA Radishes. Moo-Moo is a child's way of saying the plural of radish.
Fandom light stick (de rigeuer KPop concert item): A radish, of course, sometimes with a mustache on it. Why the mustache? I'll explain it if anyone really wants to know.
Mamamoo writes many of their lyrics, and arranges their own choreography.
Décalcomanie is not the first music video where Mamamoo flirts with gender-bending or cross-dressing. They outright do the latter in the video for their 2015 song, "Um Oh Ah Yeah," with hilarious results.
Because I'm crazy about the genre. It's almost all that I listen to anymore.
I have over 100 different KPop artists in my music library. And that means thousands of albums, EPs and singles clogging up my hard drives. But even I have favorites, and singer/songwriter Jonghyun of SHINee was always my bae, a Korean term for bias or favorite.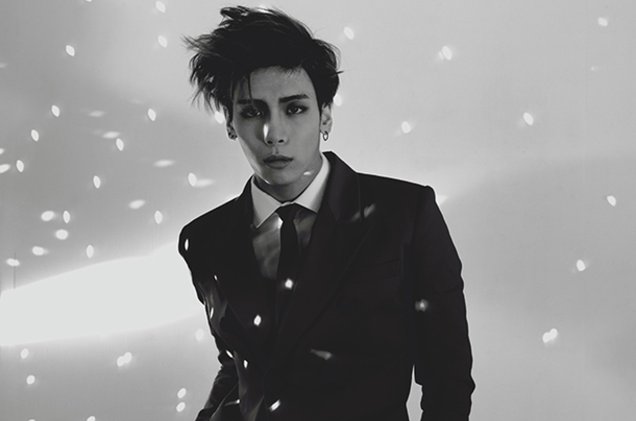 I don't know why I was drawn to him, of all the KPop artists out there. It wasn't his personality, although I found him suitably endearing.
It wasn't his looks, because scores of KPop artists exceed him there. Not that he was ugly. He wasn't, in any sense of the word. But if it's pure looks, then Baekhyun of Exo or nearly every member of Super Junior definitely leaves him in the dust.
He wasn't the sexiest or most charismatic guy in KPop, either. That's Yunho of TVXQ or T.O.P of Big Bang, hands down.
He wasn't even the best vocalist, male or female. He was up there, to be sure—WAAAAAAYYYYY up there, as in Top 5 KPop vocalist material, but KyuHyun of Super Junior, Chen of Exo and Taeyeon of SNSD were (slightly) more talented.
Yet Jonghyun was my bae despite all that, and I realized it was because he was good enough in all of those categories, overall, to make him stand out. Sort of like winning on total points, rather than one category. There was simply something special about him to me. And so I became a fanatic watching hours of videos of him on YouTube, whether it was music videos solo or with his band, SHINee, or goofing off on a variety show.
And then, in a flash, he was gone. He took his own life on 18 December 2017, after a long battle against depression.
I have had favorite celebrities die and grieved their passing, but none hit me like Jonghyun's suicide. I cried so hard that I couldn't breathe. I almost went to the ER, because my chest was aching so much that I thought I might be having a heart attack. And even now, I can still break down in tears when I see videos like "Replay," or when I see him in happier (or what only seemed happier) times with his SHINee bandmates.
Only a month after his suicide, SM Entertainment released "Shinin'," the first track from his final album, finished not long before he died. I almost couldn't bring myself to watch it, but I braced myself and hit the play button on Youtube. There were tears, but I managed to smile through them, probably much like he had done all those years with the pain he felt. Somehow, I felt connected to him, and soothed by the song's promise that he would always be there. As long as there are the videos, and the memories of his many fans, he will indeed be with us.
And anyone who thinks his talent was all studio magic and KPop glitz, well, how about a live performance?
RIP, Jonghyun. You did well.