Thu Aug 20, 2015, 10:51 AM
Herman4747 (1,825 posts)
30th ANNIVERSARY OF IRAN-CONTRA. Aug. 20, 2015 [View all]
Last edited Thu Aug 20, 2015, 11:47 AM - Edit history (1)
On this day 30 years ago, 96 TOW anti-tank missiles were supplied to Iran, marking the start of the
Iran-Contra Scandal
.
And this truly was a SCANDAL
, unlike, say, impeaching a president for having an extramarital affair, or Benghazi crap, or email nonsense, etc.
Remember this guy?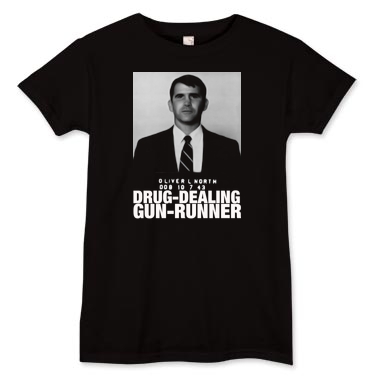 He was in charge of our country's foreign policy. The country didn't know it, though.
Or how about The Spook approving it all?
And who could possibly forget the lovely Ms. Shredder, for which we have a fine picture of?
http://americandad.wikia.com/wiki/File:Fawn_Hall.jpg
(She would have shredded the Constitution itself, if Ollie had asked).
This guy famously declared that he was "out of the loop," expecting people to buy that.
He would go on to become the Pardoner-in-Chief. Cap-the-Knife (Casper Weinberger, U.S. Secretary of Defense) needs a pardon -- no problem! Elliot Abrams needs a pardon -- no problem!
Bush I would be a major reason (but NOT the only reason) why this poor guy
Would be stymied, stymied, and stymied again. You can read more about our tragic hero here:
http://www.globalresearch.ca/iran-contra-how-lawrence-walsh-exposed-ronald-reagan-george-h-w-bush-and-high-level-malfeasance/5375446
Sigh.
A sad day indeed:
IRAN-CONTRA SHOULD HAVE LED TO THE IMPEACHMENT OF REAGAN
. I believe that any allegation that he was napping during it all is bogus (subsequent information suggesting as much).
18 replies, 3858 views
Replies to this discussion thread
18 replies
Author
Time
Post

30th ANNIVERSARY OF IRAN-CONTRA. Aug. 20, 2015

[View all]

Herman4747
Aug 2015
OP
leveymg
Aug 2015
#1
mylye2222
Aug 2015
#2
L. Coyote
Aug 2015
#3
Herman4747
Aug 2015
#7
The_Casual_Observer
Aug 2015
#4
Herman4747
Aug 2015
#14
Herman4747
Aug 2015
#5
nashville_brook
Aug 2015
#9
hifiguy
Aug 2015
#10
nashville_brook
Aug 2015
#11
hifiguy
Aug 2015
#12
MinM
Aug 2015
#16
UTUSN
Aug 2015
#6
niyad
Aug 2015
#8
Rex
Aug 2015
#13
nashville_brook
Aug 2015
#15
Boomerproud
Aug 2015
#17
Solly Mack
Aug 2015
#18