Fri May 31, 2019, 12:26 PM
left-of-center2012 (24,971 posts)
Pat Robertson says there will be 'atomic war' if Christians can't discriminate against LGBTQ people [View all]
Televangelist Pat Robertson said that God will destroy America if the Equality Act passes.
The Equality Act would, among other things, add sexual orientation and gender identity to existing federal civil rights legislation, banning discrimination against LGBTQ people in jobs, housing, public accommodations, and other areas.
Robertson urged viewers to call their representatives and tell them to vote against the Equality Act. "This is a devastating blow to religious freedom and to the sanctity of America," Robertson said, citing a common criticism of the Equality Act:
if a religious store manager gets sued for firing a transgender employee or a religious doctor faces discipline for refusing to treat a gay person's broken leg then their religious freedom has been violated.
"If you want to bring the judgment of God on this nation, you just keep this stuff up.There is plenty of stuff that is going on, when you look at the potential of atomic war, when you look at the potential of a solar strike or something on our grid, you could go down the line of devastation that could happen to our nation. We don't want that. We want the blessing of God, not the curse God," Robertson said.
https://www.lgbtqnation.com/2019/05/pat-robertson-says-will-atomic-war-christians-cant-discriminate-lgbtq-people/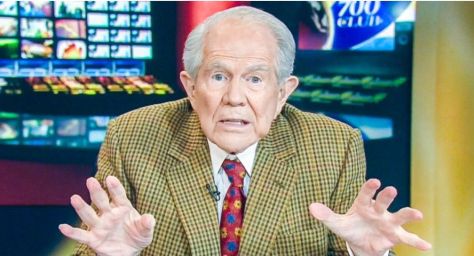 13 replies, 1096 views
Replies to this discussion thread
13 replies
Author
Time
Post

Pat Robertson says there will be 'atomic war' if Christians can't discriminate against LGBTQ people

[View all]

left-of-center2012
May 2019
OP
The Velveteen Ocelot
May 2019
#1
dameatball
May 2019
#2
Meadowoak
May 2019
#3
trev
May 2019
#4
nocoincidences
May 2019
#5
ScratchCat
May 2019
#6
moose65
May 2019
#7
appleannie1943
May 2019
#8
Saviolo
May 2019
#9
The Genealogist
May 2019
#10
rurallib
May 2019
#11
Odoreida
Jun 2019
#12
lambchopp59
Jun 2019
#13